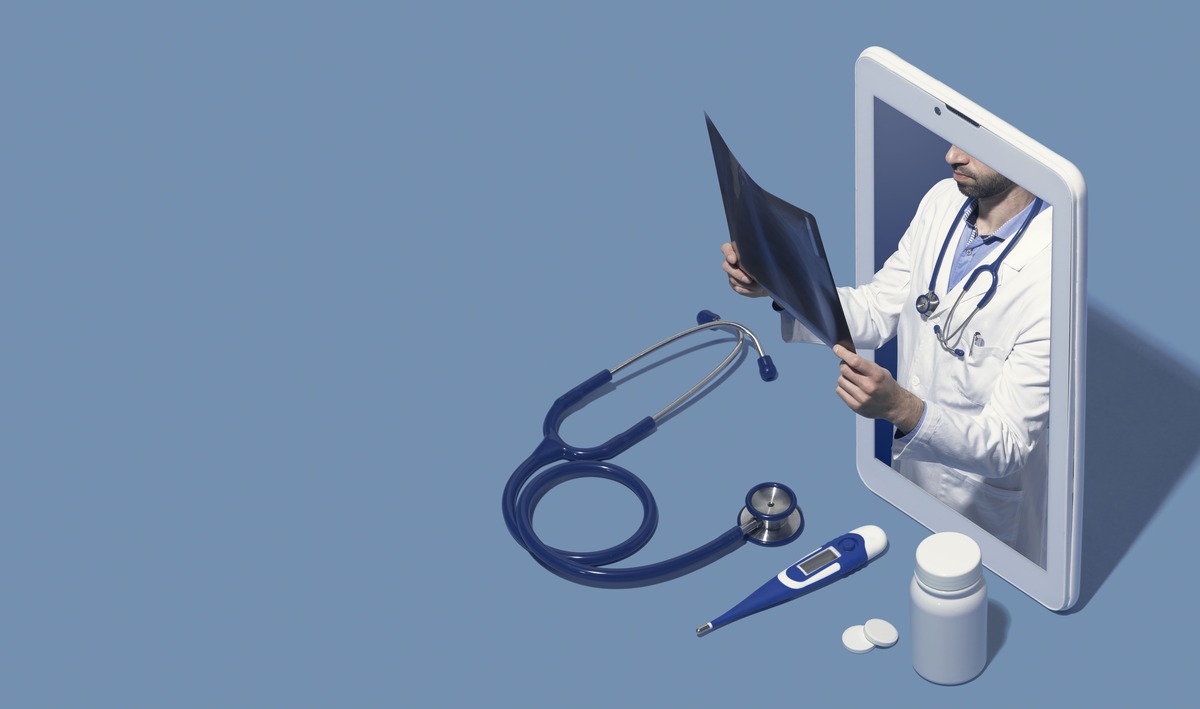 Organizations are capitalizing on hospitals' and home care providers' needs for telemedicine technology. With the pandemic enabling several health care operations to happen remotely, telemedicine technology has evolved at a rapid rate to improve patient engagement and satisfaction.
The idea of being treated at home by your doctor via technology may seem like a leap into a speculative fiction novel. However, the concept is something that we, as patients, have been doing for years. With a few clicks, you can diagnose yourself and have medical supplies at your door with next-day delivery. Telemedicine utilizes technology to make healthcare services far more convenient and accessible for all patients.
BCC Research, in their report Global Markets for Telemedicine Technologies, has predicted that the global telemedicine market will grow at a compound annual growth rate (CAGR) of 19.1% during the forecast period of 2022 through 2027. In 2027, total revenues are expected to reach $173.3 billion, up from $51.4 billion in 2020. The goal of this study was to determine the status of the telemedicine market, assess its global growth potential over five years, and evaluate the leading companies in this industry.
End-User Application of Telemedicine Technology
The two industries that utilize telemedicine technology are hospital facilities and homecare. Hospital facilities are transforming care delivery to improve quality, provide access, and control costs, by investing in new delivery models. Telemedicine technology in hospitals connects patients to healthcare facilities through electronic consultations, wireless communications, remote monitoring, and videoconferencing. By increasing access to specialists and physicians, this technology allows patients to receive the right care at the right time and in the right place.
The aging population in many countries and the rising incidence of chronic diseases has resulted in the increasing demand for telehome healthcare. Telehome healthcare allows physicians, nurses, or other care providers to communicate with patients using telephone-enabled computer equipment that is installed in the patient's home. Telehome care is more than simply patient monitoring; it includes a range of activities such as education, emotional and social support, information dissemination, and self-care help and suggestions. Recent innovations in remote patient monitoring include wearable devices for telehome healthcare, which enhance the usability, efficiency, and popularity of home-based telemedicine.
Key Players in the Telemedicine Industry
With two prominent end-user applications of telemedicine technology, it is down to the organizations that create solutions for remote care to innovate their way into everyday use. BCC has assessed the leading companies in this industry, as well as the product launches that garner them a top-five ranking.
1. Allscripts Healthcare Solutions
Allscripts Healthcare Solutions, Inc. develops clinical software. The company is engaged in document management, revenue cycle management, medication services, electronic prescribing, hospital care management, emergency department information systems, practice management, HRs, and homecare automation solutions.
Telemedicine product:
Follow My Health - A mobile-first, enterprise patient engagement solution that helps to determine high-quality care distribution for patients anytime from anywhere.
2. Cerner Corp.
Cerner Corp. designs healthcare information technology devices, content solutions, and hardware for healthcare organizations and consumers. The company's Cerner Millennium Architecture is a financial, clinical, and management information system that allows users to access an individual EHR and delivers information for nurses, physicians, laboratory technicians, front and back-office personnel, pharmacists, and consumers.
In June 2022, Cerner was acquired by software giant Oracle Corp. for $28.2 million, making it the biggest completed digital health acquisition. Oracle has said it plans to keep Cerner as a standalone business unit focused on medical software usability and voice-enabled user interfaces.
Telemedicine product:
Virtual Health Care - Cerner identifies telemedicine as a key capability, both in the context of virtual health and virtual care, empowering organizations to increase access while lowering the cost of delivering health care services across the continuum of care. Using an ecosystem of virtual and remote services and technology organizations can provide care at a distance, enabling the delivery of quality cost-effective care anywhere.
3. Boston Scientific Corp.
Boston Scientific Corp. is a developer and manufacturer of medical devices. Its products are used in a range of interventional medical specialties, including peripheral interventions, interventional radiology, cardiac surgery, oncology, vascular surgery, gynecology, and urology. The company is known for its Taxus Stent, a drug-eluting stent that is used to open clogged arteries.
Telemedicine products:
Heart Connect System- The Heart Connect System is used to create a connected meeting with remote contacts.
LATITUDE Link- The Latitude Link data management system streamlines workflow by permitting the unified transfer of programmer reports and data to an EMR system.
LATITUDE NXT Remote Patient Management- The Latitude NXT Remote Patient Management System combines a secure website, communicator and blood pressure monitor, and optional weight scale to help healthcare providers monitor cardiac device patients remotely through wireless interrogations.
MyLATITUDE Patient app- The MyLatitude Patient mobile app is designed for caregivers and patients, providing education, information, and compliance to remote monitoring.
4. Cisco Systems Inc.
Cisco Systems designs and manufactures Internet protocol (IP)-based networking systems. They also create optical networking products, security products, IP telephony, network access, switches, routers, and home networking systems.
Telemedicine product:
Webex Telehealth Connector- Webex Telehealth Connector permits patients and healthcare staff to connect through easy-to-use, simple video telehealth consultations, scheduled straight from their Epic EMR portal.
5. Philips Healthcare
The Philips Healthcare division of Royal Philips Corp. offers a broad range of medical equipment, including interventional imaging systems, diagnostic monitoring, and cardiology and therapy systems. The company focuses its R&D efforts on the areas of radiology, cardiology, oncology, decision support, home health, and respiratory.
Telemedicine integration:
eConsultant Program - eConsultant applies eICU program processes, technology, and best practice guidelines to improve clinical outcomes and lack of access economically and efficiently to specialists across a care system.
eCAC Program - The eCAC program combines clinical software and in-home technology that improve outcomes by fostering behavioral change. Customized care plans allow clinicians to set thresholds on incoming vital signs and send educational content to help empower patients to self-care.
eTRAC Program - The eTrAC program combines clinical software for effective chronic care management with in-home monitoring devices. Clinicians can monitor patients' health remotely, identify symptoms and intervene early.
Telemedicine Technologies: What's Next?
To find out more about the top 5 companies involved in the telemedicine market, and for an in-depth analysis of the competitive landscape, download your free report overview or purchase the full report here.
To read even more industry-specific company profiles and detailed market reports, become a BCC member today! To find out the benefits of a BCC membership, speak to a member of our helpful team.