Normally, working remotely is a perk that is negotiated when you first accept a job.
Normally, it's something that you have anticipated for and have established into your routine.
Normally, remote work provides the flexibility and environment you know helps you thrive.
As we are all aware, these are not normal times.
However, that doesn't mean we can't make the best of working from home. Because working from home is new for some people, we want to share some tips and tricks to make this transition easier. We've also added extra resources if you want to dive deeper into the best methods to implement while working at home.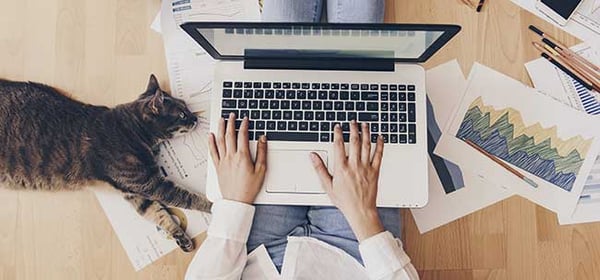 Tip 1: Get Dressed!
The slogan, 'dress for success' is key, even if no one can see you. While it can be tempting to lounge around in your pajamas, as we like to picture most remote workers do, this can put you in the wrong mindset for work. By getting dressed as if you were going into the office, you shift into work mode, which is helpful if you have a hard time focusing when you aren't in your usual cubicle or desk.
Tip 2: Create short To Do list with high ROI items
The key to successfully working from home is to have a list with clear tasks that have solid ROI metrics attached to it. You aren't going to get everything done, and it's easy to continue to add to it, especially when you don't have a specific 'end time' that results in you physically leaving the building.
This why it's important to create a short list of the important tasks. Pick items that have a high ROI value attached to them. If you are not too sure what should be on your list and what shouldn't, talk to your manager. Bring your plan to them and ask for some help when it comes to decision making. And Once you've gotten through your core list, you'll be able to focus your attention on the tasks that aren't as pertinent. This will help you feel productive and on top of your job.
Tip 3: Get An Accountability Buddy
It can be easy to get sidetracked with the list of things you could be doing around the house. A great way to stay on track is to have an accountability partner. This can be a coworker, a friend who is in the same boat as you, or even your partner if that works for you. Schedule specific times to check-in. This will help you stay on track and stay motivated to get through that to-do list.
Tip 4: Create A Routine To Begin Your Workday and End Your Workday
Having a morning routine can take you out of a rushed, uncertain mindset and help you mentally prepare for tackling the day ahead. This is even more possible now that you don't have to commute. Start the day off in a way that allows you to organize your thoughts—by eating a nourishing breakfast, meditating, reading a few minutes of book that inspires you, or something similar.
Just as it is important to start the day off right, it's just as vital to make sure you end your workday on a strong note. Create your list of priorities for the next day before you wrap-up your work. This will help you feel good about your day and give you peace of mind knowing that you already have set yourself up for success for tomorrow.
Tip 5: Choose a specific place to work
If you have the option, pick one spot from where you will conduct your work. Ideally this would include a flat surface area, a chair that is comfortable but allows you to sit properly, and a door that closes. If you don't have the last one, consider noise-canceling headphones that can help you focus on your work and not the distractions that are inevitably bound to pop up.
If you're sharing space with your partner or your children, designating certain seats or areas of the room can be very helpful. The goal is to create a structure that will enable you to focus on your work and not on the details such as where should you work that day.
Resources
From videos to blog posts, quick tips to detailed explanations, we've got you covered!
Below are some of our favorite resources to help you navigate your way through the ins and outs of working remotely.
• Check out this recent video: WORK FROM HOME: 10 Tips to ACTUALLY Get Something Done (Amy Landino)
• This is a great article with 25 Working from Home Tips to Slam-Dunk Tasks. Implement one or all 25 if you're feeling ambitious. (Nextiva)
• You'll start to see some tips repeated, but some of them are worth reading twice. This is a great article by Lifehack with 10 Tips to Help You Be More Efficient Working From Home. (Lifehack)
Tips for working from home with your family – Coronavirus specific
• This list of resources targets specific areas of working from home, including the challenges that come specifically because of the Coronavirus. (Business Insider)
• Regardless of whether you've been working from home for years or the past few days, the biggest change is that now the whole family is home. If you have kids, this article is for you.
• One of the most important things to have straightened out when it comes to working from home, is tech. This article has you covered. (ABC News)