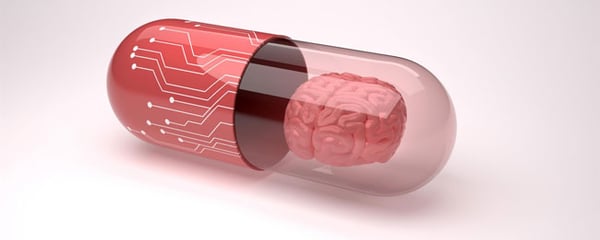 It is now normal to call biotech and small pharma the innovation engines for the pharmaceutical industry. IPO and ICOs abound, as dollars from venture capital truly flood the ecosystem. In 2018, biopharma investment is having a moment. Any big fluctuation, even a positive one, makes stakeholders nervous. Some of the investors might be tourists—Amazon, Google, Apple, IBM, JP Morgan, Berkshire Hathaway and a half dozen others are new entrants, whose long term goals remain unclear. Particularly disturbing are the health insurance and supply chain changes that make headlines, such as this one.
And there may be some xenophobia as Chinese and other Asian investors are being noted as making continued high-profile investments. This against a backdrop of Indian and Chinese manufacturers making inroads of a more generic kind.
But as the pump is well primed and the gasoline flow to the engine increases, so too has the M&A activity of the big pharmaceuticals accelerated. Elephantitis is seen as a welcome, necessary, and not undesirable business progression.
Profit has been the prime motivator, but there was also a background rationale on productivity for this acceptance. I have paraphrased from a chapter on "Innovation in the Pharmaceutical Industry" by Elina Petrova from Washington State University. Elena presents orthodoxy clearly and concisely, and she draws a useful distinction between scale and scope benefits. The logic, to me at least, breaks down around the assumption that knowledge is shared inside a Big Pharma, whereas in practice it is siloed. However, this thinking has been popular since the 1990s:
"Big pharma often invest in 10–15 distinct research programs run simultaneously. Several programs in the same therapeutic category can tap into the same pool of knowledge about the pathways related to particular biotargets or molecular processes. The new findings can be applicable across multiple programs. The more intensive use of the firm's research talent and resources, the shared lab facilities and expertise, along with the enhanced rates of equipment utilization and reduced downtime can ensure reduction in the marginal cost of R&D. In turn, the declining marginal R&D cost of the firm makes the undertaking of risky new projects more affordable because of lower incremental costs."
Elena goes on to say,
"Substantial economies of scope can ensue if the same amount of R&D in one therapeutic class produces valuable findings with favorable implications for another therapeutic class or category…Cross-fertilization between therapeutic categories can also occur—e.g., research programs focused on cardiovascular issues have brought about therapies related to the central nervous system (Henderson and Cockburn 1996)…Developing the foresight to identify therapeutic potential outside of the focal research area can be of immense value to the firm. First, drug candidates can be repositioned, and projects can be redirected instead of terminated. Second, even if a project fails or gets terminated, the accumulated specific knowledge will not simply vanish."
While the productivity rationale was spurious, the resulting profit improvements for Big Pharma were gratifyingly real.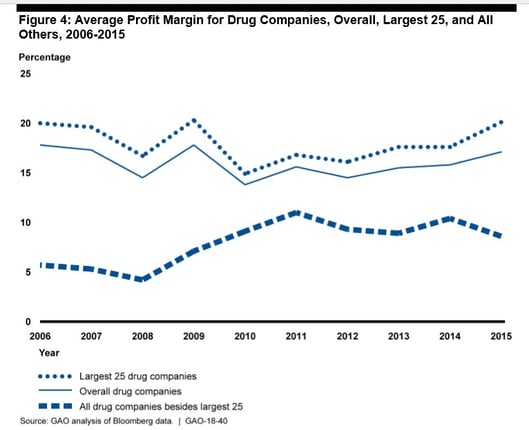 Courtesy of Ernst and Young, we can examine a splendid looking DIY Kit for M&A in 2018 pharmaceuticals. What follows is part of the playbook for every breakfast, lunch, chance bus ride conversation and presentation at the JP Morgan Healthcare conference.
"There are now five PD-1/PD-L1 inhibitor therapeutics on the US market. These so-called 'immuno-oncology backbone therapies' could soon be joined by new entrants. Competitors are emerging in other key targets as well, AstraZeneca's first-in-class Lynparza PARP inhibitor, so valuable to Merck in the companies' blockbuster 2017 deal, already faces two on-market competitors. AstraZeneca itself received approval for Calquence in late October, a BTK inhibitor that represents the first competition to the blockbuster Imbruvica sold by AbbVie and J&J. Pfizer's Ibrance enjoyed time as the sole CDK4/6 inhibitor on the market but by the end of 2017 faced new competition from similar drugs from Novartis and Eli Lilly."
Competition from new innovative drugs in this world is something to be fended off, not as one might hope for, a goal unto itself. Novel drugs are a clear and present danger. We are warned of an intensification where size equals corporate safety.
Our narrator continues,
"This competition will eventually affect the oncology marketplace—and similar scenarios could play out even more quickly in other core biopharma markets that haven't shown the price resiliency of oncology therapeutics. As such, we continue to expect consolidation in highly fragmented therapeutic areas such as oncology, as well as some flight to therapeutic white spaces such as Alzheimer's disease, where few treatments are available, and the unmet medical need is high, but the scientific risk is undeniable."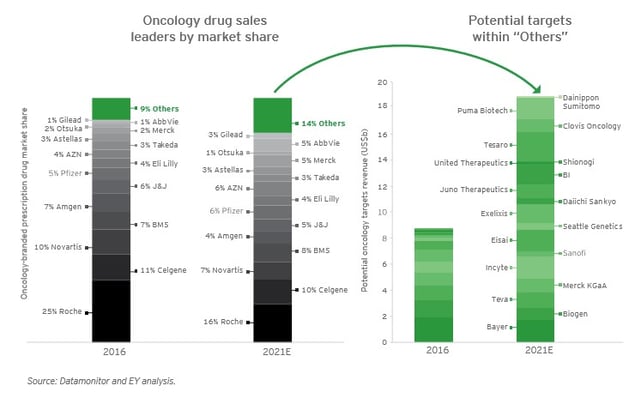 Risk is not something I associate with Big Pharma and less so from the 1990s onward, when imported best business practices from an MBA invasion really bit hard, sapping creativity and "feel" for drug discovery and development. Famed medicinal chemist Chris Lipinski is eloquent in his eulogizing the death of intuition and risk in pharmaceuticals. But at the same time, Chris notes that NIH funded academic research (risk personified) is only a very distant kissing cousin to real pharmaceutical commercialization. It seems clear we need both, one hand washing the other. This is stymied when medium-sized pharma, with its necessarily closer relationship to academia and biotech, is absorbed into a big pharma mothership mindset.
And this story is told in the mergers and acquisitions numbers.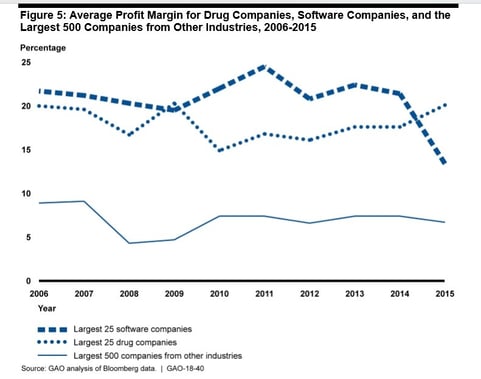 The GAO publication has the following as one of its main findings:
"A 2009 study of 27 large, brand-name drug company mergers found that the mergers had a statistically significant negative impact on company R&D spending and patent issuance in the third-year post merger compared to non-merging companies. The authors concluded that the findings contradict the idea that mergers deliver advances in innovation that could outweigh possible anticompetitive risks."
Risk is to be averted at all costs, as our Ernst and Young author of "With disruptors at the gates, how will you secure your company's future?" continues. While the implied goal is to make the world a better place, that world is the world of mergers and acquisitions. Firepower is defined not as fueling moonshot treatments, but as Profit with the largest capital P Possible. "As the implementation of US tax reform becomes a question of 'when,' not 'if,' can we afford to wait any longer to pursue transformative M&A?" he/she asks.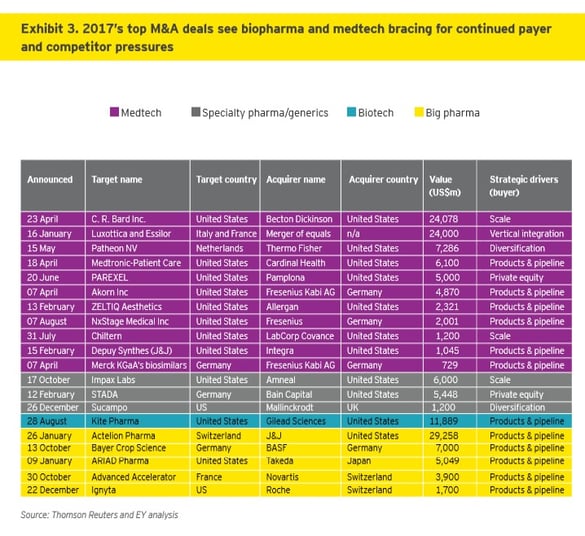 And in more scary phrasemaking, "Acquirers may be tomorrow's targets. Several large and acquisitive companies have seen their abilities to continue to consolidate threatened by slowing growth forecasts, weakened valuations and excessive debt. Companies more accustomed to hunting for acquisition targets may find themselves on the other side of the deal table."
The good news for M&A is that 2018 should be highly infectious for elephantitis:
"Based on EY analysis (last year), the top 10 US life sciences companies have roughly US$160 billion in cash overseas and we expected some of that cash to be deployed for M&A in the US. We also argued that heightened pricing pressure for newly launched products and mature assets alike would create momentum to consolidate." And decreased regulations appear likely to accelerate boardroom maneuvers. "As such, we continue to expect consolidation in highly fragmented therapeutic areas such as oncology, as well as some flight to therapeutic white spaces such as Alzheimer's disease, where few treatments are available, and the unmet medical need is high, but the scientific risk is undeniable."
We urgently need an antidote for elephantitis. Our Big Pharma mothership mentality is making us sick. The really fat kid can't run fast, but we are flattened into submission — should we be fallen on.
Chris Spivey has been Senior Editor at BCC Research for seven years, during which time he has directly overseen the publication of over 500 market research reports. He is the Cofounder of the Human Proteome Organization (HUPO) and has co-authored half a dozen scientific papers (in the field of Advanced Wavefront Transforms and Adaptive Optics). He holds undergraduate and graduate degrees from the University of Canterbury, New Zealand.
Note: The opinions and thought leadership expressed above are solely those of the Senior Editor and do not necessarily reflect the position of BCC Research and its affiliates.