Obesity is widely cited as an epidemic. Its many corollaries include diabetes, cardiovascular disease, hypertension and stroke, and certain forms of cancer. Health consequences of obesity range from increased risk of premature death to serious chronic conditions that reduce the overall quality of life. According to the World Health Organization, an escalating global epidemic of overweight and obesity—"globesity"—is taking over many parts of the world. Obesity is a complex medical condition with serious psychosocial dimensions. It affects virtually all age and socioeconomic groups and threatens to overwhelm both developed and developing countries. Contrary to conventional wisdom, the obesity epidemic is not restricted to industrialized societies; in developing countries, it is estimated that more than 115 million people suffer from obesity-related problems.
MEDICAL INTERVENTION FOR OBESITY BACKED BY CLINIANS
Newly published research reveals that many obese young adults in the United States are unaware that they are at increased risk for kidney disease. A study led by Dr. Michal Melamed, an associate professor of medicine at Albert Einstein College of Medicine, analyzed data from nearly 7,000 adults, 20–40 years old, across the United States. The researchers found that 11% of obese Mexican-Americans and approximately 6% of obese whites and blacks had elevated levels of the protein albumin in the urine.
This condition, called albuminuria, is a sign that the kidneys are not functioning normally, increasing the risk for chronic kidney disease, the researchers said. Among young adults with albuminuria, fewer than 5% had been told they had kidney disease, according to the findings published May 25 in the journal PLoS One. "Clearly, clinicians and public health officials need to do more to identify and treat young people at risk for early progressive kidney disease so they can adopt the behavioral changes to prevent [kidney disease] from occurring," Melamed said in an Albert Einstein news release.
New evidence-based obesity management guidelines from the American Association of Clinical Endocrinologists (AACE) recommend approaching obesity as a chronic medical condition. The clinical practice guideline executive summary was published May 24 in the journal Endocrine Practice, along with a separate statement about incorporating obesity management into the medical chronic care model. The full evidence review will be published later this year.
The document expands on AACE's 2014 obesity "framework" to cover screening, diagnosis, evaluation, therapeutic decisions, treatment goals, and follow-up. They provide a scheme for obesity staging using anthropomorphic and clinical evaluations in addition to body mass index (BMI), with different cutoffs for certain ethnic groups, and recommendations to screen for 16 weight-related comorbidities. Based on that information, guidance is given for the use of lifestyle modification, when to consider weight loss medications, individualization of their use, and when to consider bariatric surgery.
TARGETING OBESITY WITH PHARMACEUTICALS
In January 2015, the US Endocrine Society issued guidelines on the pharmacological management of obesity, which endorsed use of approved weight loss medications for people with a BMI of 30 kg/m2 and above or at least 27 kg/m2 with one or more comorbidities. In a new study, BCC Research predicts that 2016 sales for FDA-approved obesity medications will reach $455 million. These sales will eventually attain blockbuster status, reaching $2.9 billion in 2021 and reflecting a compound annual growth rate (CAGR) of 44.9%.
The global market for all obesity treatments should exceed $7.8 billion by 2021, increasing at a five-year CAGR of 12.7% from more than $4.3 billion in 2016. As a segment, bariatric surgeries should reach $3.4 billion and more than $4.3 billion in 2016 and 2021, respectively, reflecting a five-year CAGR of 5%.
NO. OF COMMERCIALIZED OBESITY DRUGS & THERAPEUTIC DEVICES, 2016 AND 2021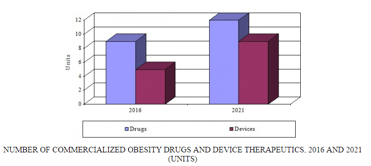 The field of obesity therapies complements diabetes and cardiac care. As mentioned above, comorbidities of individuals with obesity include high blood pressure, type 2 diabetes, and other vascular problems. In the United States, gastric band procedures comprise a smaller share of all bariatric surgeries, which also include sleeve gastrectomy and gastric bypass. [See earlier BCC Research blog, Bariatric Surgery Market Bolstered by Health, Longevity Gains]. Key drivers of growth include increasing rates of global obesity, demand for therapies that provide a combination of benefits with a low side-effect risk profile, greater private investment and public funds toward obesity prevention and treatment, and more obesity research and understanding of biochemical pathways available for intervention and modification.
In the future, drugs taken in combination will likely be used to tackle obesity, whether as separate pills or in one combination tablet. Analyses of single agents that target one mechanism show they can produce weight losses of 5%–10%; by themselves, these may not offset effects of diabetes or cardiovascular disease. Bariatric surgeries offer more drastic weight losses, beginning at 20%–25%. A standard of the FDA in terms of approving a weight loss medication is a clinical result of a 5% reduction in weight for longer than one year and the absence of adverse effects.
Like medications, devices are making a comeback as techniques for weight loss surgeries become more refined. A number of FDA approvals of new weight loss devices are ushering in a new era of obesity procedures for patients and other stakeholders. Last year, gastric balloons ORBERA and Reshape Dual Balloon, as well as the Maestro System, all received FDA approval. Obesity Drugs and Therapies: Technologies and Global Markets, analyzes the drug development landscape and future direction of the industry. Analyses of global market drivers and trends, with data from 2015, estimates for 2016, and projections of CAGRs through 2021, are provided.