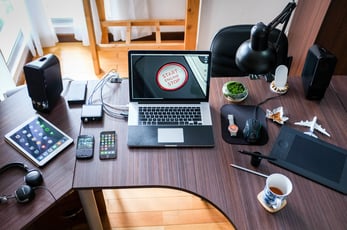 The electronics industry remains a major user of high-performance thermoplastic and thermosetting polymers. Almost every type of engineering thermoplastic (ETP) is used in one type of electronics component or another, although standard nylons (polyamides) and thermoplastic polyesters (generally polybutylene terephthalate) are the two dominant polymer families, by far. This is especially true among connectors, which account for the vast majority of total business in electronics components.
As we increasingly adopt electronics devices into our working lives and leisure activities, the consumption of engineering thermoplastics in this sector continues to grow while the average size of individual components continue to shrink due to improvements in polymer processability and end-use performance that reduce wall thicknesses.
Many technology innovations have marked the global electronics industry's recent growth and performance. Indeed, tech advancements have put electronic devices to use in places once thought as almost unimaginable.
At the beginning of this century, Apple introduced the iPod, the device that changed the face of mobile music. The market for smartphones took off outside Japan only in the mid-2000s. Cloud computing has only substantially evolved since the late 2000s. The tablet market took off only in 2010 with the introduction of the iPad. In 2011, Nevada became the first state to permit the operation of driverless cars.
In the coming years, the electronics industry will be influenced by overall global economic growth, which will remain moderate, as well as regional growth trends. The growing demands of industry and a continuing change in personal lifestyles will largely guide its performance.
The industry will continue its cyclical nature, more than in most other markets, with larger swings in year-to-year growth. Product life cycles are already short in some areas, with smartphones often traded-in after a single year of use. Although there's no general rule regarding product life cycles, indications are that tablet users won't upgrade their devices as quickly as their smart phones, and likely more often than the home computers their tablets replaced.
In any case, the requirements for innovation will remain significant, thus necessitating the continued support of research and development and new product development initiatives. Furthermore, consumers will continue to require service on a global basis.
In its October analysis, Plastics in Electronics Components: Technologies and Global Markets, BCC Research estimates the market to reach nearly 6.1 billion pounds in 2022, up from 4.2 billion pounds in 2017, demonstrating a 7.7% CAGR.
Offering comprehensive analyses of global market trends, with data from 2016, estimates for 2017, and projections of CAGRs through 2022, this report also presents information about pricing of resins, molders of electronic components, testing agencies and requirements related to electronic components. Coverage of single devices, such as connectors, capacitors, switches, bobbins, multiple-component devices such as printed circuit boards and interconnects, and encapsulants also is provided.
To learn more about this vibrant industry, download the free report overview.