Rapid changes in technology-intensive fields are spurring the development of new products and their applications in agriculture, driving big growth in this industry's biotechnology market. At a compound annual growth rate (CAGR) of 10.8%, the global agricultural biotechnology market is expected to reach $53.7 billion in 2022, up from $32.1 billion in 2017. According to new proprietary research by BCC Research, the rising demand for biotech seeds that can deliver higher yields and better resistance to plant stresses and threats, along with the emergence of a spectrum of enabling biotechnologies, are also fostering market growth.
Global demographic trends are driving the need for higher agricultural yields. World population growth, coupled with rising incomes, are leading to increasing consumption of higher-quality foods, including meat. "This, in turn, creates higher consumption of feed crops, including maize, soy, and wheat," notes Kevin Fitzgerald, BCC Research editorial director. "At the same time, the acreage of arable land available for producing crops is under pressure from a range of forces including growing population, urbanization, and global warming. All of [these factors are] contributing to market growth."
As a result of these forces, the agricultural industry must increase its productivity and crop yields. Biotechnology provides a set of strategic tools to meet these market demands. The agricultural biotechnology market consists of biotechnology tools, genomic-enabled products, and biologicals.
GLOBAL MARKET FOR AGRICULTURAL BIOTECHNOLOGY BY SEGMENT, 2017-2020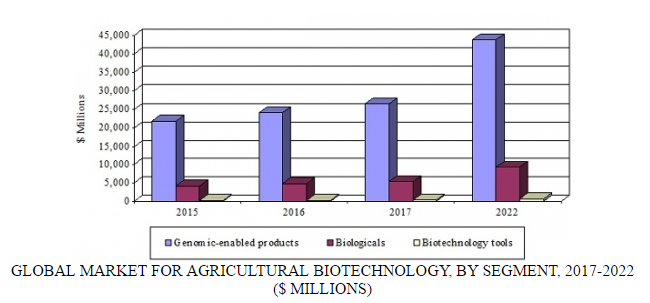 Biotechnology tools (including DNA sequencing, biochips, RNA interference, synthetic biology, and genome-editing tools) comprise a small but strategic segment of the industry. Tools enable the development of better plant breeding programs, as well as novel plant traits, thus enhancing downstream agricultural markets. New genome-editing tools offer precision, specificity, and speed for modifying the genome, in addition to a faster pathway and the possibility of non-GMO (genetically modified organism) seeds that do not require regulatory oversight. The total tools market is estimated to reach $326.6 million in 2017. At a CAGR of 18.1%, it will garner $751.5 million by 2022.
"Unlike the seeds and agrochemical markets, which are undergoing consolidation, the biotechnology tools industry is fragmented. Yet, significant innovation is occurring in start-up or smaller companies," says Fitzgerald. "The large agricultural companies maintain active alliances with the biotechnology companies, allowing them to participate in the upside of new genomics technologies that will enhance their breeding, seed development, and biologics programs."
The global market for genomic-enabled products is estimated at $26.4 billion in 2017, and is predicted to grow at a CAGR of 10.6% to reach $43.7 billion in 2022. Genetically modified, or transgenic, biotech seeds dominate the 2017 market. However, emerging tools, including genome editing, are creating a new, non–genetically modified market segment that is poised for high growth through 2022.
The total market for agricultural biologicals was valued at an estimated $5.3 billion in 2017. At a CAGR of 11.5%, it is forecast to reach $9.2 billion by 2022. Important growth drivers for this market include increasing weed and pest resistance, desire for higher crop yields, and more regulatory focus on synthetic crop chemicals. The rising demand for environmentally friendly crop protection products is another growth driver. A key factor for biologicals is that they give farmers a new mode of action, which helps to protect the plant from insects, weeds, or diseases. In addition, by applying products with multiple modes of action, a farmer makes it harder for the pest to develop resistance to them.
The United States and China are key geographies for biologicals, due to a more favorable regulatory climate. As a result, research and development efforts have focused on these two countries.
US AGENCIES MUST PREPARE FOR GREATER QUANTITY, RANGE OF BIOTECH PRODUCTS
The number and diversity of new biotechnology products expected over the next 5–10 years has the potential to overwhelm the US regulatory system, says a new report from the National Academies of Sciences, Engineering, and Medicine. The US Environmental Protection Agency, the Food and Drug Administration, the US Department of Agriculture, and other agencies involved in regulating biotechnology products should increase their scientific capabilities, tools, and expertise in key areas of expected growth, said the committee that conducted the study and wrote the report.
The US biotechnology economy is growing rapidly, with products becoming more complex. Some future biotechnology products are likely to use genome-editing techniques for familiar applications, such as modifying agricultural crops. Other future products are expected to be entirely new, e.g., plants that can serve as sentinels of environmental contamination, or collections of microorganisms that can produce chemical compounds efficiently.
Current staffing levels and resources at US agencies may not be sufficient to address the expected scope and scale of future biotechnology products, the report says. Examples of key evolving areas include understanding relationships between intended genetic changes and an organism's observable traits, predicting and monitoring ecosystem responses, and quantifying the economic and social costs and benefits of biotechnologies.
To respond to the expected increase and diversity of products, the agencies should develop risk-analysis approaches tailored to the familiarity of products and the complexity of their uses, the report says. Overall, the federal government should develop a strategy that scans the horizon for new biotechnology products, identifying and prioritizing those products that are less familiar or that present a need for more complex risk analysis, advises the National Academies report.
CHINA APPROVES FEWER GMO CROP IMPORTS, HAMPERING TRADE
China is approving fewer new biotech crops for import, hampering the launch of new products globally and hurting trade, according to an American industry group. China does not permit the planting of any genetically modified varieties of staple food crops. But it does allow the import of GMO crops, such as soybeans, for use in its huge animal feed industry. The number of annual approvals has fallen to just one in 2016 (a Bayer Crop Science soybean), down from three in previous years, according to China's agriculture ministry. Eight other products had also been seeking approval for import in 2016.
The United States is the biggest producer of GMO crops and one of China's top suppliers of soybeans. It has long been a pioneer in technology aiming to protect crops against insects or allow them to resist herbicides. China has said that it supports biotechnology to raise the efficiency of its agriculture sector and that it plans to commercialize new GMO varieties of corn and soybeans in coming years.
However, public acceptance of biotechnology is a key challenge for the future introduction of genetically modified crops in China. Despite attempts by the government to persuade consumers of the safety of such foods, opinions remain highly polarized. In a paper on China's agricultural policy, the American Chamber of Commerce in China said that the government and academics have helped to improve public understanding of biotech products. (Reuters, March 21)
BCC Research's study, Agricultural Biotechnology: Emerging Technologies and Global Markets, analyzed key technologies and products to determine present and future market sizes and to forecast growth through 2022. The report discusses industry strategic alliances, competitive dynamics, patents, and forces that are driving market growth. It provides in-depth coverage of the agricultural biotechnology industry structure and profiles 70 major companies.