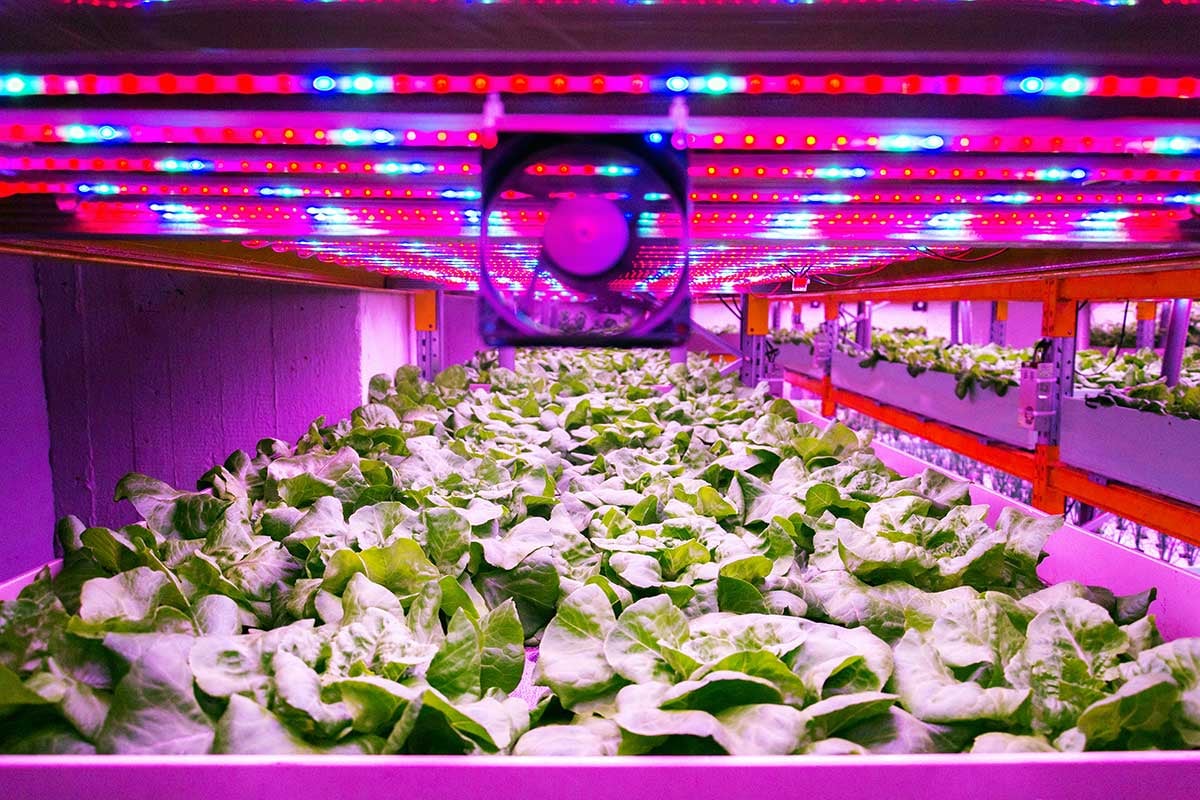 The global market for vertical farming is estimated to grow from $3.7 billion in 2021 to $10.5 billion by 2026 at a compound annual growth rate of 23.4% during the forecast period of 2021-2026.
What's more the global market for lights in vertical farming is estimated to grow from $1.2billion in 2021 at a CAGR of 23.2% and software in vertical farming is expected to grow from $408.8 million in 2021 at a CAGR of 25.2% during the same forecast period.
What is vertical farming?
Vertical farming is a growing technique gaining momentum across the globe. This modern farming approach sees food grown inside a structure or container in an array of shelves which are stacked side by side – and vertically, of course. Vertical farming also includes the use of technology, enabling farmers to control the environment and grow crops more precisely by monitoring and adjusting temperature, lighting, humidity, CO2 levels, nutrients and water.
By utilising this type of technology – also known as high-rise farming technology – farming can be conducted year-round and not be dependent on outdoor environment conditions. The added benefits of this type of farming include:
Less wastage due to crop failure
Reduced resource inputs
Limited land and water resource utilization
Less labor
There are typically three growing techniques involved in vertical farming:
Hydroponic
Aeroponic
Aquaponic
Crops grown using these techniques can be further broken down into 'fast-turn crops' or 'slow-turn crops'. Fast-turn crops take approximately six weeks to produce and include cabbage, mustard, greens, parsley and other microgreens and vegetables. Slow-turn crops usually take seven to nine weeks to produce food such as tomatoes, strawberries and oregano.
Vertical farming is fast becoming an integral part of farming to ensure global food security, while also meeting the demand for healthy and pest-free food. This modern farming technique has the benefit of enabling farmers to grow five to ten times more yield vertically, than the same area would horizontally using traditional farming techniques.
Vertical Farming is the future of farming
The continued exponential growth of vertical farming and the proliferation of its technology should act as a warning to those within the industry not preparing for the future of technology-based farming already.
The growth already seen across the vertical farming landscape can largely be attributed to environmental concerns, such as zero carbon emission and sustainability goals. However, with increasing food insecurity globally, as well as ongoing labour shortages, supply chain issues and increasing health awareness, it is also vital that countries begin to invest in vertical farming to become more food self-reliant.
As the technology for vertical farming continues to improve – alongside the introduction of cloud computing and machine learning – growers and farmers will be able to utilise their time, energy and resources more accurately, reduce growth times further and enhance production capacity.
The interconnectivity of a sustainable future and conscious development across the globe is now dependent on how efficiently and effectively we can use our environment and limited resources. Vertical farming is solving traditional farming issues across the globe, as well as in polar regions too.
Access your complimentary vertical farming overview today
Vertical farming is expected to realize the goal of 'Agriculture 4.0' which is the future of farming technology, involving the use of technologies such as robots, sensors, aerial images and others in future agriculture – the future of farming is undeniably here.
To access your complimentary overview, please tap the button below.