The sharing economy refers to the use of information technology to facilitate the exchanged access to (rather than formal possession of) goods or services between two or more parties. For insight into current and future trends in the sharing economy, check out our report, Shared Economy: WeWork, Uber, Airbnb and Lyft.
The idea of sharing a product or service has deep roots in history, going back to the barter system that human communities used for millennia before the introduction of money. Today, consumers rent cars, skis, tools, gardening equipment and many other items for which they have only a temporary need.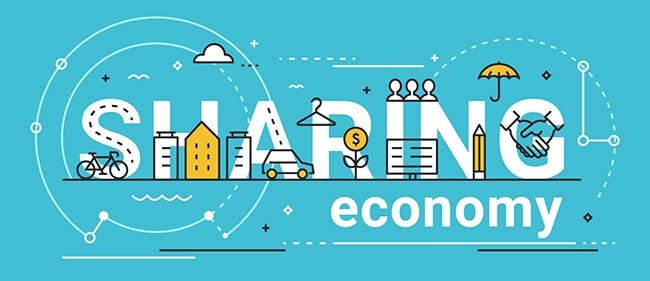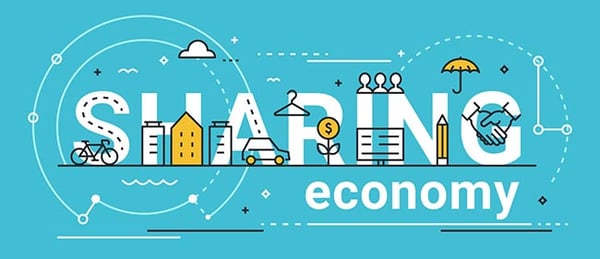 Background of Sharing Economy
The first true sharing platforms began to appear around the time of the Great Recession of 2007-2009, facilitated by increased access to the internet and mobile technology. Since then, the sharing economy has grown rapidly, although many sharing economy companies have failed. In spite of these failures, the outlook for the sharing economy is bright.
The sharing economy is incredibly diverse, with entrepreneurs continuing to identify new market niches and invent business models to serve them.
Below are the market segments of the sharing economy which account for the bulk of the market at present and in the foreseeable future:
Mobility sharing: The shared use of a car, bicycle or other low-speed transportation mode that provides users with short-term access to transportation on an as-needed basis. Examples include: Uber, Lyft, Citi Bike, Bolt Electric Scooter Rental, Parkhound and Spacer.
Person-to-person (P2P) finance: Uses internet technology and software applications to bring together individual consumers and providers of funding, bypassing traditional financial middlemen such as banks and insurance companies. Examples include AngelList, Lending Club and Lemonade.
Vacation rental and room sharing: These allow travelers to rent short-term vacation accommodations from the property owner directly via their website or mobile app. Examples include: Airbnb and HomeAway.
Coworking: Enables workers who do not all work for the same company or organization share an office space, cost savings and convenience through the use of common equipment, utilities and receptionist and custodial services. Examples include: WeWork and The Wing.
Online talent platforms: Connects freelancers, independent contractors, consultants or other outsourced and non-permanent workers with specific, temporary work opportunities, or "gigs." Examples include Freelancer.com, TaskRabbit and Fiverr.
Healthcare sharing: Affords on-demand access to health care professionals via telemedicine and in some cases, in-person consultations. Examples include: American Well, Cohealo and Kindara.
P2P consumer goods rentals: Applies a P2P car sharing model to consumer goods such as tools, furniture, cameras and clothing. Examples include: StitchFix and Rent-Instead.
New Opportunities in Sharing Economy
The sharing economy will continue to spread into new markets as entrepreneurs and investors develop new business models.
One of the most promising opportunities in the sharing economy is electricity sharing. Individuals who obtain their electric power from multiple sources—solar panels and wind turbines, as well as more conventional sources—could form communities for energy sharing with each other and local utility companies.
Energy sharing could also help utility companies by lowering the impact of uncertain renewable generation on the grid. Utility companies could play multiple roles in energy sharing systems. Sharing communities will need utility companies for their energy distribution network. The communities may also need to rely on utility companies to serve as coordinators of the sharing systems.
Examples of such electricity sharing communities already exist. The Brooklyn Microgrid (BMG) allows its participants to "engage in a sustainable energy network and choose their preferred energy sources, locally." BMG is a blockchain-enabled platform that allows for energy transactions through an online marketplace. Participants include energy companies, solar communities, residential and business consumers, as well as residential and business prosumers.
For additional intel into the sharing economy, download a complimentary overview of our full report, Shared Economy: WeWork, Uber, Airbnb and Lyft, written by BCC analyst, Andrew McWilliams.