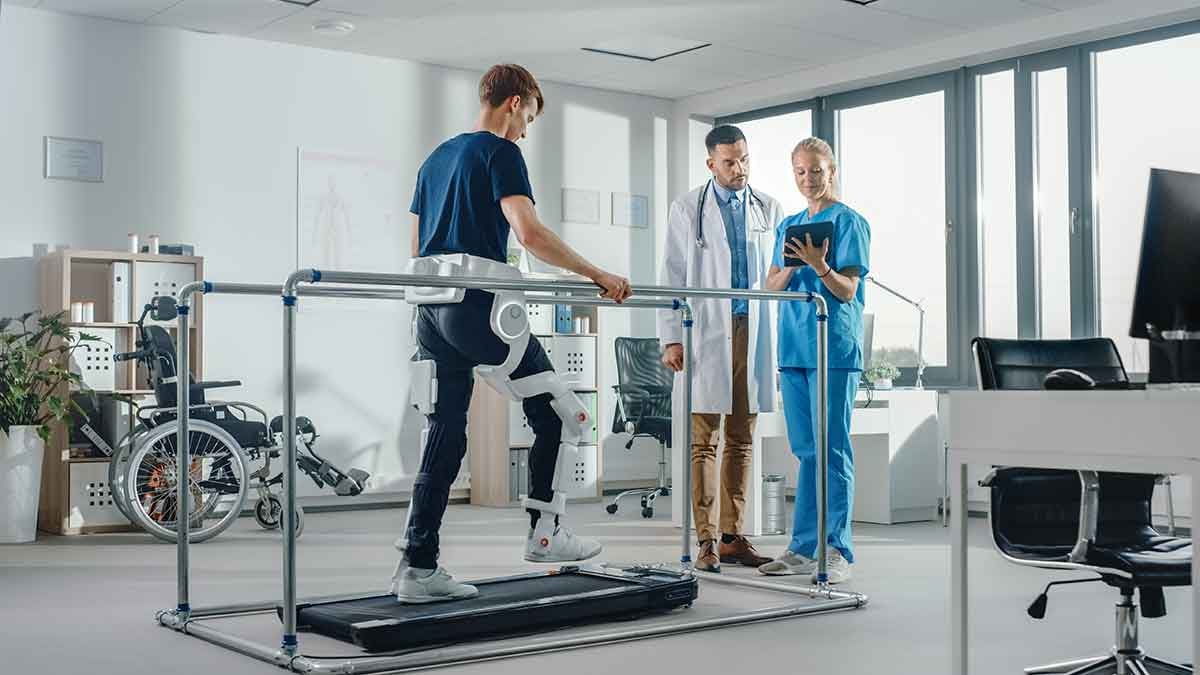 Wearable medicals are becoming increasingly prominent in healthcare. With the past decade bringing the explosive popularity of fitness trackers, this isn't exactly surprising. FitBit has become a wristwear staple, going from selling a relatively basic pedometer to a suite of watches that track a huge number of variables. There's little doubt that this kind of technology has fostered the growth of wearable medical tech, but these life-saving devices go far beyond typical consumer uses.
BCC Research has predicted that the global wearable medical devices market will reach $83.9 billion by 2026, up from $20.1 billion in 2021. The compound annual growth rate (CAGR) will be around 33.1% between 2021 to 2026. The market is on the threshold of a period of tremendous growth, which could alter the face of healthcare for good.
Why Is the Industry Exploding Now?
People are living longer. According to statistics from the Population Reference Bureau, the percentage of over 65s has increased from 5% in 1960 to 9% in 2018. By 2020, it will reach as much as 16%, which means the need for long-term medical care will only increase. Wearable medical devices provide a convenient and assured method of monitoring health conditions in older patients – particularly those who are housebound.
Longer life expectancies and an expanding population also mean more people are also suffering from chronic diseases. Diabetes, cardiovascular disease, cancer, and respiratory illnesses account for 80% of deaths globally. Wearable medicals are a practical and cost-effective way to keep tabs on these conditions. Patients gain greater autonomy over their healthcare by being able to monitor conditions remotely. Plus, any issues can be swiftly flagged and addressed, preventing emergency hospitalization.
Market opportunities
As healthcare authorities and patients become wise to the benefits of wearable medical devices, numerous opportunities present themselves. The rise in AI technologies across all areas of society is encouraging the expansion of AI-assisted wearable medicals. For example, researchers from the University of Utah School of Medicine were able to analyze the data collected from a wearable sensor patch to predict the likelihood of heart failure rehospitalization in patients. Groundbreaking cases like this underscore how the convergence of AI and wearable medicals can have a transformative impact on preventative healthcare. The considerable growth anticipated in this area, then, comes as little surprise.
In a similar vein, the prospective for connected medical devices looks equally promising. The Internet of Things (IoT) is infiltrating nearly every industry, and healthcare is no different. There's enormous scope for patients to benefit from multi-parameter monitoring, particularly for chronic illnesses like diabetes and heart disease.
Top Trending Wearable Medical Devices
A diverse range of wearable medicals are already commercially available. As investment funnels into the industry, technology sees further advancement. Below, BCC Research has pinned town the top trending devices in wearable medicals today, in no particular order.
1. Smart watches
Health and fitness trackers take up the largest market share at 35.8%, and smartwatches are already wildly popular among sports enthusiasts. With IFA 2022 bringing to light some big product launches like Apple's Watch Ultra, high-end rugged smartwatches are becoming increasingly visible to a wider audience.
2. Smart glasses
Smart glasses that offer augmented reality (AR) are predicted by many to be the future of tech. With these weighty credentials, it's likely that smart glasses for medical purposes will see increased usage. People with low vision or partial blindness can benefit from smart glasses, with some able to alleviate conditions like diabetic retinopathy, macular degeneration, glaucoma, and retinitis pigmentosa. Esight 3 Eyewear from Esight Corp is an example of a hands-free portable glasses product that enables clinically blind people to see again.
3. Defibrillators
Cardiovascular diseases are the most widely occurring diseases across the globe. The American Heart Association estimates that 50 million people suffer from them, which indicates that wearable cardioverter defibrillators (WCD) will grow in popularity. Lightweight and easy to wear, they're generally designed for patients who are at risk of cardiac arrest. WCDs give physicians time to assess a patient's arrhythmic risk, protecting individuals from sudden cardiac death (SCD) by registering abnormalities and delivering a life-saving shock in response. Commercial examples include the Zoll Lifevest from Zoll Medical.
4. Insulin pumps
Diabetes is one of the largest global health emergencies and is among the top 10 causes of death globally, which makes it highly likely that insulin pumps will be a growing phenomenon. Diabetics can use wearable insulin pumps to manage their condition. Small, Band-Aid-like patches are worn on the skin that use highly advanced nanotechnology. By delivering a continuous dose of insulin, the nano pumps allow for greater glycemic control than daily injections.
5. Hearing aids
Smart hearing aids have been developed for people with slight or profound hearing loss. These "hearables" are sound processing devices that can connect to your smartphone and quieten any background noise. Some models include language translation capabilities. In the future, smart hearing aids could use AI that informs caregivers of a fall or an emergency.
Wearable Medical Devices: Technologies and Global Markets
BCC Research have an extensive suite of reports on Medical Devices, including a report into Wearable Medical Devices: Technologies and Global Markets. Becoming a member of the BCC Research library grants you access to a range of reports within a chosen category, meaning you can gain valuable information on market dynamics, growth opportunities, and significant product developments within the Medical Devices landscape.
To view what's included in our Medical Devices category, click here. To discuss the benefits of a membership, get in touch with a helpful member of our team through the button below.