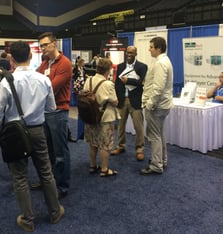 Our Senior Editor, Dr. Gordon Nameni, recently attended the 41
st
annual
International Conference and Expo on Advanced Ceramics and Composites
in Daytona Beach, FL. We asked him to fill us in on the buzz from the show.
Gordon's Top Five Takeaways, aka, What Everyone is Talking About
Aluminum Nitride Fibers. It appears that aluminum nitride fibers might be poised to shake up thermal conductivity in the power device applications market. The major technical challenge here is achieving uniform alignment of the fibers within a matrix, with discussions underway to set up fabrication facilities in China. Dr. Lin, from Lamar University gave a detailed presentation to a rapt audience. This could be a game changer.
"Aluminum nitride fibers have 6x thermal conductivity than silicon nitride substrates for heatsink applications." - Dr. Sidney Lin, Lamar University
Physical Characterization Instrument Market. The physical characterization instruments market could be poised for growth. Historically, the industry has experienced direct growth from federal tax cuts. Expectations are high that a tax cut from the new administration is eminent, and will spur the market.
Education Software & Equipment Market. Surprisingly, we may see an upsurge in the education software and equipment market as more and more Tier 1 universities are moving to online courses. For instance, nearly 100% of MIT engineering courses are offered online. If you check out this recent ranking of the Top 100 Online Universities, you'll see this is no longer just a niche play.
Strong Prospects for Adoption of Geopoloymers. Geopolymers can be engineered to meet the mechanical strength requirements of concrete but emit 80%-90% less CO2 than Portland Cement. Besides concrete and cement, the technology can also be applied in paint, binders, grout and waste management. Since Nov. 4, 2016, the Paris Climate Agreement has come into force and consequently many nations have started to search for options to reduce their greenhouse gas emissions. It appears that geopolymers will play a significant role for years to come in nations concerned with climate change.
Greater Utility for Iridium. Iridium could be the next high usage conductive material as more and more researchers are imaging ever decreasing nanostructures that that may have an issue with the non-conductivity and high energy requirements of carbon. (Kathleen Shugart, UES, Inc., Air Force Research Lab)