What will the automotive industry look like in the new decade?
We sat down with automotive expert Adrian Wilson to discuss what trends to expect, how professionals can prepare for what's to come and more.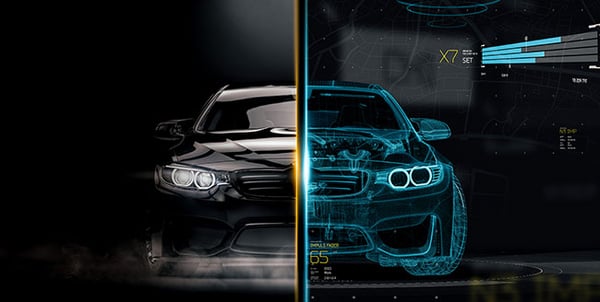 BCC: How do you think the automotive market will evolve in the next decade?
Adrian: In general, there has been significant activity and investment taking place to commercialize self-driving cars, involving both the established car manufacturers and the technology giants of Silicon Valley. It is not an exaggeration to say that this could completely reshape the landscape of the global automotive industry, although it's unclear right now what timeframe we're looking at.
BCC: What trends can professionals in automotive and related markets expect?
Adrian W: Silicon Valley and the tech industry have poured billions into partnerships and design teams in the push to create self-driving cars and the traditional OEMs were not immediately ready for this. They have, however, been faced with a simple choice – surrender a lucrative portion of business to Silicon Valley and risk ending up becoming mere sub-contractors, or treat the technology companies as suppliers and learn how to build autonomous vehicles in-house. Not surprisingly, they went for the second option.
BCC: It seems like they are divided in their goals?
Adrian W: Yes. These two industries have very different objectives and agendas. The wish of the established automotive industry is naturally for business as usual, with car ownership continuing to grow, which now seems unlikely in the long term. The unstated goal of the tech industry, meanwhile, is the complete elimination of car ownership and its eventual substitution with fleet-owned autonomous vehicles as a super-networked global public transport system.
BCC: Wow! So, what do you think the immediate future will look like?
Adrian W: In the nearer term, battery electric vehicles (BEVs), hybrids and hydrogen fuel cell developments are the focus of intensive R&D initiatives in the fight against emissions.
BCC: What about trends in automotive materials?
Adrian W: In materials for automotive interiors, insulation and other components where there won't be much drastic change. Wherever fiber-based products or foams can replace heavier materials such as plastics and steel they are making gains due to light weighting initiatives.
Electric vehicles don't need as much insulation as combustion engine, however, or the same filters, while textile surfaces will become less passive through the integration of electronics.
BCC: What can professionals do to prepare for those changes so that they thrive in the coming decade?
Adrian W: That really depends on what field they are in, but all the exciting development will be in electronics and software. It's no accident that some of the bigger global suppliers of components such as car seating and airbags have exited or hived off those activities purely to focus on intelligence in vehicles.
BCC: What are one or two of the most exciting innovations in the automotive market?
Adrian W: In my own narrow materials field, the rapid establishment of an entire global supply chain by BMW and SGL for the i3 and i8 vehicles and the colossal investments involved has been one of the most exciting developments over the past decade.
This suggests that a huge uptake of carbon fiber materials by the automotive industry was imminent, to replace steel and other metal parts.
BCC: Can you break that down for us a bit more?
Adrian W: Carbon fiber composites are increasingly employed in the aerospace sector, having grown from representing 10% of the weight of an aircraft body 20 years ago to more than 50% in the latest models, such as the Airbus A350 and Boeing 787 Dreamliner.
It has been estimated that for the production of around 1,000 aircrafts a year, the total amount of carbon fiber required is 50,000 tons, based on an average of 50 tons being used in each aircraft.
However, if even just 100kg of carbon fiber composites were to be employed in all of the projected 100 million cars soon to be built each year, the demand would be 10 million tons – just a little bit more than the global production of 78,500 tons of carbon fibers calculated to have been produced in 2018.
BCC: Are there any hurdles that the industry will face with this?
Adrian W: There are many obstacles to such a situation ever being achieved, but composites continue to find new applications in the automotive sector, not least because of their light weight compared to steel.
A more recent innovation in the field of filtration fabrics has been the successful air pollution reduction scheme instigated by automotive supplier Mann+Hummel in Stuttgart, Germany.
As the home of both Mercedes and Porsche, Stuttgart owes its status as Germany's richest city to the automotive industry, but in January 2019, a first partial car ban was imposed, effectively preventing any diesel vehicle over ten years old from entering the city of 630,000 people.
BCC: And why was that?
Adrian W: A measuring station installed at the notorious Neckartor road junction – which is used by up to 80,000 cars each day – repeatedly exceeded one of the three limit values for fine dust emissions.
Mann+Hummel, however, installed 23 of its latest Filter Cube filter columns at the junction, designed to trap over 80% of the emissions.
BCC: Did it work?
Adrian W: Yes. They proved effective at getting the emissions below the specified limits and the economic benefits are substantial. Cities across Germany considering similar bans on older diesel vehicles and Stuttgart was even looking at imposing a ban on those not measuring up to the latest European standard, which would have applied to vehicles produced right up to 2014.
BCC: And how many people did this impact?
Adrian W: Well, in a city the size of Stuttgart, this would potentially impact around 50,000 car owners at an estimated cost of around €150 million, making the Filter Cube technology a very valid alternative to keeping emissions down.
BCC: Will we be seeing similar projects in other places?
Adrian W: As a matter of fact, Mann+Hummel now have 15 projects planned globally in some of the most polluted cities, including Bangalore, Delhi and Shanghai, as well as others in Japan, Singapore and South Korea.
BCC: That's great! Any last thoughts?
Adrian W: It's a strange concept to consider filtering the actual atmosphere, and that this development should have come from the automotive industry, but there you go.