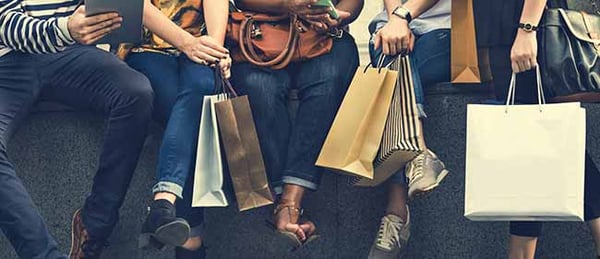 "Brick and motor stores will go out of business," is more or less a quote we're sure you've heard, or even thought yourself. It makes sense. Everything is being digitalized, and with Covid-19 coming in hot, going to physical stores may seem like something of the past. But the truth is, while change is coming, it's not the change that you may be thinking.
Yes, smart retail refers to the application of new technology in an established industry. No, it doesn't refer to new hacks to close a deal – well, not quite. Smart retail speaks to the customization of a customer's experience. What does that mean exactly? It's as cool, and maybe as unnerving, as it sounds.
With highly sophisticated tech, questions that were seemingly impossible to answer will become not only become answerable, but they'll also become streamlined.
What route did customers take through the store? Where did they stop? What did they pick up? What did they put back? These questions will be used to help smart stores create not only a customized experience, but one that is both enjoyable and helpful for each customer.
How is this achieved? Well, here's where advertising sneaks in. The customer experience will begin before anyone even reaches the store. Instead of standard advertisements in the store window, there will be 3D attractions, catching people's eyes and inviting them in with tantalizing advertisements that are personalized to the general information gathered by passersby.
Don't want to bother seeing if a store has a deal you'd be interested in? Those deals will automatically be sent to your phone, giving you a clear breakdown of everything that you might like, and how long the offer will last for.
And all of this happens before you even enter the store. Once that happens, it's a whole other ballgame. Instead of lines of product ready for you to sift through, you'll walk into an experience. Smells and sounds will be integrated into the store, and for stores that have a humanitarian focus, you'll be brought into the story of the origin of the product, and who is helped through your purchase.
Customer service will also evolve thanks to smart retail technology. A lot will be automated, which while sounds impersonal, can create a soothing and helpful experience for the customer. Changing rooms will adapt to provide an experience that gives you a better idea of what your outfit would look like if you were walking outside versus in a venue hall. The possibilities are endless, and the future is approaching sooner than you think.
Smart Retail Trends and Projections
The global market for smart retail should grow from $18.18 billion in 2020 to $55.5 billion by 2025 with a compound annual growth rate (CAGR) of 25%.

North America's smart retail market should grow from $7.53 billion in 2020 to $20.78 billion by 2025, growing 22.5% annually.

Key players in smart retail include Zensors, IBM and Cisco.
For additional intel into the global market for smart retail, download a complimentary overview of our report, Smart Retail: Technologies and Global Markets.
For an interview with a major player in smart retail, check out our white paper, Future of Smart Retail.