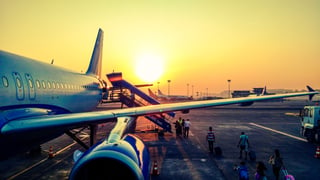 Technological, regulatory, security and economic trends are placing new demands on airports—the backbone of the global commercial air transportation system. To meet these trends, airport operators are expected to spend hundreds of billions of dollars on new airport construction, expansion and modernization.
Singapore's Changi Airport is meeting the technological trend head-on,
by installing a smart digital tower prototype
. Its operators hope to learn how digital towers could meet its challenging day-to-day operational requirements. One of the world's busiest airports, Changi moves 58 million passengers a year.
NATS, a British air traffic control provider, will develop the smart digital tower, which will feature a range of assistive functionalities and features. The trial will employ advanced camera and video stitching tools that will provide an enhanced view of the airport with live operational data overlaid as a "heads-up display." The cameras will track, pan, tilt and zoom, and enable a closer look at objects or areas of interest. Radar and weather data also can be added to the screen to provide greater situational awareness.
The project, which is scheduled to run 22 months, endeavors to enhance air traffic management and the safety of runway and ground operations and to increase operational efficiencies.
Kevin Shum, director-general of the Civil Aviation Authority of Singapore,
said
: "In concert with Singapore's Smart Nation drive, we are leveraging digital technology to transform the aviation industry in Singapore in many different ways. We look forward to working closely with NATS to co-develop the operational procedures and processes required to deploy the smart digital tower for Changi Airport."
Analog CCTV systems have long been used to monitor access to sensitive airport areas. However, the advent of networked digital CCTV systems has opened up new possibilities in airport surveillance and security. Analog CCTV systems were cumbersome to install and operate. Installing a new analog CCTV camera could involve the installation of hundreds of feet of new cable, and the amount of videotape generated by a large system made it difficult to go back and review a particular security event after the fact. In many cases, it was impractical to maintain 24/7 video monitoring of every location.
Newer digital CCTV systems like the prototype planned for Changi store video imagery on a computer hard disk instead of video tape, which enables security personnel to pull up an image by time, data and location as needed, while continuing to record current events. Digital CCTV can be integrated with biometric security systems such as facial recognition as well as software that can recognize and zoom-in on suspicious behavior.
NATS Chief Executive Officer Martin Rolfe
said
, "Singapore and CAAS are leading the world in the approach to smart airport and smart digital tower adoption. I believe the work we do together over the next two years will help shape how smart digital tower and smart airport technologies are applied to hub airports all over the world."
BCC Research, in its new report,
Advanced Airport Technologies: Global Markets to 2022
, covers the worldwide market for electronic, electro-optical, electromechanical and other modern technologies that enhance the safety, security and efficiency with which commercial and private aircraft move passengers and cargos within a 50-mile radius of the airport.
BCC Research estimates the global market for these technologies to exceed $21.3 billion in 2017 and approach $27.3 billion in 2022, with a compound annual growth rate (CAGR) of 5.1%.