Surgical procedures and emerging applications are fueling the industry for medical laser devices. Consequently, this industry will post a compound annual growth rate (CAGR) of 15.3% through 2022, according to a study by BCC Research. Despite economic slowdowns that can affect cosmetic or elective procedures, demand in the United States and Canada is strong, accounting for nearly half of the global market for medical lasers. Europe and the Asia-Pacific region account for roughly 20% of sales. Overall, revenues are expected to reach $11.5 billion in the next five years.
BCC Research found that the diagnostic use of medical lasers is growing more quickly, at a predicted five-year CAGR of nearly 18%. Therapeutic use is forecast to grow by approximately 14% to reach $7.4 billion by 2022. Ophthalmology is the largest end-user segment in medical laser sales (accounting for nearly half the global total in 2016), but use of the devices in dental surgery is growing quickly. Applications in veterinary medicine and cosmetic surgeries are also increasing.
GLOBAL MARKET FOR MEDICAL LASERS BY END USE, 2016–2022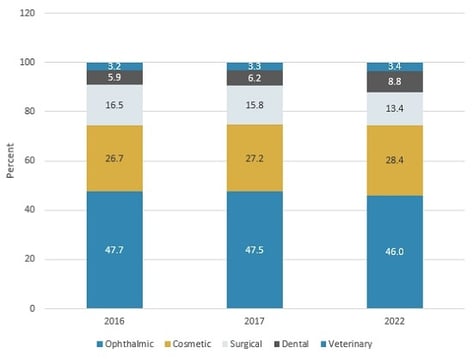 "Another factor in the United States is uncertainty related to healthcare insurance and the rising costs of medical care for an aging population. People may think of this [lasers] for tattoo removal and cosmetic procedures, but there are also medical gains, such as reducing postsurgical bleeding and targeting specific areas of the body for treatments. Medical laser technology is evolving," says Robert G. Hunter, senior healthcare editor at BCC Research. As it evolves, laser technology is becoming smaller, which has benefits in both the diagnosis and treatment of disease.
WORLD'S SMALLEST LASER JOINS ARMAMENTARIUM OF CANCER WEAPONS
A University of Arkansas for Medical Sciences (UAMS) research team led by Dr. Vladimir Zharov has demonstrated the ability to destroy cancer cells using the world's smallest laser. At 22 nanometers in diameter, the laser (known as a spaser [Surface Plasmon Amplification by Stimulated Emission of Radiation]) is capable of detecting and killing single cancer cells by generating super-bright light directly in the cells and transforming the light into heat, nanobubbles, and sound waves. The team's findings were published in the June 8 issue of Nature Communications.
"The use of lasers has revolutionized disease diagnosis and treatment. However, the large size of lasers has prevented their use in many medical applications at the cellular level," says Zharov. The extremely small size of the spaser overcomes these limitations and has shown the potential to diagnose and treat cancer at the cellular level.
"According to our data, spasers are small enough so as not to adversely influence cell functions, specific enough to target desired cells, bright enough to be detectable in complex biological backgrounds, and plasmonically active enough to generate the desired photomechanical therapeutic effect that can kill tumor cells, such as triple-negative breast cancer cells that are resistant to conventional chemotherapy," Zharov says.
Referring to the technology, Dr. John Dornhoffer, also at UAMS, says, "These cellular probes can likewise be bonded with compounds, such as folic acid, for molecular targeting of individual cancer cells in a therapeutic fashion without interaction with normal cells. This exciting research may eventually allow detection and treatment of cancer cells before they have the chance to metastasize." [Source: UAMS]
HANDHELD LASER SCANNER ENABLES EARLY DIAGNOSIS OF HEART DISEASE
A team of European researchers has developed a prototype of a compact, multi-laser-beam device that can read a heart's vital signs akin to a supermarket barcode reader. Because current medical tools for identification of cardiovascular disease are complicated or expensive, routine early forecasting of cardiovascular disease is impossible in large populations. The new diagnostic scanner will be relatively inexpensive in comparison to other heart diagnostic tools
Using laser Doppler vibrometry, the scanner builds a vibration map of the chest and heart area, which can highlight warning signs of cardiovascular disease such as plaque buildup, arterial stiffness, arterial stenosis, or heart dyssynchrony. "Our device employs the latest photonics technology, allowing a user to make measurements of the vibration characteristics of the heart without even touching it," said Dr. Mirko de Melis, coordinator of the EU project CARDIS (Cardiovascular Disease Detection with Integrated Silicon Photonics).
"A stiff artery creates a faster pulse pressure from the patient's beating heart. By measuring the pulse wave velocity, we can assess the stiffness of the arteries using light and make informed judgments, long before the onset of cardiovascular disease," Dr. De Melis adds. The CARDIS researchers believe the key to the success of a mass screening program at the general practitioner–patient level, where it has the greatest potential to make an impact, is the inexpensive and portable nature of the new laser scanner. [Source: Sci-News]
The researchers recently presented their preliminary results at the Optics in Cardiology Conference 2017. According to the World Health Organization, cardiovascular disease is the leading cause of death, responsible for approximately 30% of the total global figure. Early diagnosis and prevention of cardiovascular disease would result in healthcare cost savings.