At the Internet of Things World 2017 conference held this month, self-healthcare emerged as one of the top 10 key areas that will drive growth in the Internet of Things. Self-healthcare was ranked with the likes of agriculture 2.0, smart cars, and energy grids. The use of over-the-counter (OTC) medications for self-treatment is on the rise. Major contributing factors include marketing of drugs in mass media, lack of time in people's busy lives for appointments, and rising costs of health insurance. The National Library of Medicine states on its Web site that, although considered safe, there are risks associated with taking OTC medicines. Nonetheless, the market for these products is booming.
BCC Research recently analyzed the opportunities for growth in the global OTC drugs and dietary supplements market. "Health systems worldwide cannot cope with the demands of a growing and increasingly aging population. The self-care agenda is gathering pace globally as patients turn to self-medication to treat a range of everyday ailments," commented BCC Research Editorial Director Kevin Fitzgerald. "Rising demand, untapped market potential, and effective products will help the consumer health market to continue its upward trajectory."
In 2016, the global OTC drugs and dietary supplements market was estimated to be worth approximately $165 billion, with OTC drugs accounting for $109 billion and dietary supplements for $56 billion. By 2021, the market is expected to reach $220 billion at a compound annual growth rate (CAGR) of 6%. Growth in sales of OTC medicines will be stronger in developing markets than in developed markets, which reflects need, consumer acceptance, changing regulations, and promotion of these products in developing markets.
Now Hear This!
What if you could go to a drugstore to buy a hearing aid that worked seamlessly with your smartphones and other electronics? Currently priced $2,500 apiece, hearing aids are beyond the reach of many Americans—especially for seniors, who are most likely to need them. The cost of hearing aids is not covered by Medicare nor by most insurance companies. Yet hearing loss has serious health consequences. Research has shown that it is associated with isolation, depression, and the risk of developing dementia. Only one in five people with hearing loss uses a hearing aid. If hearing aids were widely available, the potential benefits to societal health and well-being would be immense.
Two panels (one at the President's Council of Advisors on Science and Technology, and the other at the National Academies of Science, Engineering, and Medicine) have recommended that the US FDA create a new regulatory classification for OTC hearing aids as well as performance standards for those new devices. OTC aids would be targeted to adults who are in the earlier stages of hearing loss.
The hearing aid market is dominated by six firms that produce 98% of all devices sold. Per current regulations, hearing aids can only be sold by hearing professionals. Because of close relationships between existing manufacturers and those professionals, distribution is effectively blocked to newcomers. Features such as wireless connectivity and rechargeable batteries are sold as costly extras.
By opening the market to OTC hearing aids, manufacturers of consumer electronics could enter the hearing aid space and sell directly to consumers. For people with mild to moderate hearing loss, studies have shown that high-quality OTC hearing devices can perform just as well as costly hearing aids. These OTC devices are designed to retail between $150 and $299.
The development of a regulatory classification for OTC hearing aids by the FDA would provide standards to ensure these devices are both safe and effective. Hearing aids could be sold in a number of venues, including pharmacies, grocery stores, and other retailers. The bipartisan Congressional "Over-the-Counter Hearing Aid Act" instructs the FDA to redo regulations that have kept innovators out of the hearing aid market. The Hill, May 17.
And Now, Look At This!
Last week, Alcon came out with a chewable vitamin to support eye health in people with age-related macular degeneration. Called Systane ICaps, the vitamin is formulated on the basis of results from the Age-Related Eye Disease Study 2 (AREDS2) research group. In fact, the changing face of the global OTC drug market is illustrated by trends in the eye care sector. In 2016, the market for OTC eye care drugs reached $10.3 billion.
The US market alone was worth $3.1 billion on the basis of sales of dry eye–related treatments and eye vitamins. Eye vitamins will lead growth in the eye care market for the United States, Europe, and other established markets around the globe. However, change is coming. By 2021, the eye care market will increasingly shift from the United States to the Asia-Pacific (APAC) region, with the latter forecast to achieve a five-year CAGR of 13.8%.
The dietary supplement market is on the go globally. Aging populations and increasing aspirations toward wellness are levers for this growth. Limited vigilance and monitoring is another reason for uptake in the dietary supplements market. Through 2021, the OTC medicines and dietary supplements market will shift marginally from the United States and APAC to Europe and BRIC countries (Brazil, Russia, India, and China), with more opportunities for international manufacturers opening up in this region. The shift will be driven by positive changes in regulatory processes and subsequent approvals of more OTC medicines.
REGIONAL MARKETS FOR DIETARY SUPPLEMENTS, 2015–2021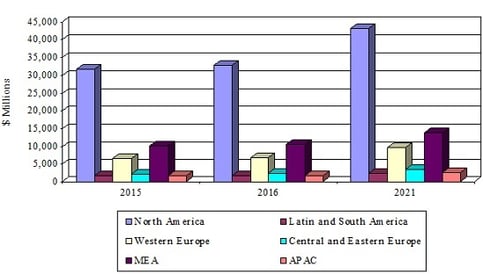 From 2016 to 2021, growth in the US market will stem from high-end OTC products to manage conditions or diseases that are connected to lifestyle, including insomnia, stress, smoking, obesity, and ageing. Due to its openness to adding new products and improving regulatory processes, Latin America promises healthy growth through 2018. Through 2021, the share of pharmacies will decline in developed markets; this decline will give an advantage to online sales. Growth in the share of online pharmacies will also be a result of countries such as Japan and China allowing online sales.
BCC Research's comprehensive study, Over-the-Counter (OTC) Drugs and Dietary Supplements: Global Markets, presents expert analysis of market trends. In addition, it examines the current market value, five-year growth potential, regulatory issues, market drivers, and companies that are defining the global consumer health sector.