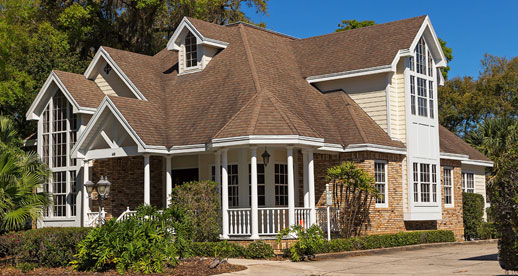 As the most important part of any shelter or building, roofing products must be chosen carefully. Roofing materials protect the outer layer of the roof from the elements, such as rain, hail, snow, sunlight, and living things, such as algae, microbes and wildlife. Roofing materials often depend on the region where the roof is being built, the climate and the structure's purpose. Commonly used materials for roofing applications across the globe are asphalt shingle, wood shingle, metal roofing, roofing tile, slate and many others to conform to the needs of the residents.
The North American region is one of the major markets for residential roofing materials and is slated to register a steady growth over the next five years as new construction and renovation activities continue to climb. North America is a relatively mature market compared to other regions; furthermore, the residential sector is heavily involved in renovation and remodeling, which is expected to boost the market sales of residential roofing materials in the coming years.
Natural disasters (like hurricanes and wildfires affecting the U.S. in 2017) have been more frequent and violent over the past three years, also boosting the sale of roofing materials. Between industry growth and more frequent weather events, building material demand is increasing, which is reflected in the current price of materials.
Key Drivers
1. Rise in Infrastructure Remodeling and Renovation
According to the research in North America, homeowners are not as willing to buy new homes or invest in new construction for various reasons. A greater number of people prefer to stay in the same home and keep the same mortgage. Also, many people lack financial resources to upgrade to a larger, pricier home. The percentage of homeowners moving up to their next home is observed to be lowest in the North American region (with the exception of certain parts of the U.S.) and is projected remain the same for the next 25 years per a real estate consulting company. The North American remodeling and renovation market size is projected to witness substantial growth in the coming years.
2. Rising Awareness Regarding Eco-Friendly Roofing Technologies
Rising population, increase in disposable income, development in countries, improved standard of living and government initiatives to increase infrastructure development has led to growth in the building and construction industry. This has directly boosted sales in the roofing materials market. While looking for roofing materials, most people prefer materials that are durable, waterproof, affordable and resistant to algae and other microbes. Currently, in North America, people prefer roofing materials that are environmentally friendly due to various government regulations and increased awareness in the population.
3. Climatic Changes Taking Place in the North American Region
Climatic changes have occurred in all countries, especially the countries that have cold weather and snow. North American has experienced highly unusual and destructive weather in the past few years. Some of the major observed weather events include hailstorms, tornadoes, snow packs, floods and even drought. In March 2017, strong winds, quarter-sized hail and lightning ripped through towns in northern Georgia, for example. Tornadoes and twisters destroyed homes in Oklahoma and Kansas. Abnormally deep snow packs in California's Sierra Nevada mountains melted, threatening power dams and flooding large areas. Such climatic changes taking place in North America in the past few years have been clearly noted by the National Oceanic and Atmospheric Administration, The National Environmental Satellite Data and Information Service and The National Climatic Data Center in Asheville, N.C.
Climatic changes occurring in North American have increase sales of roofing materials across the region. 2017 was one of the largest storm years in U.S. history, which brought on a large increase the sale of roofing materials.
The North American residential roofing materials market is expected to grow from nearly $13.0 billion in 2018 to $14.4 billion by 2023 with a compound annual growth rate (CAGR) of 2.1% for the period of 2018-2023.
Looking for more specific insights and statistics on the North American market for roofing materials? Download the free report overview.