A new analysis by BCC Research reveals that photomedicine has become one of the most exciting fields in biomedical research in the past 50 years. Photomedicine uses light energy to treat medical problems. In layman terms, it is the study of diseases caused by exposure to light and the therapeutic application of light to detect, diagnose, and treat disease. When used in a controlled manner, light can effectively treat a host of medical conditions.
Photomedicine is primarily used to treat heart diseases, cancer, skin diseases, and several types of infections. In addition to directly killing cancer cells, photodynamic therapy (PDT) can shrink or destroy tumors in two other ways: the photosensitizer drug can damage blood vessels in the tumor, thereby preventing cancer cells from receiving necessary nutrients; and PDT may activate the immune system to attack tumor cells.
In the future, PDT could be used to treat large tumors, a technique known as interstitial therapy, which involves imaging tests (such computed tomography) that guide a fiber optic directly to the tumor using needles. Results of interstitial therapy in head and neck, prostate, and liver tumors have been promising. Light-emitting diode (LED) technology is anticipated to drive demand in the global photomedicine technology market. LED therapy offers superior photon absorption, avoids tissue damage, covers a large application area, and significantly lowers treatment costs.
"LED therapy, which enhances blood flow in patients, is an effective treatment to reduce pain, postoperative edema, and inflammation. Laser technology produces multiple wavelengths, and thus is ideal to treat wounds with larger surfaces. As a result, the technology should see substantial growth over the forecast period," says BCC Research analyst Vijay Laxmi. "Targeted therapeutic application has emerged as a promising strategy that exploits a multitude of crucial pathways involved in metastasis and tumorigenesis. New therapeutic approaches have improved treatment outcomes by preventing the formation of new blood vessels with the use of antiangiogenic agents and vascular-disrupting agents that eliminate tumors during PDT."
LIGHT THERAPY EFFECTIVELY TREATS EARLY PROSTATE CANCER
A new nonsurgical treatment for low-risk prostate cancer can effectively kill cancer cells while preserving healthy tissue, reports a new University College London–led Phase III clinical trial in 413 patients. The treatment, called vascular-targeted photodynamic therapy (VTP), involves injecting a light-sensitive drug into the bloodstream and then activating it with a laser to destroy tumor tissue in the prostate.
The research, published in The Lancet Oncology, found that approximately half (49%) of patients treated with VTP went into complete remission compared with 13.5% in the control group. The chances of cancer progressing to a more dangerous stage were three times lower for patients on VTP, and the treatment doubled the average time to progression from 14 to 28 months.
"These results are excellent news for men with early localized prostate cancer, offering a treatment that can kill cancer without removing or destroying the prostate," says lead investigator Professor Mark Emberton. "This is truly a huge leap forward for prostate cancer treatment…In prostate cancer we are still commonly removing or irradiating the whole prostate, so the success of this new tissue-preserving treatment is welcome news indeed."
Currently, men with low-risk prostate cancer are put under active surveillance where the disease is monitored and only treated when it becomes more severe. Radical therapy, which involves surgically removing or irradiating the whole prostate, has significant long-term side effects and thus is only used to treat high-risk cancers. In the trial, only 6% of patients treated with VTP needed radical therapy compared with 30% of patients in the control arm who were under active surveillance. No significant side effects remained after two years in patients treated with VTP.
"We can now pinpoint prostate cancers using MRI scans and targeted biopsies, allowing a much more targeted approach to diagnosis and treatment. This means we could accurately identify men who would benefit from VTP and deliver treatment more precisely to the tumor…We also hope that VTP will be effective against other types of cancer—the treatment was developed for prostate cancer because of the urgent need for new therapies, but it should be translatable to other solid cancers including breast and liver cancer," added Emberton.
The drug used in the procedure, WST11, is derived from bacteria at the bottom of the ocean. To survive with very little sunlight, they have evolved to convert light into energy with incredible efficiency. This property was exploited to develop WST11, a compound that releases free radicals to kill surrounding cells when activated by laser light. The VTP treatment is currently being reviewed by the European Medicines Agency. It is likely to be a number of years before it can be offered to patients more widely. (ScienceDaily)
GLOBAL PHOTOMEDICINE TECHNOLOGY MARKET IN ONCOLOGY, BY REGION, 2015-2021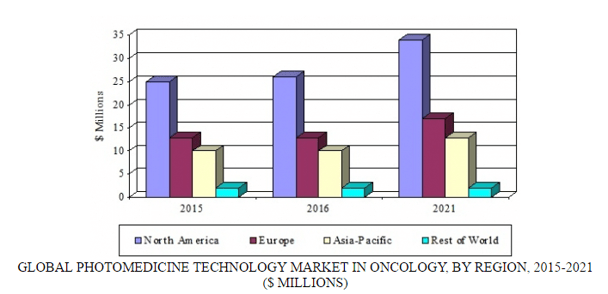 According to BCC Research, the global PDT market should grow from $346 million in 2016 to $436 million by 2021, demonstrating a five-year compound annual growth rate (CAGR) of 4.7%. North America, the largest market by region, is predicted to reach $174 million and $222 million in 2016 and 2021, respectively, expanding at a five-year CAGR of 5.0%. The European market is expected to increase from $92 million in 2016 to $114 million by 2021, at a five-year CAGR of 4.4%.
The Asia-Pacific region accounted for a significant market share due to growing consumer awareness regarding skin cancer and rising demand for better healthcare services. Also, this region has seen an increase in demand for plastic surgeries in the past several years. Growing adoption of new technologies in China, Japan, and India should drive demand through 2021.
In Latin America, countries such as Brazil, Colombia, Chile, and Argentina offer increasing opportunities for the medical devices market. That region's growing healthcare infrastructure, coupled with rising disposable income, has created demand for PDT in the past few years. However, lack of consumer awareness could be a major restraint through 2021.
BCC Research's new study, Photomedicine: Technologies and Global Markets, analyzes medical equipment that uses lasers, LEDs, and other kinds of light technologies to diagnose and treat diseases. The report examines applications in therapeutic areas including dermatology, surgery, optical diagnostics, cardiology, and oncology. Global market drivers and trends, with data from 2015, estimates for 2016, and projections of CAGRs through 2021, are provided.