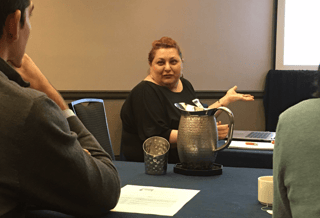 Senior editor Robert G. Hunter and analyst Marianna Tcherpakov's presentation Companion Diagnostics & Personalized Medicine offered participants an inside look at the latest progress in personalized medicine and diagnostics, including liquid biopsy. This market has seen robust growth in recent years, and according to the presenters, even greater opportunities are on the horizon.
"We've all been aware of personalized medicine," said Robert G. Hunter, BCC Research senior editor, healthcare, at the event in San Diego. "For a couple decades, I've been watching it—not only from the therapeutics side, but from the diagnostics side, helping select the right drug for the right patient."
Four Key Takeaways:
Translational Medicine: Translating research to clinical applications has tons of opportunities

Creating new markets and segments with strong growth >20 – 30% CAGR

Commercial strategies require current awareness of both research & clinical markets and opportunities
Liquid Biopsy is one of the main trends in companion diagnostics represented by growing number of market players with innovative technological platforms
Exosome based diagnostics and therapeutics is a fast expanding market that has strong value proposition for personalized medicine
According to Hunter, the market surrounding translational medicine, an interdisciplinary field of research that seeks to improve healthcare by promoting enhanced prevention, therapeutics and diagnostics, is seeing tremendous growth.
"Translational sciences and markets are enabling a lot of progress in life sciences and healthcare as well as presenting a lot of growth opportunities—there are not a lot of places you can see 30% growth," he said. This growth he also describes in his recent market research report Companion Diagnostics: Technologies and Markets, which published in March of this year, and which he updated in August.
Tcherpakov, who authored the previous version of this report, said that much has changed in just two years. In her observations, many more companies are using DNA and exosome biomarkers to create new therapies instead of just diagnostics. Additionally, she sees these opportunities in exosome therapeutics not just for big pharma companies, but also smaller biotech companies.
She offered participants several commercial strategies to bringing new diagnostics to market, but stressed the need for solid science.
"I feel that when you have a good technology, it's easy to develop the test when you have a solid science behind it and you have a platform that can be easily transformed into the companion diagnostics market," she said. "The moment that you have eliminated challenges with how to do it, you have an idea and apply it, then you can be pretty successful."
Want to hear more about developments in translational medicine? Registration is open for BCC Research members to attend Robert G. Hunter's next live webinar 3D Cell Culture: Technologies and Global Markets on January 24 at 12 p.m. EST. Additionally, on December 5th, Hunter is also co-presenting with Senior Editor Michael Sullivan on Connected Medical Devices in Boston, MA. Tickets are still available, and BCC Research Members can attend for free.