In 2005, the launch of next generation sequencing (NGS) technologies radically changed the structure of the biotechnology industry. Since then, the costs of sequencing have rapidly reduced to the point where it is now feasible for complex NGS tests to be priced in the range of other multiplex genetic tests.
According to the BCC Research's Next Generation Sequencing: Emerging Clinical Applications and Global Markets (BIO126B), the NGS market was valued at $886.1 million in 2014 and is expected to increase to $997.1 million in 2015. BCC projects the market to grow to nearly $3.9 billion by 2020, and register a five-year compound annual growth rate of phenomenal 31.3% from 2015 to 2020.
A shift in focus from R&D-related tools to clinical applications that are accurate, easy to use, low cost, and suitable for automation will drive tremendous growth in these markets for the foreseeable future.
"The costs of sequencing have rapidly reduced to the point where it is now feasible for complex NGS tests to be priced in the range of other multiplex genetic tests," says BCC research analyst John Bergin. "As a result, opportunities emerged in clinical applications that are currently reaching fruition."
MARKET LANDSCAPE
NGS diagnostics growth is driven by a growing recognition within the medical community of the importance of genetic analysis for early screening, diagnosis, monitoring, and therapy guidance.
Consequently, NGS-based diagnostics have established a strong foothold in several key market segments, including noninvasive prenatal screening, and are poised to make a breakout into the overall molecular diagnostics market over the next five years.
Since NGS platforms can sequence an entire genetic region or even genome, a single test can examine hundreds or thousands of clinically important genetic variations. This means that one test can replace multiple conventional single-gene tests, providing an advantage in price and in the amount of precious samples needed for the test itself.
Indeed, NGS is often more accurate and reliable than existing diagnostics. This can result in better clinical outcomes. For example, NGS can increase the pregnancy success rates in in vitro fertilization applications. Also, in rare genetic diseases, NGS can increase the success rates for determining a molecular diagnosis.
Further, the NGS platform allows companies to expand the menu of disorders/diseases over time after the initial launch of a test. This is a key strategy being employed in reproductive health applications, for example, launching a test to initially screen for aneuploidies, and then later expanding the test to include screening for additional genetic variants. These advantages confer a powerful driving force for the use of NGS in the clinic.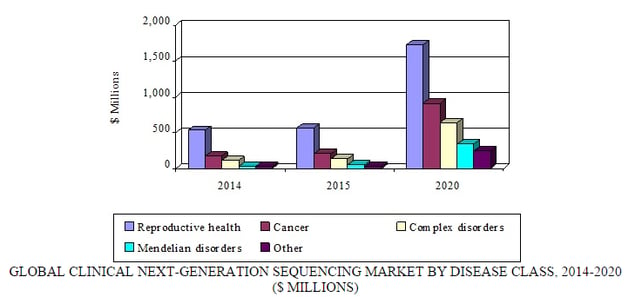 Source: BCC Research, "Next-Generation Sequencing: Emerging Clinical Applications and Global Markets," June, 2015
KEY MARKETS
Two key NGS market segments are reproductive health and cancer.
The market for reproductive health applications is expected to reach $572.9 million in 2015 and register a tremendous CAGR of 24.8% to reach a forecast value of $1.7 billion by 2020.
Reproductive health applications include noninvasive prenatal screening (NIPT), newborn screening, and preimplantation screening tests. NGS has enjoyed recent success in these markets, particularly NIPT. For NIPT, NGS offers significant clinical benefits, including no risk of miscarriage, high accuracy and reliability, and use early in the pregnancy.
NGS-based diagnostics for cancer also present a major market opportunity. The market for NGS-based cancer applications is $206.3 million in 2015 and growing at a CAGR of 34.7% to reach a forecast value of $915.7 million by 2020.
The NGS clinical industry comprises several sub-sectors, including instruments, sample preparation, informatics and clinical laboratories. Each industry sub-sector has its own dynamics.
For instance, the clinical NGS instrument industry has consolidated around two main manufacturers: Illumina and Thermo Fisher Scientific. It is significant that both of these companies places a high priority on the clinical diagnostics industry as a driver for its core instruments business.
There has been a marked emphasis toward molecular diagnostics by the leading instrument manufacturers. This is illustrated by Illumina's alliance in 2015 with Merck Serono to develop a universal oncology test to be run on the MiSeqDx instrument.
Numerous recent acquisitions and strategic alliances in the NGS industry highlight the dynamic nature of this business. There is a trend for mainstream diagnostics companies to acquire NGS capabilities. For instance, over the past two years, Roche, a global leader in in vitro diagnostics, initiated acquisitions and/or strategic alliances with Genia Technologies, Stratos Genomics, Ariosa Diagnostics, Bina Technologies, Signature Diagnostics and AbVitro.