The field of glycobiology offers enormous untapped potential for the discovery of new therapeutics, as shown by BCC Research in a new report. Glycobiology is study of the structure, biosynthesis, and function of saccharides (sugar chains), which offer chemical diversity potentially orders of magnitude greater than their protein and nucleic acid counterparts. The global market for glycobiology is anticipated to grow from almost $24.6 billion in 2016 to nearly $50.1 billion by 2021, reflecting a five-year compound annual growth rate (CAGR) of 15.3%. Therapeutics is the largest and fastest-growing segment, and is expected to grow from $19 billion in 2016 to $40 billion by 2021 at a CAGR of 16.1%.
New tools for synthesizing, modifying, and studying oligosaccharides and glycoconjugates are also charging the global glycobiology market. The market for tools and reagents that are used specifically for glycobiology research is valued at an estimated $60 million per year. Approximately $30 million is based on sales of reagents and consumables, and the other $30 million is from sales of instruments for mass spectrometry, separation techniques, analytics, and different service offerings.
The reagents and tools segment of the global glycobiology market is expected to grow during the next five years to roughly $85 million as a result of increasing interest in glycobiology research, with an increasing number of reagents companies offering new products such as improved lectin/glycan arrays, services for glycan analysis, and profiling for biomarkers and therapeutic development. The diagnostics segment should reach $5.5 billion and $10 billion in 2016 and 2021, respectively, demonstrating a five-year CAGR of 12.7%.
GLOBAL MARKET FOR GLYCOBIOLOGY-BASED DIAGNOSTICS, 2014-2021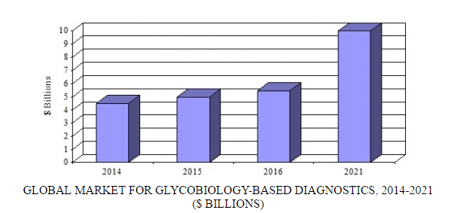 The glycobiology approach has strong commercial potential for the development of novel diagnostic tests based on current biomarker research. Because of their essential functions in many cellular processes, carbohydrates are also important biomarkers in diagnostic assay development. Several biotech companies are focusing on glycobiology approaches for the detection of various pathologies, including cancer and neurodegeneration.
PROSTATE CANCER BREAKTHROUGH COULD LEAD TO NEW DIAGNOSTIC TESTS AND TREATMENTS
Scientists recently identified a new group of molecules that could be targeted to slow tumor growth in patients with prostate cancer. Prostate cancer is the second most commonly diagnosed cancer and the fifth leading cause of cancer-related deaths in men. Using RNA sequencing, researchers at Newcastle University in the United Kingdom found that hundreds of genes were affected by the male hormone testosterone. It is believed that this finding could lead to new diagnostic tests and treatments.
Among the 700 genes identified was an important set of genes that adds glycans to the surface of prostate cancer cells. These results, published in EBioMedicine, suggest that testosterone changes glycans to make cancer cells more likely to survive, grow, and metastasize. Scientists say there is the potential to target these glycans, which could stop the growth and spread of tumors.
Jennifer Munkley, who co-led the three-year research project with David Elliott, said their findings are very significant for future treatments, because they identify a new group of molecules in prostate cancer that could be targeted therapeutically. "Now [that] we have identified these glycans, we will be able to develop strategies to inhibit them and help patients with this condition. Treatments targeting glycan sugar groups have been developed for other types of illness, such as breast cancer. Our results mean these treatments could also be used for prostate cancer."
Glycans have the potential to be used as part of a diagnostic test to help doctors decide which prostate cancers need treatment. The genes identified by the Newcastle researchers may provide novel ways the disease can be monitored in patients to predict the most aggressive prostate cancers that need to be treated. Because each prostate tumor is unique, future studies will examine how to use glycans as therapeutic targets in personalized medicine.
The glycobiology diagnostics segment still faces a number of challenges, especially from a technical point of view. Glycoanalysis requires unique techniques and special tools and reagents to analyze glycosylation patterns of different proteins or to do carbohydrate profiling. More basic and translational glycobiology research is needed to develop efficient diagnostic platforms. Although glycobiology is a challenging area of life science research, a fairly large number of glycobiology-related/carbohydrate-based therapeutics have become commercially successful.
"Glycotherapeutics have had an impact on different types of conditions, including influenza, cancer, metabolic diseases, and more. Still, the market for carbohydrate-based drugs remains in an early stage of development," says BCC Research analyst Marianna Tcherpakov. "In addition to 'monosaccharide-inspired' drugs like Roche's influenza treatment Tamiflu (oseltamivir), two blockbuster drugs (Bayer's Glucobay [acarbose] and heparin) stand out. Heparin is the key example of a major carbohydrate-based molecule that has been developed for medical use in anticoagulant therapies."
Glycobiology: Global Markets for Diagnostics and Therapeutics analyzes current trends, products, evolving technologies, and new glycobiology-related platforms in different clinical areas including oncology, immunology, cardiovascular, infectious diseases, and neurodegeneration. Global market drivers, with data from 2015, estimates for 2016, and projections of CAGRs through 2021, are provided.