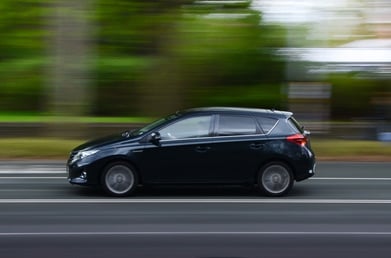 Advanced Driver Assistance Systems (ADAS) are a growing trend in the auto and transportation sectors. The implementation of ADAS has been considered revolutionary as it provides dynamic features such as parking assistance, adaptive cruise control, lane departure warning, blind spot detection, drowsiness monitoring, tire pressure monitoring and night vision. The developments within the automotive industry aren't limited just to enhancements in the design or engines, but developments have also occurred in the area of safety—safety of the vehicles, passengers and also pedestrians.
Ironically, a new application in crash avoidance technology has become available on the very devices often cited for distracted driving practices—mobile devices.
The first ADAS live camera system features a live and on-demand video app that has includes forward collision, lane departure, and posted speed limit warnings on a smartphone or tablet.
Developed by California-based MuHu, Inc., a mobile video intelligence company, the technology leverages the phone's cameras and local processing capabilities for artificial intelligence-based object recognition, helping to prevent accidents by providing real-time audible and visual warnings to drivers and safety alerts to fleet managers.
As a simple app, drivers can download it and be up-and-running in just five minutes, says the company. Fleets can avoid proprietary hardware and drilling into their vehicles because MuHu is a Bring Your Own Device solution.
The ADAS solution fills a need in the transportation industry, says Blake Gasca, MuHu's CEO.
"Where most ADAS solutions are expensive, siloed, proprietary pieces of hardware, we take pride in knowing we've built a solution that integrates with our best-in-class video application," Gasca says. "By eliminating hardware and installation costs, the transportation industry now has a solution for those who previously couldn't afford such important safety features."
The application functions like any app on an Android device. The Android device mounts on the windshield of a vehicle, allowing forward-facing and selfie cameras to process video of the driver and the road ahead. The ADAS alerts the driver of threats in real-time. Simultaneously, the system streams video and alerts to the cloud and intelligently notifies fleet managers of challenges the driver is actively facing. All events, video, and analytics are available in real-time through MuHu's SaaS portal.
The ADAS application includes driver warnings such as forward collision, delivered through MuHu Follow Manager™, which provides crash avoidance by alerting drivers when they are driving too closely or approaching another vehicle. Drivers also receive a warning if they are drifting out of their lane or off the road. The system's intelligence also determines the speed limit and warns drivers when they exceed it.
According to the company, transportation businesses use MuHu as a standalone fleet management solution—or integrate MuHu into their existing platform with MuHu's open API.
The MuHu Live web portal and app also provides fleet managers with G-sensor alerts, safety and performance analytics, and allows them to remotely view live video captured in 4K resolution, as well as search video clips for an accurate picture of safety events. MuHu claims these features equip managers with data necessary to address unsafe driving, protect responsible drivers from fraudulent claims, and safeguard their businesses from liability.
"MuHu began as a moonshot project," Gasca says. "I saw tremendous potential to make people safer on the road by leveraging IoT and deep learning technologies. The challenge was implementing all this functionality into a mobile device; a challenge we solved by combining mobile and cloud processing."
MuHu for drivers is compatible with all Android (6.0 and above) devices. MuHu Live for fleet managers is compatible with iOS.
BCC Research expects the global ADAS market to more than double in value from $23.8 billion in 2016 to nearly $59.1 billion by 2021, reflecting a 19.9% CAGR..