An estimated 7 million patients have already used some form of digital health program featuring connected devices as part of a care plan, a statistic that is predicted to reach 50 million by 2020. Recent work by BCC Research explores the expanding world of mobile health (mHealth) care plans, apps, and devices in the United States, Europe, and Japan. The mHealth revolution is being driven by cultural differences, Internet of Things technology, and network connectivity, as well as new patient-centered health policy initiatives.
mHealth is the use of mobile and wireless technologies to support healthcare systems and to achieve healthcare objectives. Digital health solutions have the potential to improve the quality of healthcare, to democratize medical knowledge, and to provide healthcare to billions of people who have limited or no access to services. The provision of healthcare remains high on economic and political agendas. Moreover, healthcare demands a huge share of gross domestic product in industrialized countries, where aging populations and increases in the prevalence of chronic noncommunicable diseases are challenges.
BRINGING POWERFUL DIAGNOSIS CAPABILITY TO REMOTE REGIONS
A new smartphone app is using artificial intelligence and an add-on device to diagnose cervical cancer. According to World Health Organization statistics, 87% of cervical cancer deaths occur in developing nations. Furthermore, there is a huge differential in mortality rates between the developed and developing world. Of 100,000 women diagnosed with cervical cancer, the disease will only kill two in Western Europe or Australia, but more than 27 in Eastern Africa. This differential is mostly due to the unequal access to high-quality healthcare among women in various parts of the world.
Now, a company called Global Good aims to leverage mobile technology to bring quality care and diagnostics to parts of the world that lack doctors and medical infrastructure. In traditional cervical cancer screening, a gynecologist does a Pap smear to obtain a sample of cervical cells. The sample is analyzed by an offsite laboratory and results are sent back to the patient's clinic. If further analysis or treatment is needed, a colposcopy is performed. Even for women with access to these resources, cervical cancer diagnosis can be a lengthy and expensive process.
Global Good's diagnostic tool uses an attachment called an enhanced visual assessment (EVA) scope. It clips onto a smartphone, essentially turning the phone into a colposcope. An app is used to take a picture of a woman's cervix; the image is then analyzed and stored. If a woman is determined to have cancerous or precancerous symptoms, she can then be treated onsite. Whereas prior mHealth solutions might still rely on a person to review the information gathered by the device, Global Good aims to pair their hardware with cutting-edge software. Using the latest advances in deep learning, Global Good is building a program that will teach itself to recognize and diagnose the disease.
To this end, the app's creators partnered with the US National Cancer Institute to get access to 100,000 high-quality, annotated and anonymized cervical images. The images get tagged, categorized (e.g., as healthy tissue, benign inflammation, precancerous lesions, or suspected cancer), and fed into a deep learning system. The software learns to differentiate amongst the categories, progressively improving its ability to recognize symptoms and make accurate diagnoses.
Researchers are "training" the software with the National Cancer Institute's images before integrating images taken by the EVA scope. They will monitor the app's progress by comparing the diagnoses it makes to diagnoses made the traditional way, i.e., via physicians and laboratory analysis. Global Good plans to begin field trials of the EVA scope and its accompanying app in Ethiopia this year. [SingularityHub, May 2017]
The mHealth proposition is beginning to be adopted by the wider community. However, several hurdles must be overcome to generate a cohesive digital health ecosystem. Stakeholders face lack of a uniform regulatory environment and the challenge of implementing comprehensive data-management tools for healthcare providers and end users. Interoperability standards must be addressed and regulatory policies clarified (particularly with respect to device regulation and data protection). Cross-sector collaboration among software developers, mobile operators, governmental and nongovernmental organizations, and healthcare players will be essential.
"Many questions remain unanswered," says Professor Dimitri Konstantas, Professor of Information Systems at the University of Geneva. "Who is responsible for paying for mHealth—the insurers, the hospital, or the state? Who will benefit, and is it economically viable? We need to look at mHealth on a global level, not a local level, and establish medical standards/specifications to ensure data quality, analysis, and interpretation."
The United States is shifting toward a patient-centric healthcare system as the majority of patients finance their own healthcare or pay for private healthcare insurance. As a result, patients readily use apps and smart devices that enable them to take a more proactive approach to their health. In turn, this helps to reduce their cost of healthcare, improve health outcomes, and/or provide rewards for healthier lifestyles.
In Europe, the majority of healthcare services are government funded. Although patients may have access to private healthcare, the general population is not accustomed to paying for health services. As a result, these countries have been slower to adopt mHealth technologies. Initiatives have focused on healthcare solutions that can help to reduce indirect costs, such as medical interventions and number of hospitalization days.
Japan has lagged behind other countries in the adoption of mHealth technologies, in part because of cultural differences in the provision of healthcare services. However, the lack of access to qualified physicians and the pressure to provide rapid healthcare access has encouraged remote regions to start using mHealth technologies to monitor vital signs (e.g., blood pressure, weight, and activity levels) and receive treatment remotely.
Elsewhere, the uptake of mHealth technologies has largely been driven by national and international mHealth initiatives, such as the mHealth Alliance, which is actively working with organizations in low- and middle-income countries to optimize healthcare services through the use of mHealth technologies. These initiatives have ranged from text messaging service to virtual clinics and increased patient access to healthcare professionals in remote areas, as well as monitoring the spread of disease and initiating treatment strategies during epidemics.
BCC Research's study, Mobile Health (mHealth) Technologies and Global Markets, found that North America is the primary market for mHealth technologies, generating $4.7 billion in 2016 and accounting for nearly one-third of global sales. However, China is the world's largest mobile market. BCC Research forecasts a compound annual growth rate of 27.5% in Asia-Pacific through 2021. For Europe and North America, BCC Research predicts compound annual growth rates of 29% and 27%, respectively, in mHealth for the period 2016–2021.
GLOBAL MARKET FOR mHEALTH, BY REGION, 2014–2021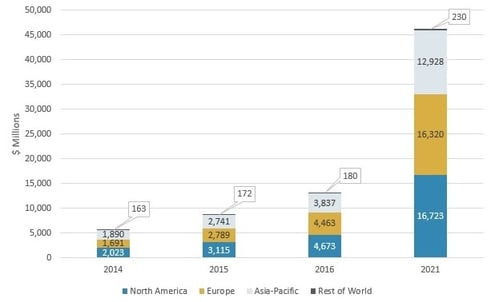 mHealth will change the way that services are provided in the future. Over the next decade, improvements in mobile network infrastructure and speed of transfer will support mHealth solutions. In turn, mHealth can help improve patient diagnosis, disease treatment, and medication adherence, as well as expand healthcare access across the globe. Connected devices and wearables will provide continuous monitoring and disseminate information to healthcare professionals. All of these factors are driving a more proactive, patient-centric healthcare system.