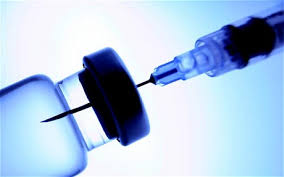 The vaccine market, initially considered a low-profit business, is now one of the brighter spots for pharmaceutical companies in terms of revenue streams. According to BCC Research, the global market for vaccine technologies reached $33.3 billion in 2016 and is poised to reach $45.2 billion by 2021, growing at a five-year compound annual growth rate (CAGR) of 6.3%. Technological advancements with respect to development of novel vaccines for infectious diseases, cancers, and allergies are anticipated to spur market growth.
An increase in education of the public about preventive healthcare and a rise in governmental spending on disease prevention have provided encouragement to vaccine manufacturers. Government programs and more public awareness of viral diseases such as hepatitis, measles, mumps, rubella, and polio have augmented vaccination rates in various countries. Growth in the vaccine industry is also being driven by global population increases and the acceptance of adult vaccination.
New product offerings to fulfill unmet needs, contingency planning for pandemic infections, improving economic conditions of developing countries, and increasing interest and investments from major pharmaceutical companies are shaping the global vaccine market. Continuous improvements in vaccine design, delivery technologies, and manufacturing will also help market growth.
NEW GLOBAL EFFORT UNDERWAY TO CREATE VACCINES, PREVENT EPIDEMICS
A global coalition to create new vaccines for emerging infectious diseases launched January 18, with the aim of protecting the world from future epidemics. Announced at the World Economic Forum in Davos, Switzerland, the initiative has an initial investment of nearly $500 million from the Bill and Melinda Gates Foundation; Britain's Wellcome Trust; and the governments of Japan, Norway, and Germany.
Officials said their target for the first five years is $1 billion, and they are calling for other governments and organizations to help complete fundraising by the end of the year. Proposals are being sought from researchers and companies. Several major pharmaceutical companies are providing support in the form of vaccine technology, expertise, and guidance. Industry representatives are on the coalition's board and scientific advisory committee.
The partnership will be called the Coalition for Epidemic Preparedness Innovations (CEPI). Stemming from the 2014 Ebola epidemic in West Africa and the current Zika epidemic in the Americas, a global consensus has steadily grown among an array of governments, public health leaders, scientists, and vaccine industry executives that a new system is needed to guard against future health threats.
CEPI initially plans to target three viruses that have known potential to cause serious epidemics and can be transmitted from animals to humans: MERS (Middle East respiratory syndrome), a deadly respiratory virus first identified in Saudi Arabia in 2012 that can be spread by camels and is now in 27 countries; Lassa fever, an acute viral illness mainly found in West Africa and spread by rats; and Nipah virus, a newly emerging infection first identified in 1999 in Malaysia and Singapore.
Few or no medical countermeasures exist to combat these viruses. CEPI hopes to develop two vaccine candidates against each of the target diseases. Officials said Ebola and Zika vaccine work was not chosen because considerable research is already underway. In a statement, Bill Gates said, "The ability to rapidly develop and deliver vaccines when new 'unknown' diseases emerge offers our best hope to outpace outbreaks, save lives, and avert disastrous economic consequences." The Washington Post
Preventive vaccines can greatly reduce the burden of a broad spectrum of diseases and increase life expectancy. The introduction of newer vaccines that cover many diseases is another factor that is pushing the vaccine market toward significant growth. BCC Research analyzed the global market for human vaccines on the basis of their application in various disease categories. Meningococcal/pneumococcal vaccines accounted for the largest market share (31.8%) in 2015, whereas rotavirus vaccines had the smallest share (4.7%).
The global market for animal vaccines is also gaining in importance. A growing demand for livestock products and an increase in the trend of pet ownership are the foremost reasons for increased vaccination of animals. Significant developments in biotechnology, informatics, and information systems have prompted better planning and execution of animal disease prevention in many countries.
A recent study by BCC Research analyzed the global vaccines market according to the human and animal segments. Human vaccines led the market in 2015 with sales of $28.3 billion. Sales of human vaccines are expected to be approximately $37.5 billion in 2021, reflecting a five-year CAGR of 6.6%. Sales of animal vaccines accounted for roughly $5.9 billion in 2015. The animal vaccines segment is projected to increase from an estimated $6.1 billion in 2016 to $7.7 billion in 2021, at a CAGR of 4.9%.
GLOBAL MARKET FOR VACCINE TECHNOLOGIES BY SEGMENT, THROUGH 2021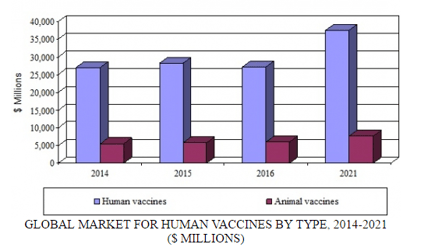 BCC Research's Global Markets for Vaccine Technologies analyzes the associated challenges, innovations, opportunities, and regulatory hurdles. The study evaluates market sizes and developments for vaccine classes (prophylactic and therapeutic) and vaccine types (inactivated, conjugate, attenuated, recombinant vector, subunit, toxoid, combination, and dendritic cells). The application of vaccines in various diseases is discussed from commercial and R&D perspectives. The vaccine industry environment, driving forces, strategies, and market influences are examined. Regional market sizes and trends are also identified.