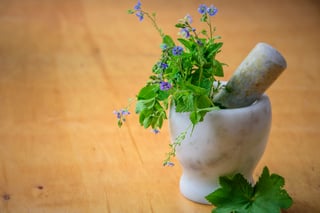 There has been increasing interest in botanical drugs, with many players investigating their commercial potential. According to BCC Research, the global market for plant-derived and botanical drugs is expected to reach $39.6 billion by 2022. Excluding botanicals, growth in the plant-derived drug market is in line with the overall pharmaceutical industry, given the presence of generics (including biosimilars). Patent expirations will necessitate medicinal compounds other than single chemical entities. Growth in the U.S. market for plant-derived drugs will reflect new cannabinoids and their overall expanded uses, as well as eventual brand line extensions.
Botanical products, as a subgroup of all plant-derived medications that are sold as prescription drugs, are expected to experience growth at higher levels relative to the entire pharmaceutical sector. Many botanical drug products are in development, with a few in late-stage clinical trials. Over the next decade, it is likely that some of the broadest investment in botanical drugs will occur outside of the United States. From $57 million in 2017 sales, the botanical drug segment is poised for tremendous growth at a five-year compound annual growth rate of 49.5%, says BCC Research in its new study.
A Pipeline Perspective: Composition of Botanical Drugs in Clinical Development
Through 2022, growth in the botanical drug market will mainly come from the dermatology and gastrointestinal therapeutic areas. Another common area of focus is the management of cancer treatment–related side effects. Cardiac and liver treatments follow these main focuses. When it comes to sales, however, cardiovascular applications offer the highest value proposition. The following figure illustrates the main therapeutic areas for companies that are involved in botanical drug development. The drug candidates included are those in Phase II or III development in the United States.
Therapeutic Areas Targeted for Botanical Drugs in Phase II or Later, 2017*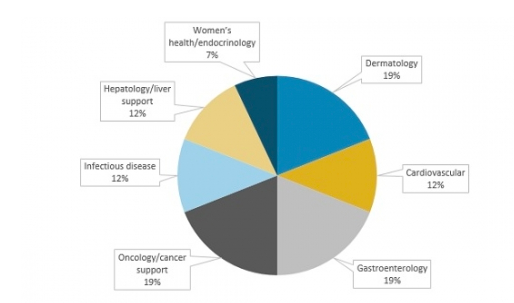 *Does not include crofelemer indications, given that this drug is already approved by the FDA and includes drug candidates in development outside the United States.
"Unmet need for new drugs targeting certain indications is boosting the botanical drug market. Public and private investment is continuing," said Kim Lawson, BCC Research analyst and author of its recent study. "Many companies are realizing that a botanical drug may not only be more effective, but could be the preferred option compared with a chemical-based counterpart."
Over the next 10 years, FDA-approved botanicals will make their mark in the United States. However, non-FDA regulatory approvals that will support non-U.S. sales are also noteworthy. Much of the development and commercialization of botanical drugs occurs outside of the United States due to the sheer knowledge and intellectual property surrounding traditional Chinese medicine. The Asia-Pacific market is expected to grow faster than Europe or Latin America.
Take your botanical with a grain of salt.
Since the discovery of opioids, pain has been a stronghold for plant-derived medications. In 2015, the FDA said that approximately one-third of botanical drug applications were for oncology indications, with the next largest groups at roughly 10% each for pain or addiction-related medications and dermatology indications. Prescription opioids (used to treat pain) are highly addictive and have become more strictly regulated (e.g., under quantity limits) in response to the US opioid epidemic.
Over time, the body builds up a tolerance to opioids such that patients no longer obtain relief from their prescribed medication. A growing number of people are seeking viable alternatives to opioids for treatment of chronic pain. One such example is kratom, a ground-up botanical grown primarily in Southeast Asia. Many individuals have turned to kratom, which is not regulated by the FDA, for non-opiate pain relief.
The federal Drug Enforcement Agency lists kratom as a drug of concern, and in August 2016, announced its intent to classify kratom as a Schedule I controlled substance, similar to marijuana, LSD, heroin, and ecstasy. In response to push back from the public, the DEA instead asked the FDA to evaluate the scientific and medical merits of kratom and to recommend its classification. On November 14, 2017, the FDA issued a public health advisory regarding kratom, acknowledging that people use it to treat pain, anxiety, and depression, "which are serious medical conditions that require proper diagnosis and oversight from a licensed health care provider."
The FDA then compared kratom to opioids in terms of effects, saying that it "carries similar risks of abuse, addiction, and in some cases, death," and noted the association of kratom with serious side effects such as seizures, liver damage, and withdrawal symptoms. The advisory stated that before it can be legally marketed for therapeutic uses in the United States, the risks and benefits of kratom must be evaluated as part of the regulatory process for drugs. In the meantime, the FDA will continue to exercise jurisdiction over kratom as an unapproved drug.
For more research and market forecasts, download the report overview for Botanical and Plant-Derived Drugs: Global Markets (BIO022H).