China is one of the world's largest and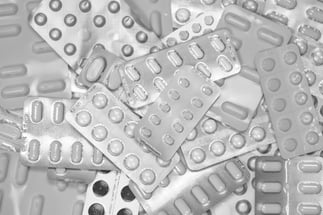 fastest-growing drug markets. At a five-year compound annual growth rate (CAGR) of 14.0%, BCC Research predicts that the Chinese drug market will reach $424.3 billion by 2021. At this pace, China is likely to overtake the United States to become the world's largest consumer of drugs by 2025.
Infectious disease drugs comprise the largest segment of the overall Chinese drug market. BCC's proprietary research reveals that the Chinese infectious disease drug market reached $29.6 billion in 2015, accounting for 14.7% of the country's total drug sales of $201.9 billion. Strong growth will continue at a CAGR of 13.9% from 2016 to 2021, propelling this segment to reach nearly $61.7 billion by 2021.
There are more than 100 types of infectious diseases in China, and hundreds of drugs are used for their treatment. In China, the National Health and Family Planning Commission (NHFPC) collects data each year for the 39 most common communicable diseases. These include viral hepatitis, pulmonary tuberculosis, syphilis, bacterial/amoebic dysentery, gonorrhea, scarlet fever, brucellosis, human immunodeficiency virus, hand-foot-and-mouth disease, infectious diarrhea, influenza, and epidemic parotitis.
The demand for therapies for these diseases is driving explosive growth in this market segment. In 2015, more than 6.4 million people in China were newly reported as suffering from one of these 39 diseases and 16,700 people died as a result of them. This large number of patients has created opportunities for producers and distributors of infectious disease drugs, both in China and in other countries.
According to the NHFPC, 485,649 cases of infectious diseases were reported on the mainland in February 2017 and 1,409 people died. Nearly 279,000 cases were classified as Class B infectious diseases under China's Law on the Prevention and Treatment of Infectious Diseases, resulting in 1,397 deaths. Viral hepatitis, tuberculosis, syphilis, gonorrhea, and bacterial/amoebic dysentery accounted for 96% of cases in this category. Category C diseases were responsible for more than 207,000 cases and 12 deaths. Infectious diarrhea, foot-and-mouth disease, and influenza were the most prevalent in this category, accounting for 94% of cases. [Xinhua]
BCC Research analyzed the Chinese infectious disease drug market by two major types: the 39 major communicable diseases versus other infectious diseases. Among the 39 major communicable diseases, the largest markets are viral hepatitis and pulmonary tuberculosis. The category of other infectious diseases covers a wide range of more than 100 diseases including sepsis, acinetobacter infections, actinomycosis, and amoebiasis.
"The 39 most common communicable diseases have relatively small market values compared with the more than 100 other infectious diseases," says Jason Chen, BCC Research analyst. "Among these 39 diseases, viral hepatitis is the largest subsegment, accounting for nearly one-fifth of the total number of new cases of infectious disease found in China each year."
Drugs used for the 39 most common communicable diseases will have relatively fast growth, at a CAGR of 15.1% from 2016 to 2021. The momentum stems mainly from the fast-growing population of patients who have received or who will receive treatment for viral hepatitis, pulmonary tuberculosis, and acquired immunodeficiency syndrome (AIDS). By major disease type, viral hepatitis could be the fastest-growing segment, with a CAGR of 17.7% over the next five years. Hepatitis B comprises the majority of the Chinese viral hepatitis drug market.
VALUE OF CHINESE INFECTIOUS DISEASE DRUG MARKET BY DISEASE TYPE, 2015-2021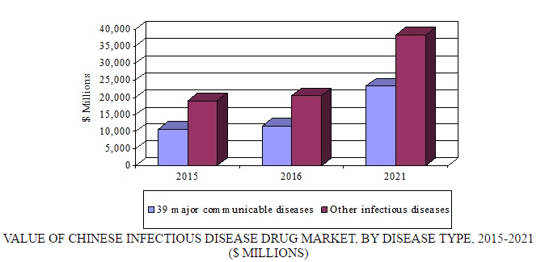 THE PREVENTION AND CONTROL OF INFECTIOUS DISEASES HAVE IMPROVED
In 2008, the Ministry of Science and Technology launched a national project aimed at better control and prevention of major infectious diseases, including AIDS and hepatitis. It will run through 2020. As a result of the project, China has established a vast national network for monitoring infectious diseases.
"Through integrating top resources for goal-oriented cooperation with the implementation of the project, China has made breakthroughs in key technologies in areas such as monitoring, testing, and verification of pathogens, as well as emergency treatment of patients," said Qin Huaijin, head of science and technology at the NHFPC.
As the result of optimized strategies for hepatitis B vaccination, the percentage of children younger than 5 years carrying the hepatitis B virus in China has decreased to less than 1%, Qin said. Members of the project will intensify research in cutting-edge technologies used for testing and monitoring of infectious diseases, including technologies for testing new pathogens, so that China is better equipped to prevent and fight infectious diseases, he said. [Ecns, 3/22/17]
China registers approximately 900,000 new cases of tuberculosis every year and remains among the 30 countries with the highest incidence of the disease. The NHFPC said that by the end of 2016, 65 of every 100,000 people were infected with tuberculosis, a figure that experts consider high despite having dropped by 14% in the last six years. "China also plans to intensify research in the prevention and control of tuberculosis in the next few years," the NHFPC said, adding that "a focus will be on research in preventive and curable vaccines for the disease." China Daily
BCC Research's study, Infectious Disease Drugs: The Chinese Market, highlights important characteristics of the Chinese drug market. These include the following.
For infectious disease drugs, city hospitals will continue to be the largest sales channel; however, the market share of city hospitals will decline from 47.3% in 2015 to 44.9% by 2021. Retail will be the fastest-growing sales channel, with a CAGR of 15.4% from 2016 to 2021.
Entecavir will continue to be the most widely used infectious disease drug in China for the next five years, unless there is a new drug that can replace it for the treatment of viral hepatitis. By drug product, voriconazole injection (used to treat fungal infections) is likely to be the fastest-growing, with a CAGR of 24.9% from 2016 to 2021.
By geography, Chongqing will be the fastest-growing region at the province level, with a CAGR of 21.1% in the next five years. However, Guangdong will remain the largest regional market, reaching $5.3 billion by 2021.
Chemical and biological drugs are the dominant segment in the retail market, projected to have an approximate 62% market share by 2021; in comparison, traditional Chinese drugs will have marginally faster growth in the next five years.
Infectious disease drugs represent the largest product segment among chemical and biological drugs sold in China, for both retail and hospital sales channels. On the other hand, among traditional Chinese drugs, cardiovascular drugs are dominant.
BCC Research's study examines recent advances and trends in the infectious disease drug market in China. Market forecasts for infectious disease drugs are given through 2021. Infectious disease market applications and the industry structure are analyzed. Important geographic segments are discussed, and more than 100 Chinese companies in the infectious disease drug industry are profiled.