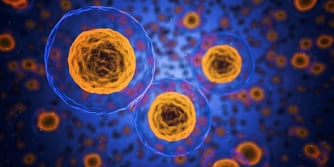 Since the discovery of induced pluripotent stem cell (iPSC) technology more than a decade ago, it has become an important part of the life sciences industry. In the past five years, the global market for iPSCs has grown rapidly. This pace is projected to continue over the next several years to reach $3.6 billion, according to a new forecast by BCC Research. By 2021, the major contributor will be the drug development and toxicity testing segment, which will account for approximately 61% of the total market. This will be followed by the academic research (24%) and regenerative medicine (15%) sectors.
GLOBAL MARKET SHARES FOR INDUCED PLURIPOTENT STEM CELL PRODUCTS BY APPLICATION, 2021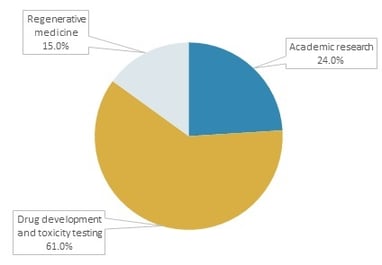 Drug development and toxicity testing are currently the major source of revenue. However, the market for regenerative medicine is the fastest growing. The segment of iPSC applications in translational medicine research is also expanding quickly. iPSC technology has improved the drug discovery process and, in particular, has been instrumental in promoting precision medicine and the development of personalized drugs and diagnostic tests. The iPSC technology platform is being exploited for research applications in order to supply products and services to the academic, public research, and life science industry sectors.
HOW IT WORKS
In 2006, researchers at Kyoto University in Japan identified conditions that would allow specialized adult cells to be genetically reprogrammed to assume a stem cell–like state. These adult cells, called induced pluripotent stem cells (iPSCs), were reprogrammed to an embryonic stem cell–like state by introducing genes important for maintaining the essential properties of embryonic stem cells. Researchers have rapidly improved the techniques to generate iPSCs, creating a powerful new way to de-differentiate cells for which developmental fates had been previously assumed to be determined. NIH Stem Cell Information Home Page
The clinical market for iPSCs is still nascent. BCC Research predicts a hefty 11.6% five-year compound annual growth rate (CAGR) for this market as it comes of age, with developments such as the establishment of the start-up BlueRock Therapeutics by Bayer AG and Versant Ventures in December 2016. In 2014, the first human iPSC clinical trial began, which yielded encouraging results published earlier this year about the first patient with macular degeneration to be treated with sheets of retinal pigmented epithelial cells made from iPSCs [The New England Journal of Medicine, 3/16]. The iPSC clinical research and services market is expected to maintain its rapid growth over the next few years.
In its recent report, Induced Pluripotent Stem Cells: Global Markets, BCC Research made several key observations. The pharmaceutical industry needs better cell sources, such as iPSC-derived functional cells, for drug toxicity testing and screening. In the United States, the Food and Drug Administration (FDA) has been authorized to provide orphan drug designations for many of the therapies being developed for rare diseases, such as Parkinson's and Huntington's, using stem cells. Also, iPSC technology is developing into a platform for precision medicine, which is experiencing rapid growth globally.
In Australia, scientists created brain-like tissue in the lab using a 3D printer and special bio-ink made from iPSCs. After the bio-ink was printed into a 3D scaffold, the stem cells turned into nerve cells found in the brain. The research moves toward being able to make replacement brain tissue derived from a patient's own skin or blood cells to help treat conditions such as brain injury, Parkinson's disease, epilepsy, and schizophrenia. Jeremy Crook, from the University of Wollongong and ARC Centre of Excellence for Electromaterials Science, said the ability to customize brain tissue from a person's own body tissue "circumvents issues of immune rejection, which is common in organ transplantation. It's personalized medicine."
The research team, whose work was published in the journal Advanced Healthcare Materials, used 3D printing to make neurons involved in producing GABA and serotonin, as well as support cells called neuroglia. In the future, they plan to print neurons that produce dopamine, deficiencies of which are linked to Parkinson's disease. "We might want to make a tissue that specifically generates that neurotransmitter for grafting into the brain of a Parkinson's patient," said Dr. Crook. [ABC Science, 7/26]
Rapid growth in medical tourism and contract research outsourcing are among factors driving the stem cell market in the Asia-Pacific region. BCC Research forecasts this to be the fastest-growing geographic segment, with a five-year CAGR of 13.7%. Corporate Japan has lagged its Western rivals in stem cell commercialization efforts. Now, Japanese companies are joining the search for ways to commercialize iPSCs, spurred in part by recent legislation designed to fast track such forms of regenerative medicine.
Daiichi Sankyo announced that it will seek to commercialize sheets of heart muscle tissue derived from iPSCs as a treatment for heart disease. The company is investing an undisclosed amount in the Osaka University spin-off Cuorips, which developed the sheets of myocardial cells. The idea is to grow the sheets and graft them onto the heart to help it beat properly. This would give patients with severe heart failure an alternative to a transplant or an artificial heart. Daiichi Sankyo will conduct clinical trials in cooperation with doctors at Osaka University and work to develop a way to mass produce the sheets of myocardial tissue.
The same day, Megakaryon announced that it has developed a way to mass produce blood platelets derived from iPSCs. It has been working on this project in collaboration with 15 companies, including Otsuka Holdings and Sysmex, as a way to address the shortage of blood for transfusions. The goal is to gain regulatory approval in 2020. [Nikkei Asian Review, August 8]
"The first iPSC clinical products will most likely enter the market in the next few years," says BCC Research analyst Mike Fan. "Regarding therapeutic solutions for diseases without ethical issues, a series of technical breakthroughs have been made in recent years for improving cellular reprogramming, differentiation, and large-scale production of Good Manufacturing Practice (GMP)–grade iPSCs and their derivatives for clinical use."