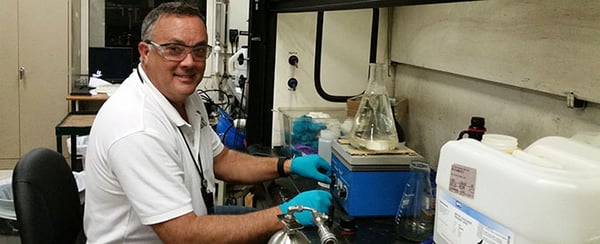 It's been about a week since we've returned from FLAME 30, the 30th Annual Conference on Recent Advances in Flame Retardancy of Polymeric Materials.
FR professionals in government, academia and industry, plus university students representing the next generation of FR, descended upon San Antonio for three days of networking, sessions on fabrics and foams; coatings; intumescence; and the current state of FR science and technology; and gallivanting around San Antonio.
If you couldn't make it to FLAME 30, if you attended and want to relive your experience or if you had no idea FLAME 30 was happening but you work in an FR-related field, we wrote today's blog post for you.
We're discussing the work of Matthew Blais, FLAME 30 speaker and Director of Fire Technology at Southwest Research Institute. Along with his colleague Karen Carpenter, Matthew presented, "Comparative Room Burns to Examine the Impact of Fire Regulations in France, Great Britain and the United States." The abstract of this session is listed below:
A series of 9 completely furnished room corner burns were performed in this program. Three replicates of rooms representing commonly available furnishings and electronics from each of three markets, France, United Kingdom, and United States, were burned to determine the impact of each countries fire codes on the burning performance of a furnished room. Heat release rates of each fire were measured via oxygen consumption calorimetry and smoke production via opacity using a light system. The smoke composition/toxicity of all tests was monitored continuously via FTIR for fire gases, and via cartridge samplers for the production of PAH, Chloro- and Fluoro- Dioxins and Furans. Summa Canisters were collected during the growth and smoldering stages of the Fire. The data and results are presented here.
Watch the video below of the three rooms burning. When you view the video, notice that the screen is split into a recording of the U.S. room, Great Britain room and the France room.
While watching, keep in mind these key points from Matthew:
The open flame ignition source protected couch (BS 5852) produced ½ the total smoke of the non-protected. Additionally, it produced less acutely toxic smoke and had fewer and lower concentration Polycyclic Aromatic Hydrocarbon (PAH).
The time to produce the peak smoke was also significantly delayed by more than 16 minutes longer than the unprotected couches.
Heat release rates showed the same trend as the smoke release. BS 5852 compliant couches had lower peak heat release and significantly delayed by more than 16 minutes.
Each type of furniture was tested 3 times and results were highly consistent with very low variability.
Thanks to Matthew for helping us give you a taste of FLAME 30 if you couldn't make it, a refresher of one of our most popular sessions and a teaser for the insights you'll at next year's FLAME event (details coming soon).
More about Southwest Research Institute:
We are R&D problem solvers providing independent, premier services to government and industry clients. Our multidisciplinary nature allows us to rapidly assemble diverse teams to tackle problems from multiple directions. We push the boundaries of science and technology to develop innovative solutions that advance the state of the art and improve human health and safety. Operating as a nonprofit since our 1947 inception, we work in the public's best interest and toward the betterment of mankind. And as a contract R&D organization, we are here when you need us.