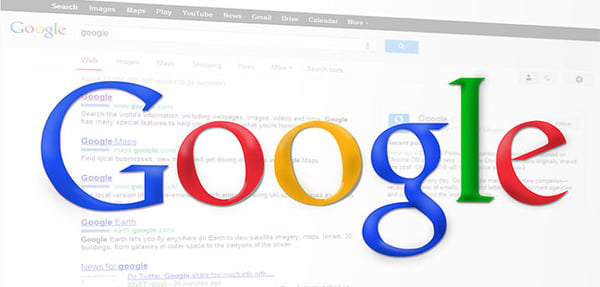 There's nothing more frustrating than spending time doing a web search that yields less than desirable results, let alone the exact information you were hoping to find.
This is especially true for life science entrepreneurs, researchers and other professionals who need to find critical information quickly and easily—so that they can make decisions in their business, refine their product, update themselves on changes in the field and more.
At Informing Innovation 2019, Research Associate Allison Cruise and Web Administrator Matt Zimo from the North Carolina Biotechnology Center, shared their favorite hints and tips for fine tuning web searches on two platforms that life science professionals use most often: Google and PubMed.
Check out their tips below. You can implement them into your own web search strategy immediately.
How Do Boolean Operators Work?
Cruise and Zimo remind life science professionals what the following Boolean search terms mean and how they work—so that they use them properly to improve their search results.
AND. If you want to search multiple terms, use "AND" to link them together—so that all terms appear in search results. While Google does this automatically, other search tools require you to input "AND" between terms to link up queries. Ex. "HIV AND Drugs AND Companies"
OR. Use this to get search results that include either term, not both at the same time While you can use OR with Google, the search engine is designed to give you the most relevant results, which could include both terms. Ex. "Literature OR Clinical Studies"
NOT. This term will exclude a term from your search. You can do this in Google by using the minus key (-). In other search engines, you need to include NOT. You can also use NOT to exclude certain websites or file types. Ex. "Celiac Disease NOT Gluten Intolerance" or "Celiac Disease tip sheet -pdf" or "Celiac Disease tip sheet NOT pdf"
"". Using quotation marks around a query will search for the exact term or phrase of more than one word that you enter, designed to help you increase the specificity of your search. Ex. "HIV Drug Companies"
For more explanation on the basics of Boolean searches, check out this blog.
Google Tools That Can Help You
Since Google is designed to generate by default the most relevant results based on your search terms—even if you refine your search with quotation markets—it's helpful to employ other tools offered by Google to find the information you need.
Verbatim tool. Similar to quotation marks, but more specific to the design of Google, Verbatim narrows results to the exact terms in your query. Enter your search term or phrase and press enter ---> Tools, upper left ---> All results dropdown ---> Verbatim. Srceenshot below.

Date tool. This tool limits your results to a specific time period. Enter your search term or phrase and press enter ---> Tools, upper left ---> Anytime dropdown ---> Choose past hour/24 hours, etc. Screenshot below.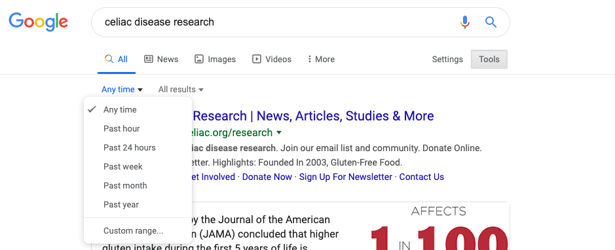 Advanced Search. Build your query with even more specificity. Google homepage ---> Settings, bottom right ---> Advanced Search. Screenshot below.
Stay tuned for Part 2 of this blog, where we'll list the rest of the tips recommended by Cruise and Zimo on how life science professionals can fine tune their web searches.