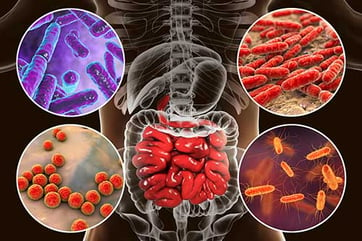 If you're at all interested in health, chances are you've heard of the gut microbiome. It's become quite the buzz word, for both individuals and for companies. In recent years it has attracted millions of dollars in federal grants, awards and funding from venture capitalists. And there is ground-breaking work that is being done in this area. Technological advances in next-generation sequencing and data analytics that is being coupled with modern approaches of systems biology and genetic engineering is significantly expanding our knowledge in the microbial populations and how it interacts with human hosts.
That being said, there are a lot of emerging gut microbiome 'aids' that are quite useless. Separating the real work from the supposed miracle programs is important as we continue to see development done in this market. So, what is actually happening within the gut microbiome market?
The Human Microbiome Project (HMP) and MetaHIT, along with other independent efforts, are continuing to fuel the exploration of the gut microbiome and its impact on our health have led to an explosion of research in the last decade. A variety of studies have come to light that show that the microbiome has a role in mediating a variety of physiological processes including immunity, nutrition and the metabolism. On the flipside, it has also been observed that negative alterations to the gut microbiome can in fact lead to diseases.
This naturally leads us to understand that restoring the pathogenic bacteria is a great strategy that can be the answer to many unmet medical needs. This is especially hopeful for diseases that don't have any definitive cure or treatment, largely chronic diseases. Microbiome therapeutics then could be a great option that is both less costly and targeting the core of certain health-problems.
Diving into some of the details, we can look at the variety of microbiome therapeutic options that exist. Fecal microbial transplants (FMTs) is one such method that has been around for a bit. The next evolution is the use of live biotherapeutic products (LBPs) through single strains or microbial consortia, which is becoming a popular strategy thanks to its targeted mechanisms that allow for more controlled production. On a slightly different track, we're also seeing a growth in the development of small molecule drugs, also known as postbiotics, as well as the use of phages which is being actively explored. There are quite a few active players in the field focusing on different elements, from clinical-stage to late-stage companies that are looking at different approaches that can manipulate the microbiome.
However, an important note to be aware of is that currently there is no microbiome therapeutics that has been approved in any market—yet.
There are some candidates in Phase 3 trials. Some of these include Seres Therapeutics's SER109 and Rebiotix's RBX2660 that are focusing on a treatment for recurrent Clostridium difficile infection. A wide variety of exciting possibilities are on the horizon, but they aren't here just yet, despite what some companies might say.
In fact, the novel market is facing some challenges, despite the large number of both clinical trials and patent portfolios that are popping up. These challenges lie in the absence of any regulatory framework, creating the issue of uncertainty for developers navigating their way. Compounding this issue is the complexity of the human gut microbiome and how individualized issues can be has been providing difficulties in the design of clinical trials. Thirdly, there are current issues of how to scale-up processes once certain drugs prove viable. While there is strong promise of these hurdles being overcome, we have to be patient before we'll see standardized options that will genuinely help people.
In order for the gut microbiome therapeutic market to really grow, we need to see a strong collaborative effort between stakeholders, including regulatory agencies. A quick glance at statistics shows us what will be required to pave the way for product approvals. This includes proof-of-concept studies that are powered by technological advances in biomarkers, computational biology, functional assays and relevant results. And while that sounds like a lot, there are some extremely smart minds that are working in this market, and sooner rather than later we'll see grand growth in this arena.
Dive deeper into the gut microbiome market with these resources:
Full-length report, Microbiome Therapeutics: Global Markets
White paper, The Future Of Microbiome Therapeutics