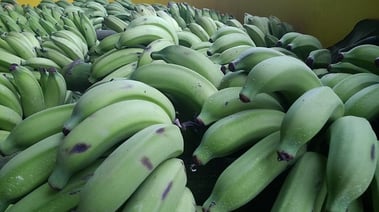 Green bananas, anyone? Dr. Seuss would be pleased.
Unripe bananas are rich in a type of starch called "resistant starch," which naturally resists digestion and is an insoluble dietary fiber. Because freshly harvested bananas have a starch content of 70-90% and are low in sugar, they're ideal for millage into non-clumping powders that can replace wheat or rice flour, malodextrin, corn or potato starch xanthan gum, sugar and other ingredients.
One start-up ingredient technology company is harvesting the opportunity to use green bananas to please the taste palate while offering the nutritional benefits of potassium and magnesium. The flours can replace sugar by replacing bulk, as noted by foodingredientsfirst.com. They provide texture and labeling opportunities different from those available from corn, potato, tapioca and other traditional starch starting points.
International Agriculture Group (IAG) produces the green banana flour, of which they are two types: NuBana100 and NuBana500. The products contain no gluten and both work well in gluten-free applications. The flours can replace high glycemic ones like rice and potato flour, and may eliminate the need for binders and other hydrocolloids, resulting in better nutrition and clean labels. It also contributes softness and flexibility in gluten-free applications, the company says.
"NuBana N100 has very long chains of amylopectin, with unique viscosifying activity where it behaves like a lightly cross-linked modified starch," IAG vice president Rhonda Witwer tells foodingredientsfirst.com. "It is able to maintain its viscosity relatively well and delivers higher final viscosity than other types of starches with a minimal amount of breakdown after peak viscosity."
Witwer says about 15 grams of NuBana N100, which equals a ½ fruit serving, delivers the processing benefits of a cook-up starch with high viscosity. NuBana P500 is a pre-gelatinized flour that thickens in cold water and can replace hydrocolloids and stabilize fruit systems.
Harvested green bananas typically have a starch content of 70-90%. As they ripen, that starch is converted into sugar. When they reach the grocery bins in the United States, most bananas contain about 15% starch.
"In the last several years, consumers have made it clear that clean labels, with friendly, exciting culinary value propositions are here to stay," IAG CEO Maurice Moragne tells foodingredientsfirst.com. "Particularly in the area of fruit systems, we see NuBana Green Banana Flour as a great fit for stabilization, clean label viscosity modification, sugar replacement and more in both foods and beverages."
According to Moragne, several manufacturers are working with the product to launch commercial products made with the flours later this year.
BCC Research's newest report on the global market for flavors and fragrances estimates it to grow from $27.1 billion in 2016 to $37.0 billion by 2021, thanks to a projected 6.4% CAGR.