Increasing research and commercialization of products in life science fields such as proteomics, genomics, pharmacogenomics, and stem cell research have created a big demand for high-throughput technologies. One such technology is flow cytometry, which is a laser-based, biophysical technique used in cell counting and sorting, biomarker detection, and protein engineering. Cells are suspended in a stream of fluid and passed by an electronic detection apparatus. This allows simultaneous multiparametric analysis of the physical and/or chemical characteristics of up to thousands of particles per second.
MULTIPARAMETER FLOW CYTOMETRY IDENTIFIES BIOMARKERS OF IMMUNOTHERAPY RESPONSE
Checkpoint inhibitors work by releasing a molecular "brake" that stops the immune system from attacking tumors. This immunotherapy has been approved for several types of cancers and found to extend lives of patients with advanced disease for many years. The problem is that for most patients, immunotherapy doesn't work. Scientists have been eager to devise a method to predict which patients will respond, and why. Using multiparameter flow cytometry, researchers at the University of California San Francisco (UCSF) and collaborators discovered that the abundance of a subtype of white blood cells in melanoma tumors can predict whether or not patients will respond to checkpoint blockade.
"People had concluded that there was never going to be an accurate test that could tell you the difference between responders and non-responders," said Adil Daud, MD, director of Melanoma Clinical Research at the UCSF Helen Diller Family Comprehensive Cancer Center (UCSF News Center). "They've just assumed that there is no way you could take a tiny piece of tissue and determine who will and won't respond with high predictability."
Although many patients with previously untreatable cancers are in remission after receiving checkpoint-blockade drugs, only about 20% of patients who receive them respond. Thus, the insights generated by the UCSF team's work may help bring the benefits of checkpoint inhibitors to a greater number of patients, according to Michael Rosenblum, MD, PhD, assistant professor of dermatology and senior author of the new study. Although the study was done in patients with melanoma, Rosenblum said that their findings should apply to other types of cancer as well.
The prevailing theory of how checkpoint inhibitors work is based on evidence that CD8+ cells, which are normally primed to kill enemy cells, initially see and infiltrate tumors but can end up in a state of chronic activation, too exhausted to mount an effective attack. As reported August 15 in the Journal of Clinical Investigation, UCSF researchers analyzed tumors from 40 patients. They found that the relative size of a population of "partially exhausted" CD8+ cells in the tumors accurately predicted most patients' responses to immunotherapy drugs that target a protein called PD-1. The CD8+ cells that predicted response to anti–PD-1 therapy expressed high levels of PD-1 and also of CTLA-4, another immune checkpoint protein targeted by immunotherapy drugs.
First, the researchers used multiparameter flow cytometry to analyze tumor samples from a "discovery cohort" of 20 patients who had received PD-1 inhibitors and were thus known responders or non-responders. In this method, proteins such as PD-1 and CTLA-4 can be tagged with labels that emit fluorescent signals as they move single file through transparent tubes past laser beams, allowing scientists to precisely count and sort cells according to their characteristics.
The team examined CD8+ cells to see whether they expressed PD-1, CTLA-4, and other proteins. They found that the number of partially exhausted CD8+ cells in tumors that expressed high levels of both PD-1 and CTLA-4 was a reliable biomarker of response to anti–PD-1 therapy—the more of these cells in the tumor, the more likely patients were to respond, with response defined as at least a 30% reduction in melanoma lesions.
Next, the potential clinical usefulness of this observation was tested in a "validation cohort" of 20 patients not yet treated with anti–PD-1 therapy, and the results held up. Moreover, the researchers were able to quantify the biomarker's predictive power. Every patient in whom at least 30% of tumor-infiltrating immune cells were the newly characterized CD8+ cells responded to therapy, whereas those in whom fewer than 20% were such cells did not. No reliable prediction could be made for patients in between. Further analysis showed that the anti–PD-1 drug reactivated the exhausted CD8+ cells, and when they reached sufficient numbers, they were able to mount an effective attack on the tumor.
BCC RESEARCH FORECASTS SIGNIFICANT CHANGES IN GLOBAL CYTOMETRY MARKET
According to BCC Research, the global market for flow cytometry should exceed $6.3 billion by 2020, up from nearly $4.1 billion in 2015, reflecting a five-year compound annual growth rate (CAGR) of 9.1%. The market for flow cytometry is divided into four product segments: instruments, reagents, software, and services. Instruments and reagents combined held approximately 87% of market share as of 2015. The instruments segment, which accounted for the largest market share at close to $2.1 billion in 2015, should increase at a five-year CAGR of 7.3% to reach almost $3 billion in 2020. The reagents segment should grow the fastest, with a five-year CAGR of 11.9%.
GLOBAL MARKET FOR FLOW CYTOMETRY PRODUCTS BY TYPE, 2014-2020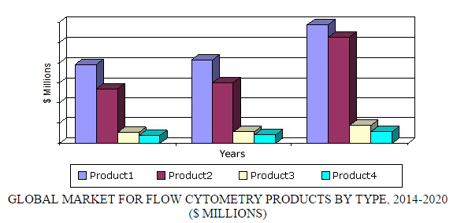 Global demand is high for small-sized, robust, and high-throughput flow cytometers. Market drivers include imminent developments in applications of immunology, biochemistry, microbiology, cytogenetics, chemical engineering, agronomy, molecular biology, and cytology. Innovations in research on stem cells, monoclonal antibodies, marine biology, computer science, electronics, and fluorochrome chemistry are also likely to encourage market growth.
Market consolidation is a trend that should continue during BCC Research's forecast period, as players strengthen or retain their positions. This development has produced stronger, vertically integrated competitors that are better able to compete as sole-source vendors to end users. New molecular diagnostic and monoclonal antibody tests will facilitate existing procedures and provide the basis for sensitive, specific, and simple assays. The introduction of small and easy-to-use laser systems will further expand applications of flow cytometry to daily use in clinical laboratories. Finally, advances in IT will reduce the costs of instrument manufacture and service warranty and will permit the development of various advanced features.
"The expansion of flow cytometry applications from cellular analysis to molecular and genomic analysis, increasing R&D spending, and a shift in small-molecule drug discovery will grow the market," says BCC Research analyst John Richard Rahn. "However, the high cost of equipment will constrain growth. In 2016, a private company focused on the goal of commercializing COST coding in flow cytometric sorting is planning to release a compact cell sorter priced for less than $100,000. Should this technology (a disposable cell-sorting chip capable of three-way sorting) prove to be commercially viable, its adoption will greatly reduce the size and cost of flow cytometry instrumentation."
Flow Cytometry: Products, Technologies and Global Markets analyzes the industry by segments such as instruments, reagents, software, services, technologies, applications, and end users. Emerging applications, pricing considerations, R&D activities, government regulations, and competitive technologies are examined. Analyses of global market drivers and trends, with data from the last two years and projections of CAGRs through 2020, are provided.