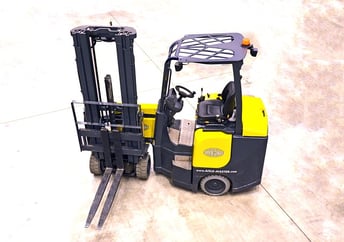 America's commerce moves on forklift trucks. So it seems. Just about every product sold in this country is touched by a forklift at one time or another. From manufacturing and warehouse operations to shipping and receiving depots, lift trucks load and unload the goods and materials of our lives.
Forklifts are critical in keeping America's just-in-time inventory in motion, says a new report that quantifies this manufacturing sector's strong economic impact and employment rates. Issued by the Industrial Truck Association (ITA) and Oxford Economics, the report offers detailed data at national and state levels.
"Forklifts have been lifting America's economy for over a century and we can now quantify our industry's economic contributions to the overall U.S. economy," says Brett Wood, ITA's chairman and CEO of Toyota Material Handling North America.
Released in June, the study reports several significant findings:
The industry's economic contribution to the U.S. gross domestic product (GDP) was $25.7 billion in 2015.
Each job within the industry supports 2.5 additional jobs elsewhere in the U.S. economy.
The industrial truck manufacturing industry workforce has a greater share of veterans compared to all other manufacturing as well as other industries.
In 2015, the industry paid $5.3 billion to local, state and federal governments in taxes.
Globally, more than 1 million industrial truck or forklift units are sold annually.
In the U.S., Canada and Mexico, more than 230,000 units were sold in 2016.
Of the more than 200,000 units in the United States, more than 60% are electric, according to the study. The finding supports the finding in BCC Research's Global Market for Forklift Trucks that use of electric-powered trucks is growing. This truck type is gaining traction due to the implementation of various advanced technologies and their growing application across various industries worldwide, that report notes. BCC Research estimates the global market for electric-powered forklift trucks to grow at a 6.5% CAGR, the highest rate among forklift truck types, from 2016 to 2021.
The ITA study also found that manufacturers of industrial trucks make a widespread contribution throughout the U.S. economy. Of the $25.7 billion total contribution to GDP, some $14.9 billion results from supply chain and consumer spending activities.
Overall, the sector benefits other parts of the national economy, including, for example, $3.5 billion in trade, transportation and utilities; $2.1 billion in professional and business services; and $1.1 billion in education and health services.
Industrial trucks are categorized into seven classes based on characteristics, such as engine type, design and size.
"Forklifts facilitate the production of goods and services, creating increased efficiencies," says Brian Feehan, ITA president. "Industrial trucks play an important functional role in the production process in virtually every industry."
In total, industrial truck manufacturers support more than 209,600 jobs. The companies directly employ more than 59,700 workers in manufacturing, sales and support staff positions.
In addition, for each worker directly employed by the industrial truck sector, 2.5 additional jobs are supported in the wider economy, either in the supply chains of industrial truck manufacturers or through the wage spending of those employed by the firms themselves or their supply chains.
According to the Bureau of Labor Statistics, more than 540,000 forklift operators are employed across the country in all 50 states. "Workers in this sector are highly productive, and wages reflect this with above average annual income and placing them above the median income earners in most states," says Hamilton Galloway, who head of consulting with Oxford Economics.
Washington-based ITA's membership comprises industry manufacturers of lift trucks, tow tractors, rough terrain vehicles, hand-pallet trucks and automated guided vehicles in the United States, Canada and Mexico. The organization claims to represents 90% of the forklift manufacturers in the United States and Canada.
The global market for forklift trucks market is expected to increase from $41.9 billion in 2016 to $56.3 billion in 2021, with a 6.1% CAGR.