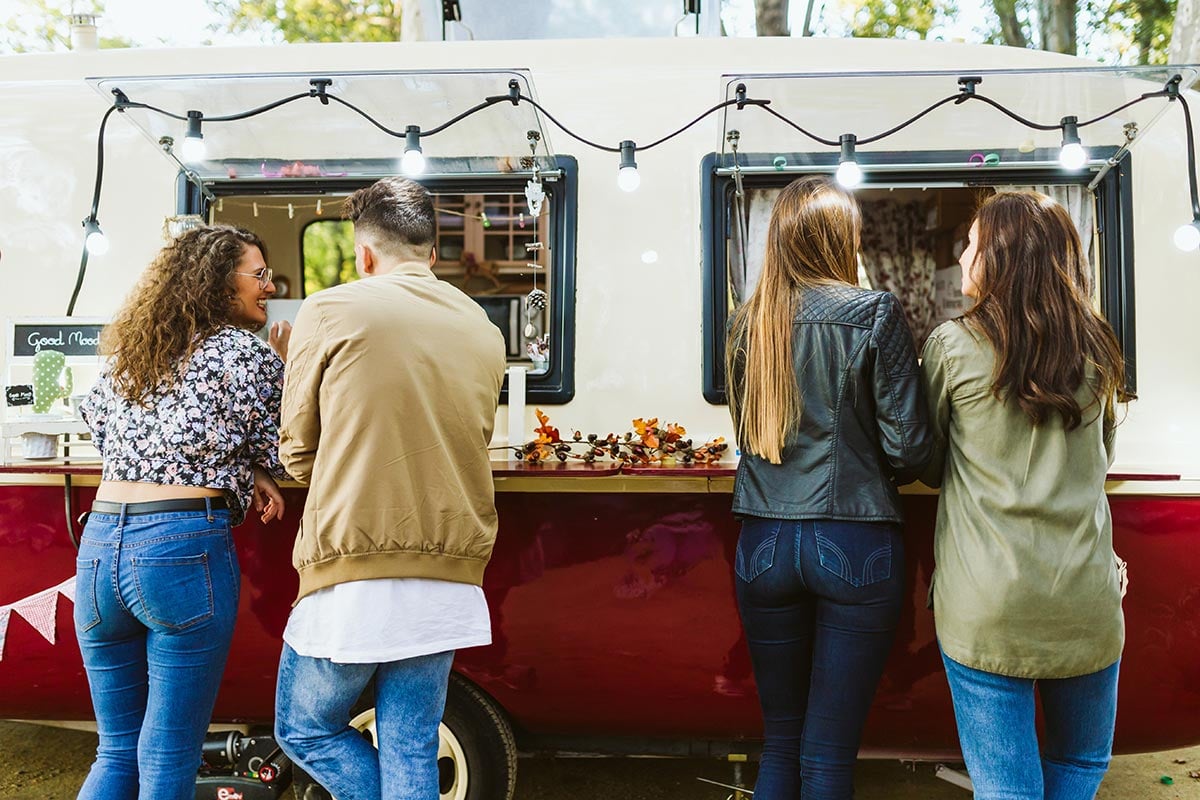 Food trucks are an attractive business prospect. For amateur foodies with limited resources, they represent an affordable means of diving headfirst into the culinary industry. For restaurant chefs, food trucks can offer a fresh lease of life, a way to gain creative control in the kitchen with minimal overheads.
Less costly than restaurants (try $450,000-$950,000 less expensive), portable by nature, and with limited manpower required, food trucks are catching on. So much so, that BCC Research is predicting the market to steadily climb. Estimated at $17.9 billion in 2021, the food truck market is projected to grow at a compound annual growth rate of 6.2% to reach $26.3 billion by 2027.
Let's break down the numbers
One of the main draws of food trucks is their attainability. Their low cost means they tend to be family-run joints, often staffed by just one or two people. While a restaurant start-up can cost anywhere between $500,000-$1,000,000, a food truck can be on the road for as little as $40,000-$60,000, depending on the size and how kitted out you want it to be.
In terms of bang for your buck, it's a no-brainer. Sales from food trucks are growing rapidly, making it a highly profitable enterprise. Average annual sales are estimated to be around $100,000 to $120,000, reaching as much as $200,000 in North America.
The longevity factor
We see food trucks littered across festivals, outside businesses, and on university campuses. They seem to be an exemplar of modern living, fusing convenience and technology, but their history can be traced back to the seventeenth century – proving they're more than a fleeting fad.
Chuckwagons were the forefathers of the contemporary food truck. They had similar equipment to the kind you see today: cooking utensils, shelving, and storage for raw materials and cooked food. Chuckwagons were mobile, too, being both horse-drawn and compact.
As urban areas expanded push carts became the next step. These carts mainly sold cooked food, fruits, and beverages, acting as an extension of street food. It wasn't until the late 1950s that the modern ideation of food trucks really took hold. Refrigerators became common appendages, allowing vendors to sell ice creams. Gradually, taco trucks, burger vans, and other food trucks gained global status. During the recession in the noughties, food trucks boomed again, due to the limited investment required. They've made it this far, and show no sign of disappearing.
Food trucks weathered the storm of the pandemic
The pandemic demonstrated the remarkable adaptability of food trucks. While mass cancellations of festivals and public events initially sliced their revenue, food trucks eventually proved to be befitting to the pandemic. Operational outdoors and able to accommodate social distancing, food trucks were able to quickly reopen. Plus, in the height of economic uncertainty, food truck owners didn't have to pay rent, giving them the edge over restaurants.
During the pandemic, vendors were also able to connect with food delivery services to accept orders. Most food trucks survived by using technology to serve their customers. Key to any successful business, they demonstrated true innovation and adaptability.
Festivals represent an ongoing business opportunity
Festivals paused in 2020, but they're firmly back in action. Festivals occur the world over and present an ongoing opportunity for food truck businesses. At a festival, footfall and by extension, profits, are beyond the realms of what can be achieved elsewhere. Festivals draw crowds by the hundreds of thousands, and all you need to do is pitch up and let punters come to you. The result is a wider audience, a boost in sales, and the opportunity to market your unique food.
Missing out on the gig economy
While food trucks are an undeniably robust business model, modern consumers are used to having food delivered straight to their door. Given that food trucks often forgo a permanent address, many vendors miss out on the Deliveroo/Uber Eats/Just Eat gig economy.
More food trucks are beginning to establish permanent locations, allowing them to use online food delivery platforms. If you're a food truck vendor, this should be something to consider in the long term.
Learn about the market for food trucks
BCC Research's latest report breaks down the ins and outs of the food truck industry. Discover the estimated revenues for food trucks by region, truck type, food type, and serving type, and come away with unparalleled insight into this lucrative market. We've profiled the major players, identified key opportunities, and analyzed the competitive landscape. The report acts as the ultimate resource for those hoping to break into the industry.
Download your complimentary report overview of Food Trucks: Global Markets.
We publish a variety of reports within the Food and Beverages category. To gain access to the full scope of this industry, consider becoming a member of the BCC Research library. Get in touch below to find out more – our team would be happy to discuss this with you further.