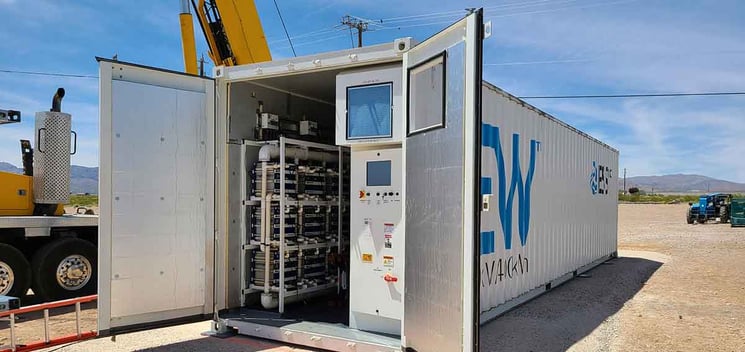 Introduction to Flow Batteries Market
We all need reliable, cheap, scalable and environmentally friendly sources of electricity. But as the real world tends to do, the real world threw us a curveball: There's a fundamental problem with renewable energy. Load balancing.
On an electricity grid, the total amount of electricity generated at each instant must equal the electricity load demand at that exact instant. When millions of users use air-conditioners in the afternoon during a heatwave, load-following power plants increase generation and many small, quick-to-start but expensive-to-run peaking power plants come online to meet total demand.
When temperatures cool and air-conditioners cycle off, load-following plants wind down and the grid returns to a baseload generation profile. The next day, the cycle begins again. For a power plant that uses fossil fuel or nuclear, controlling the power supply is an established process.
But the process for renewable sources is more complicated, due to their variable nature. Electricity is not generated when the sun goes behind clouds, or when the wind dies down, which strains the system of transmitting and distributing power. Regulating this process requires smart grids and energy storage system: Batteries.
With the urgency of global warming and the cost of building new generating plants, the electrical energy storage industry is on the brink of widespread implementation and growth.
Currently, lithium-ion batteries dominate the electrochemical batteries space, whereas the pumped hydro segment is still the largest segment for energy storage technologies. There are many emerging technologies—flywheels, supercapacitors and solid-state batteries and more—that have specific properties and are suitable for certain applications.
Flow batteries—rechargeable electrochemical cells where chemical energy is produced by two chemical components dissolved in electrolyte liquid—are gaining significant traction among all the aforementioned emerging technologies due to their sustainability for large-scale storage applications. Flow batteries also are among the safest batteries and have a long lifecycle, rendering them highly suitable for large-scale long-term storage applications. Furthermore, advancements in flow battery technologies reduce system costs, another favorable indicator for end users.
Interview with Flow Batteries Industry Player, ESS
BCC interviewed the SVP of Sales and Business Development at ESS Inc, Hugh McDermott to understand the underlying technology and market potential of flow batteries. ESS Inc. is a manufacturer of long-duration iron flow batteries for commercial and utility-scale energy storage applications.
In Dec 2020, ESS Inc was named a 2021 Global Cleantech 100 Company by Cleantech Group. This is the third time ESS Inc. has been included on the widely recognized list, receiving similar honors in 2017 and 2020.
BCC: Please tell us about the ESS mission and products.
Hugh M: At ESS, our mission is to bring to market the cleanest, lowest-cost long-duration energy storage systems. We are the catalyst for a sustainable energy future. ESS was founded by a team with deep experience in fuel cells, electrochemistry, advanced material science and renewable energy. We manufacture low-cost, long-duration iron flow batteries for commercial and utility-scale energy storage applications requiring 4+ hours of flexible energy capacity. Our long-duration energy storage platforms, the Energy Warehouse™ and Energy Center™, use iron, salt and water for the electrolyte, and provide an environmentally safe, long-life energy storage solution for the world's renewable energy infrastructure.
The Energy Warehouse™ is designed primarily for commercial and industrial customers. This compact all-in-one unit has an energy storage capacity of 400 kWh and a 25-year design life. Based on the desired power rating, it can be configured to provide storage durations of 4 to 12 hours.
The Energy Center™ is intended for utility-scale applications. This "battery-in-a-building" delivers a configurable range of power capacities starting at 3 MW and energy durations ranging from 6 to 12 hours. A one-acre footprint supports up to 6 MW and 74 MWh.
BCC: Where do you see the flow batteries market in the next 10-15 years?
Hugh M: The International Renewable Energy Agency (IRENA) anticipates a three-fold increase in global renewable electricity generation over the next 30 years. A recent report from Guidehouse predicts that by 2030, more than 30 GWh of long-duration storage—representing nearly 40% of the total amount of storage deployed that year—will be installed in the global market. That's a ten-fold increase compared to today.
We are very optimistic about all that is happening in the market and see rapidly growing demand for long-duration storage solutions globally. We are certain that the key to widespread adoption of our technology will be to increase overall awareness and showcase performance. We intend to communicate that sustainable, cost-effective energy storage solutions do exist and perform exceptionally well in real-world applications, demonstrating flexibility and responsiveness in stabilizing the grid. The energy transition is going to require a massive amount of energy storage comprising a range of different technologies. We expect flow batteries such as ours will play an important role in the future grid.
Additional Trends And Projections About Flow Batteries
The global market for flow batteries should grow from $288.5 million in 2021 to $1.0 billion by 2026 with a compound annual growth rate (CAGR) of 28.6%.

The Asia-Pacific market for flow batteries should grow from $248.6 million in 2021 to $868.1 million by 2026 with a CAGR of 28.4%.

The North American flow batteries market should grow from $16.8 million in 2021 to $66.1 million by 2026 with a CAGR of 31.5%.

In Europe, the market for flow batteries reached over $12 million in 2020 and is estimated to reach $53 million by 2025 at a CAGR of 30.2 %.

Key market players include: Prudent Energy, Ess Inc., American Vanadium and Vionx Energy Group.
For Additional Intel Into The Global Market For Flow Batteries
Check out the ESS website: essinc.com
Read the rest of our interview with ESS in our Innovation Spotlight: ESS: Flow Batteries
Download a free overview of our report, Flow Batteries: Global Markets