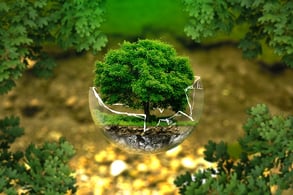 No matter the industry, companies rely on technology innovation and development to stay competitive. For instance, in the air pollution control equipment industry, one company recently unveiled the first air purification device that uses nanotechnology to remove contaminates from air at the molecular level.
Developed by research scientists at the University of Florida and University of South Florida, photo electrochemical oxidation (PECO) utilizes free radicals—the same radicals used to kill cancer cells—to oxidize pollutants. By using nanotechnology, PECO destroys pollutants 1,000 times smaller than traditional high-efficiency particulate air (HEPA) filters (0.1 nanometers versus 300 nanometers), claims the device's manufacturer, Molekule.
According to the Environmental Protection Agency, the average person spends 90% of their life indoors. Most conventional air purifiers use HEPA filters that trap particles such as pollen, pet dander, dust mites, tobacco smoke and other volatile organic chemicals.
"The HEPA filter, today's market leading technology, was developed in the 1940s as a part of the Manhattan Project and hasn't evolved much since," says the technology's co-founder Dilip Goswami, Molekule's chief scientist. "It has become a commodity found in most households and air purifiers, yet the EPA still reports that indoor air is up to five times worse than outdoor air."
Most air purifying technologies rely on HEPA filters that capture and collect pollutants, where they can accumulate, multiply and eventually get released back into the air. PECO disassembles and converts pollutants into harmless elements by catalytic reaction. This is accomplished by creating a catalytic reaction that occurs when the device's nanoparticle-coated filter is activated by light. Pollutants are broken down into their most basic molecular components and eliminated, the company claims.
In independent testing, the company says Molekule destroyed 3.9 million E. coli during a single pass through the air purifier. Tested in an environment of study participants, the device yielded a significant outcome, reducing overall symptoms for allergy sufferers. Total Symptom Scores (TSS) of allergy sufferers dropped to the normal range (equivalent to the score of non-allergy sufferers) within 1 week following initiation of treatment. After initiation of treatment, there was no difference in TSS between allergy and non-allergy sufferers. This improvement in TSS was consistent over the 4-week course of treatment.
The device can be connected to Wi-Fi for it to become smarter over time, the company claims, as well as to remotely respond to the user's needs via an iPhone or Android app.
San Francisco-based Molekule has four worldwide exclusive patents to this technology and one additional patent pending.
Other recent innovations that offer the potential to change the dynamics of the air pollution control equipment market include wearable air purifiers, connected air purifiers and feature-rich air purifiers and air pollution control equipment. According to BCC Research, current market innovations are focusing on the miniaturization of air pollution control equipment, mobility, and efficiency.
The global market for air pollution control equipment reached nearly $13.3 billion in 2015. BCC Research expects this market to increase from $14.3 billion in 2016 to nearly $20.9 billion in 2021, demonstrating 7.8% CAGR.