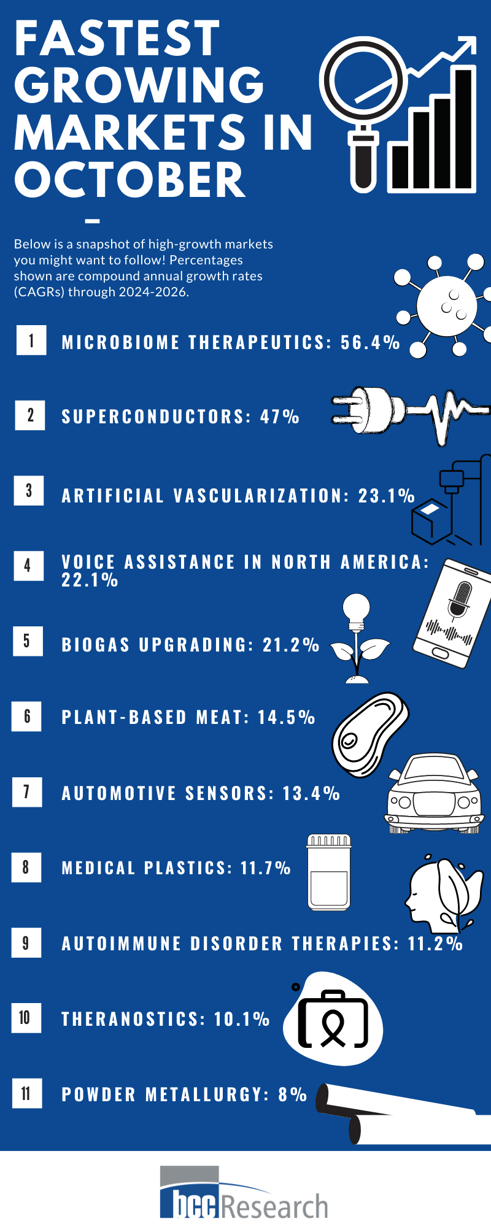 We produce a lot of market research every month. And we get that your needs, schedule and budget don't always allow for in-depth study of our full-length report.
That's why we put together a list of the fastest growing markets we reported on in October 2020—to give you a snapshot of high-growth markets you might want to follow, like microbiome therapeutics, biogas upgrading, plant-based meat and more.
Microbiome Therapeutics: 56.4% CAGR (Compound Annual Growth Rate)
Projected Revenue: $1.3B by 2026 from $141M in 2021
Key drivers of the market include: increasing validated and statistical microbiome data from human studies; expanding collaborations and strategic partnerships among academia and private players; continued investment by venture capitalists and pharma companies; active support from the FDA.
Full Report: Microbiome Therapeutics: Global Markets
Superconductors: 47% CAGR
Projected Revenue: $240M by 2025 from $35M in 2020
Superconducting magnets, particularly those used in science, research, technology development and healthcare applications, dominate the market. However, superconducting electrical equipment (transformers, generators, motors, fault current limiters (FCLs), power storage, current leads and cable) is expected to capture 19.5% of the market by 2025.
Full Report: Superconductors: Global Markets
Artificial Vascularization: 23.1% CAGR
Projected Revenue: $40M by 2025 from $14M in 2020
Tissue engineering structures with artificial vasculature are being produced for very diverse applications within the life sciences sector. Among these applications, vascularized engineered tissues for treating cardiovascular and respiratory diseases are generating the largest interest.
Full Report: Artificial Vasculature and Micro-Environmental Factors Supporting Tissue Engineering and Organoids
Voice Assistance in North America: 22.1% CAGR
Projected Revenue: $1.25B by 2025 from $433M in 2020
With a market revenue of $205 million in 2019, the web application segment was the top revenue generator in the North American voice assistance market, and it will exhibit a CAGR of 17.8%. The mobile application sector is expected to exhibit the highest CAGR, of 26.1% and is expected to reach $462.5 million in 2025.
Full Report: Voice Assistant Applications: North American Markets
Biogas Upgrading: 21.2% CAGR
Projected Revenue: $2B by 2025 from $800M in 2020
Legislation and the desire to cut greenhouse gas emissions (GHGs) are the most important drivers for biogas plant construction, ex. Kyoto Protocol requirements and specifications of the EU Renewable Energy Directive (RED). Energy security, the desire to draw on domestic fuel resources and elimination of the expense and price volatility of imported fossil fuel also encourage interest in biogas. Worldwide, most countries have targets for renewable energy production, GHG mitigation or laws related to minimizing harmful landfill emissions.
Full Report: Biogas Upgrading: Technologies and Global Markets
Plant-Based Meat: 14.5% CAGR
Projected Revenue: $11.9B by 2025 from $5.2B in 2020
About 60% of manufacturers' sales for plant-based meat is made from soy. A significant share belongs to peas, a staple of plant-based meats. Its moderate price, functionality and nutritional profile, as well as wide availability and applicability, makes it an ideal source for plant-based meat.
Full Report: Plant-based Meat: Global Markets
Automotive Sensors: 13.4% CAGR
Projected Revenue: $79B by 2026 from $42B in 2021
Electronics content is increasing in automobiles, and thus the number of automotive sensors used in vehicles is increasing. The new applications of automobile sensors will cater to increasing environmental and safety legislations, as well as boost the market.
Full Report: Global Markets for Automotive Sensor Technologies
Medical Plastics: 11.7% CAGR
Projected Revenue: $2.6B by 2025 from $1.2B
As the COVID-19 outbreak spread, the medical plastics operation shrank in the first quarter of 2020. The supply chain was disrupted, and downstream plants were shut to comply with the restrictions imposed on trade by regional governments. After restrictions were lifted, the market saw resumed demand in the second half of 2020. The market in 2020 is estimated to record significant growth rate compared to 2019, and the market will continue to grow until 2021 owing to increased demand for disposable medical plastics.
Full Report: Medical Plastics: Global Markets
Autoimmune Disorder Therapies: 11.2% CAGR
Projected Revenue: $90B by 2024 from $53B in 2019
Key drivers of the autoimmune disorder therapy market include: increasing prevalence of autoimmune diseases; demand for extensive translational research for autoimmune patient treatments; the rise in technological advancements for the diagnosis of autoimmune diseases; and improved awareness about autoimmune diseases
Full Report: Autoimmune Disorder Therapies: Global Markets
Theranostics: 10.1% CAGR
Projected Revenue: $130B by 2025 from $80B in 2020
Applications for oncology currently account for the largest share of the market, at an estimated 90.9% of the total in 2020, corresponding to $73.1 billion. In oncology, theranostic products are used primarily for the treatment of breast, lung and prostate cancer.
Full Report: Theranostics: Global Markets
Powder Metallurgy: 8% CAGR
$40.5B by 2025 from $35B in 2020
The powder metallurgy (PM) industry, which was severely affected by the 2008-2009 recession, due to the steep decline in automotive production, recovered and surpassed pre-recession levels. In 2019, the PM parts market was expected to generate around $35 billion worldwide.
Full Report: Powder Metallurgy: Global Markets