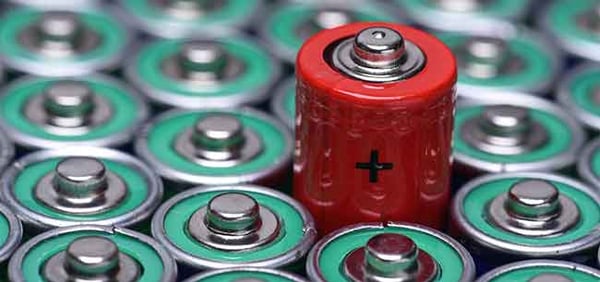 If there's one market to watch, it's batteries. All batteries will change in the next 5 years. And a lot of other industries will change, too.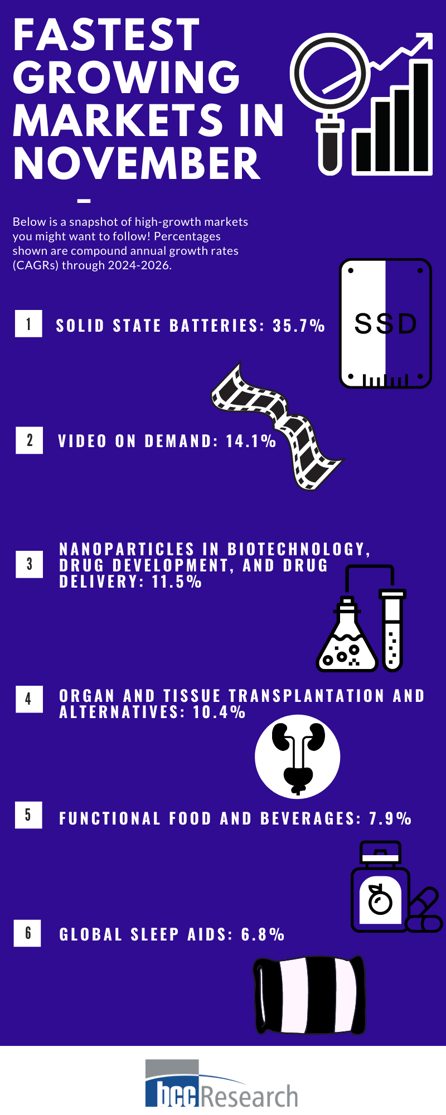 To help you keep track of the markets you should be following, we put together a list of the markets with the highest Compound Annual Growth Rates (CAGRs) and revenue projections for the next five years, some commentary from our analysts and a link to our corresponding reports so that you can dive deeper.
Solid State Batteries: 35.7% CAGR
Projected Revenue: $391M by 2025 from $65M in 2020
Solid electrolytes offer high workable temperatures, faster charging times, and considerable energy storage in a compact battery. These attractive properties are driving significant R&D in solid-state batteries and the potential they offer for replacing existing battery technologies in the next 5 years.
Full Report: Solid State Battery: Global Markets
Video On Demand: 14.1% CAGR
Projected Revenue: $128B by 2025 from $66B in 2020
Some of the major factors driving the growth of the market for video on demand include growing internet penetration, increasing penetration of smartphones and smart TVs, rising trend of cord-shaving and cord-cutting and innovation in streaming platforms
Full Report: Video On Demand: Solutions and Global Markets
Nanoparticles in Biotechnology, Drug Development, and Drug Delivery: 11.5% CAGR
Projected Revenue: $3.1B by 2025 from 1.8B in 2020
The development of nanoparticle-based imaging probes improves substantially the specificity and sensitivity of diagnostic imaging. This technique allows for the non-invasive, quantitative detection of specific biomolecules in living subjects. In molecular imaging, the nanoparticle can be attached to an antibody specific for a cancer cell surface protein; to an enzyme known to be involved in a disease like diabetes; or to a drug delivery particle
Full Report: Nanoparticles in Biotechnology, Drug Development and Drug Delivery
Organ and Tissue Transplantation and Alternatives: 10.4% CAGR
Projected Revenue: $3.7B by 2024 from $2.2B in 2019
The organ transplantation industry continues to evolve through advances in tissue typing that identify potential rejection problems, organ preservation techniques that allow longer times from donation to transplantation, newer immunosuppressants that extended survival times for all solid organ transplant recipients, a broad array of complex anti-infectives and the creation of transplant assistive devices that either help the recipient survive until transplantation or, in some cases, replace the need for human organ transplants
Full Report: Organ and Tissue Transplantation and Alternatives
Functional Food and Beverages: 7.9% CAGR
Projected Revenue: $127B by 2025 from $87B in 2020
The combination of research with positive results, an increasing number of permissible health claims on functional food packages and the media attention paid to the link between diet and health concerning functional ingredients and disease prevention has spurred growth in the functional food industry that surpasses the growth rate of the overall food industry.
Full Report: Functional Foods and Beverages: Global Markets
Global Plasma Fractionation Market: 7% CAGR
Projected Revenue: $40B by 2025 from $28B in 2020
Growth of the global market is attributed to the increasing use of immunoglobulins in various therapeutic areas. This increase is a result of the rising prevalence of Alpha-1 antitrypsin deficiency and respiratory diseases and the growing global geriatric population
Full Report: Plasma Fractionation: Global Markets
Global Sleep Aids: 6.8% CAGR
Projected Revenue: $112B by 2025 from $81B in 2020
The fast growth rate of the market is attributed to changing lifestyles, increasing demand for sleeping medications and improvements in mattress/pillow technologies
Full Report: Sleep Aids: Technologies and Global Markets