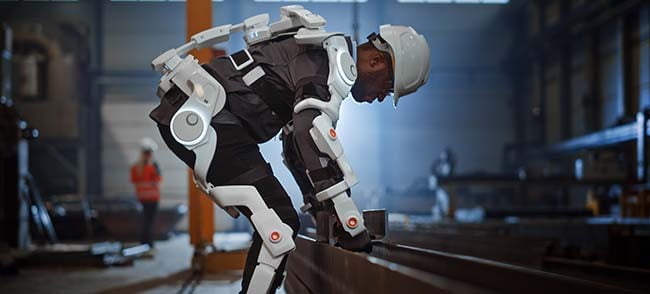 Now that we're well into the new year, it's time to review the markets that we've identified with the highest Compound Annual Growth Rates (CAGRs) in 2021 so far, aka the fastest-growing markets.
Below is a list of the six markets you need to watch, commentary from our analysts and links to our corresponding reports if you'd like to dive deeper into each industry.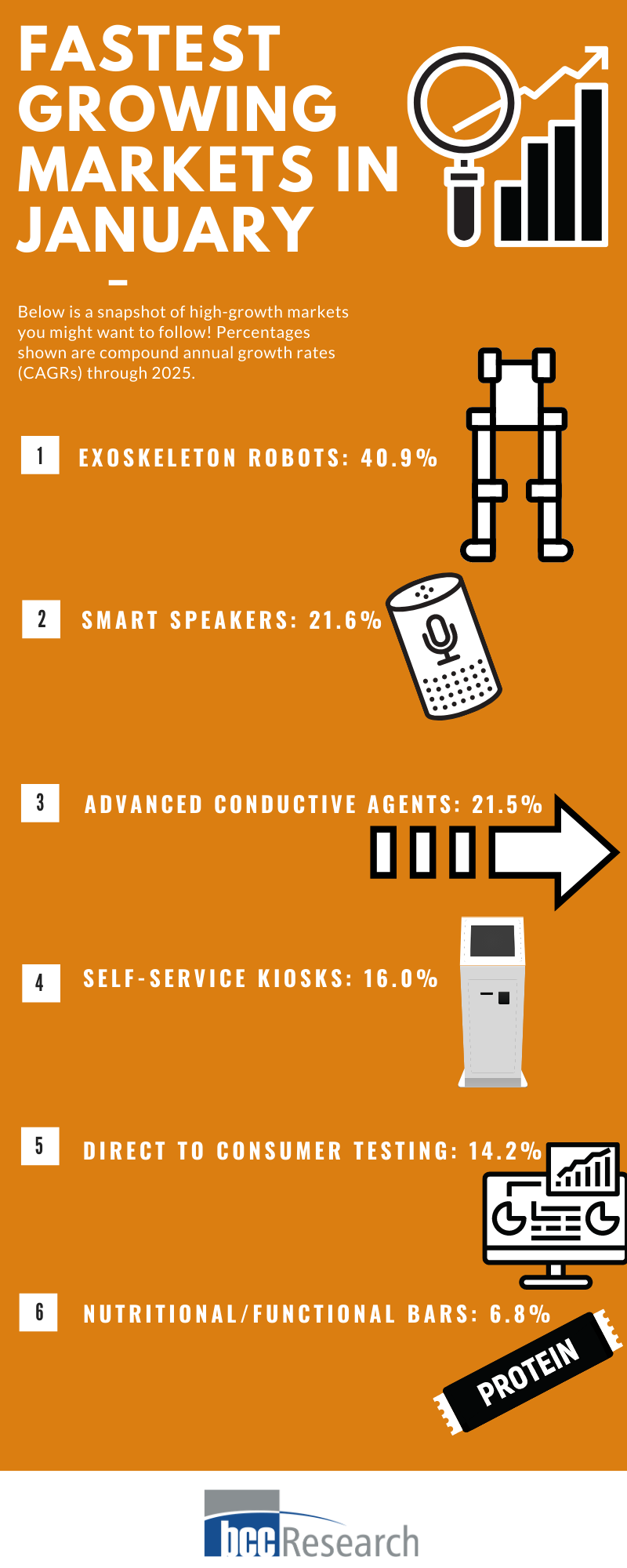 Exoskeleton Robots: 40.9% CAGR
Projected Revenue: $3.2B by 2025 from $427M in 2020
During the pandemic, the exoskeleton market received demand in healthcare providers, such as nurses physically moving COVID patients, and patients with physical disabilities seeking ways to receive therapy and personal assistance in their homes. All the while, continued applications in industrial uses and military interest have grown.
Full Report: Exoskeleton Robot: Global Markets
Smart Speakers: 21.6% CAGR
Projected Revenue: $35.6B by 2025 from $13B in 2020
Increasing demand for AI-powered and internet of things (IoT)-enabled smart home devices, the growing trend of display-equipped smart speakers and rising per capita income are encouraging market growth.
Full Report: Smart Speaker Market
Advanced Conductive Agents: 21.5% CAGR
Projected Revenue: $1.9B by 2025 from $723M in 2020
Carbon nanotubes (CNTs) represent the fastest-growing subset of advanced conductive agents, outpacing other carbon materials, carbon black, graphite and graphene, as well as metal and metal oxides.
Full Report: Advanced Conductive Agents: Global Markets
Self-Service Kiosks: 16% CAGR
Projected Revenue: $4.3B by 2025 from $2.2B in 2020
The fastest growing end-user segment in the U.S. self-service kiosk market is the medical and healthcare segment. These kiosks are increasingly used for appointment check-in, secure patient identification, real-time demographics verification, real-time eligibility checks, consent form viewing and e-signature, outstanding balance and co-pay collection, alert notifications, facility directions and ordering prescription refills.
Full Report: U.S. Self-Service Kiosks Market
Direct-To-Consumer (DTC) Testing: 14.2%
Projected Revenue: $2.6B by 2025 from $1.3B in 2020
The DTC testing market is driven by increasing consumer demand for at-home testing kits, expanding access to these products through online and retail options, decreasing test costs, and expanding applications of these tests. DTC testing companies have used the pandemic as an opportunity to launch at-home COVID-19 test kits. Novel applications such as this and rising consumer demand for empowerment and health consciousness will support the growth of this market.
Full Report: Direct-to-Consumer Genetic Testing: Global Markets and Technologies
Nutritional/Functional Bars: 6.8%
Projected Revenue: $1.7B by 2025 from $1.2B in 2020
The global nutritional/functional bar market has grown exponentially in the last few years, and this growth is expected to continue. The market is being driven by rising health concerns, an aging global population and growing per capita income in developing countries such as China, India and Brazil.
Full Report: Global Nutritional/Functional Bars Market