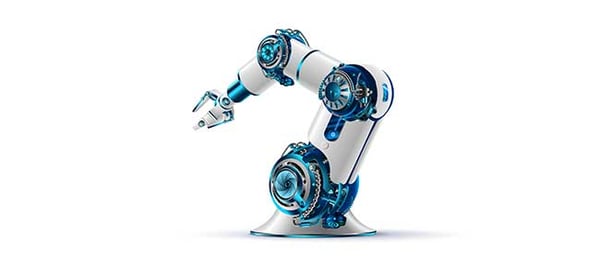 To help you keep track of the markets you should be following, we put together a list of the markets with the highest Compound Annual Growth Rates (CAGRs) in December 2020, revenue projections for the next five years, some commentary from our analysts and a link to our corresponding reports so that you can dive deeper.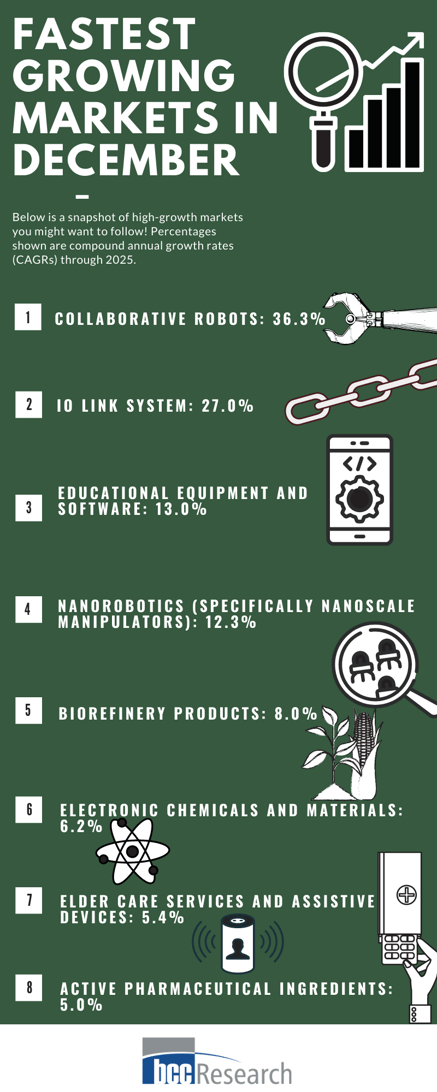 Collaborative Robots (Cobots): 36.3%
Projected Revenue: $5.5B by 2025 from $917M in 2020
The collaborative robotics market growth outlook is strongly positive with significant growth potential in the automotive; electrical and electronics industries; food and beverages; construction; healthcare; defense; and more. There is mounting pressure from end-user industries globally, however, to further reduce prices, maximize return on investment and improve the features, efficiency and operability of robotics. At the same time, emerging markets are investing in modernizing production facilities, which is driving growth in the market.
Full Report: Collaborative Robots (Cobots): Applications and Global Markets
IO Link System: 27% CAGR
Projected Revenue: 17.6B by 2025 from $5.3B in 2020
IO-Link protocol has the capability to convert an IO-Link-enabled sensor or actuator into a smart device by simply connecting it to an IO-Link master for communication and data sharing. It's the backbone of Industry 4.0 and smart factories. The aim of Industry 4.0 is to completely integrate the communication process used in manufacturing to improve the efficiency of factories through the Industrial Internet of Things (IIoT), industrial automation, data exchange and manufacturing technologies.
Full Report: IO Link System: Global Markets
Educational Equipment and Software 13% CAGR
Projected Revenue: $121B by 2025 from 65B in 2020
By the end of 2020, the education sector was more student-centered and classrooms were designed to enable more flexible and collaborative learning. The COVID-19 pandemic caused colleges and universities to go digital. Though online education is not a new trend, regional lockdowns have boosted online learning.
Full Report: Educational Equipment and Software: Global Markets
Nanorobotics (specifically nanoscale manipulators): 12.3% CAGR
Projected Revenue: $37M by 2025 from $17B in 2020
Still in the early stages of development, nanorobots are unlikely to be commercialized until 2025. Sales of nanomanipulators such as those made by Klocke Nanotechnik, nPoint and Mad City Labs reached $17.1 million in 2019. These devices are used typically in conjunction with Scanning Probe Microscopes (SPMs), so it is reasonable to expect their sales to grow at roughly the same rate as SPMs at a CAGR of ~12% from 2020 through 2025.
Full Report: Nanorobotics: Technologies and Global Markets
Biorefinery Products: 8% CAGR
Projected Revenue: $867B by 2025 from $586B in 2020
Many energetic bioproducts are now going commercial, with commercially available production technologies (direct combustion in stoker boilers, low-percentage co-firing, municipal solid waste incineration with combined heat and power, dry/wet milling, fermentation and esterification). Energetic bioproducts can therefore help countries meet their policy goals for secure, reliable and affordable clean energy to expand access and promote rural development.
Full Report: Biorefinery Products: Global Markets
Electronic Chemicals and Materials: 6.2% CAGR
Projected Revenue: $75B by 2025 from $51B in 2020
Before COVID-19, the electronic chemical and material market was valued at around $51.9 billion in 2019. However, the outbreak has led to a significant change in consumer behavior and demand, purchasing patterns, re-routing of the supply chain, dynamics of current market forces and significant governmental intervention. The semiconductor industry is one of those very few industries that has reported growth during the pandemic. The electronic chemicals and materials market is expected to grow from $55.5 billion in 2020 at a CAGR of 6.2% to reach $75.1 billion in 2025.
Full Report: Electronic Chemicals and Materials: The Global Market
Elder Care Services and Assistive Devices: 5% CAGR
Projected Revenue: $947B by 2025 from $728B in 2020
Market growth is attributed to the growing need for personal care for the elderly population affected by chronic diseases; a rise in the size of the world's geriatric population; the increasing popularity of Internet of things (IoT) technology in home healthcare; an increase in the prevalence of people suffering from disabilities; new technology innovations and rising government funding for elderly care.
Full Report: Elder Care Services and Assistive Devices: Global Markets
Active Pharmaceutical Ingredients: 5% CAGR
Projected Revenue: $173B by 2025 from $135 in 2020
The global API market is expected to grow over the next five years, driven by the increasing demand for generic and biological drugs, price impacts from COVID-19 and the increasing demand for critical drugs, which are in short supply due to the pandemic.
Full Report: Active Pharmaceutical Ingredients: Global Markets