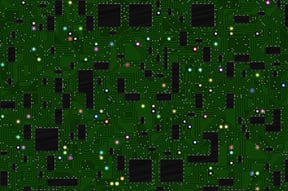 Optical amplifiers made from rare-earth materials are used in photonic integrated chips (PICs) to amplify an optical signal without first converting it to an electrical signal. Optical amplifiers coupled with WDM (wavelength-division multiplexing) technology have made the transmission of many terabits of data over large distances possible.
Recently, the rare-earth metal erbium made news as a viable material for use in optical amplifiers. Until now, the amount of amplification in a typical erbium-doped fiber was too small and the required length too long for chip-scale integration.
But research teams from Arizona State University and China's Tsinghua University apparently have overcome these limitations by increasing erbium's optical gain enough to enable the material's integration on a chip for optical amplifiers and lasers. The researchers were able to raise erbium's optical gain from a typically low level of a few dB to more than 100 dB per centimeter of propagation.
The discovery, made by research teams led by Cun-Zheng Ning, an ASU electrical engineering professor, and Hao Sun from Tsinghua University, attains a decades-long goal in the field of photonic integration in which different small optical components are tightly combined for better performance and ease of fabrication.
Within optical microchips, light finds its way through channels and waveguides made of silicon, as Phys.org explains. For example, light from a glass fiber is led through a structure of optical channels with splitters and couplers. Silicon conducts the light, but with some loss. Enter erbium-based materials to amplify the signal or even include a light source on the chip.
Erbium is important for many applications, especially as an optical amplifier buried along with optical fibers for communications across and between continents. Scientists and engineers have been trying to replicate the success of signal amplification by erbium on smaller platforms, such as on a small chip of an integrated photonic system.
The precursor for the recent discovery appeared in 2011, when Ning's research team at the time discovered that a particular erbium silicate salt, developed as a nanowire with a slimmer profile, suggested excellent potential as a photonics amplification material. The researchers found engineers could pack 1,000 times more erbium in optical amplifiers, lasers, quantum information devices, switches and solar power cells.
Six years later, Ning and Sun's team finally were able to perform an experiment on a single nanowire that revealed the intrinsic absorption coefficient, a process that allowed exact measure of the materials absorption for the first time. An extremely high optical gain of about two orders of magnitude higher than with previous erbium-based materials was measured.
"We are excited that we finally were able to establish the large optical gain we had predicted for years based on other measurements we've done," Ning says. "Based on this new single-crystal nanowire technology, our next goal is to integrate multiple devices on a silicon platform for integrated photonic circuits."
Details of the new optical amplification were published in Nature Photonics.
BCC Research expects the global market for optical amplifiers used in photonic integrated circuits to reach $308.0 million by 2022, growing at a 33.4% CAGR from 2017 to 2022. The July report also anticipates the global market for photonic integrated circuits, valued at $426.0 million in 2016, to total $1.8 billion by 2022, which corresponds with a whopping 27.5% CAGR.