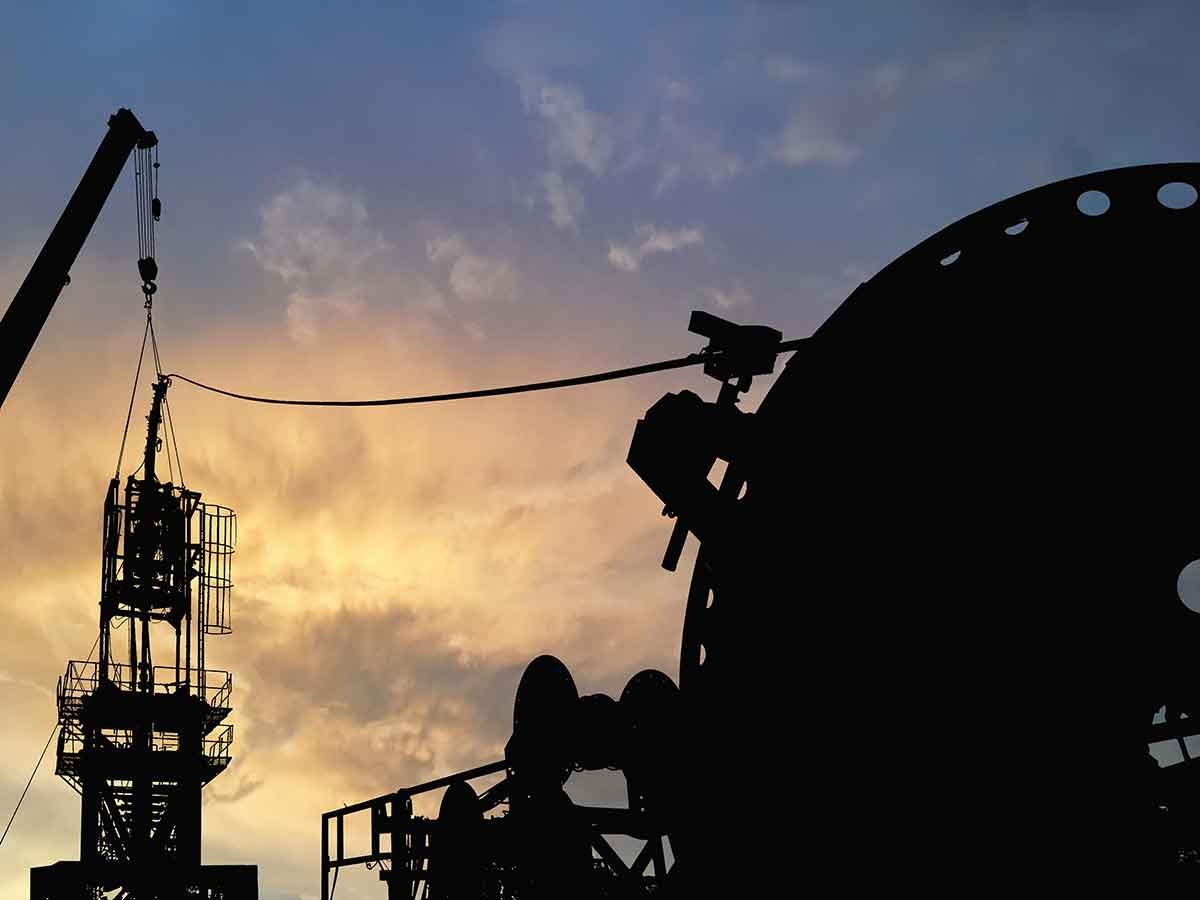 The Charleston Conference is rolling around once again, and so is the ignition of important discussions within the world of academic publishing. We're delighted to have representatives from BCC Research making their way over to Charleston, SC. Dr Helia Jalili, Maria Feher, and Cara Biondo, Director of Research, Senior Client Success Manager, and Client Solutions Executive respectively, will be heading the team from BCC Research.
Colleges and Universities around the world subscribe to our global market research reports. We provide both syndicated and custom reports to academic institutions and have done for many years. Combining technical expertise and market research, our reports equip students and professors with a deep understanding of various environmental, social, and economic industries. Armed with our extensive research and well-formulated market projections, students can practically approach some of the most important global issues.
Our upcoming report on Enhanced Oil Recovery is a prime example of an area that serves students and academic institutions. With climate change being one of the greatest challenges humanity has ever had to face, enhanced oil recovery (EOR) represents a contentious topic. Understanding EOR and the arguments for and against it is crucial to better address sustainability practices. Below, we'll explore what exactly EOR is and evaluate its environmental viability, considering the various factors driving the industry forwards.
What Is Enhanced Oil Recovery?
Enhanced oil recovery is an unconventional method of extracting oil. As opposed to traditional methods, EOR works by injecting pressurized CO2 into existing oil fields to extract additional oil. EOR happens when primary and secondary recovery techniques have taken place and can no longer obtain adequate amounts of oil. EOR can enhance extraction in mature wells by an additional 10% -- which is appealing for oil and gas companies hoping to extract additional value from existing wells.
Is EOR Good or Bad?
For those dedicated to fighting the climate crisis, EOR sounds mostly counterintuitive. Enhanced oil recovery leads to the production of energy derived from the burning of fossil fuels – a practice that is unanimously considered grossly unsustainable and environmentally catastrophic. To protect the environment, governments are moving away from fossil fuels as a source of energy. In 2020, UK think tank Ember found that Europe sourced 38% of its energy from renewable sources, while fossil fuels accounted for 37%. While this difference may seem negligible, it underscores the concerted effort governments are taking to lessen their dependence on oil.
Asides from the damaging end-use applications, the process of extracting the oil spells out bad news for the environment, too. The method of oil extraction releases harmful toxic wastes that damage the environment and, should mistakes occur during offshore extraction, cause a severe threat to marine life.
But there is, somewhat surprisingly, an environmental argument for enhanced oil recovery. It involves carbon capture, usage, and storage – otherwise known as CCUS.
The sequestration of CO2 is recognized as one of the most promising options for combatting climate change. It's a well-known fact that the atmosphere currently houses unhealthy amounts of CO2. Capturing carbon – either from industrial outputs before it reaches the atmosphere, or from the ambient air itself – and storing it or repurposing it could dramatically lower CO2 levels. This is where EOR comes in.
As we mentioned, EOR involves (though not always) the injection of CO2 into the ground to extract oil. During this process, much of the CO2 actually stays underground, filling in the space where the oil once was. This is carbon sequestration in practice and formulates the argument for EOR as a tool to fight climate change.
Naturally, the argument doesn't end there. The burning of fossil fuels will always be a damaging process. And, as it transpires, CCUS is currently only having a small effect on driving the market for EOR. Increasing exploration and production (E&P) activities is still a key driver for EOR, as demonstrated in the table below: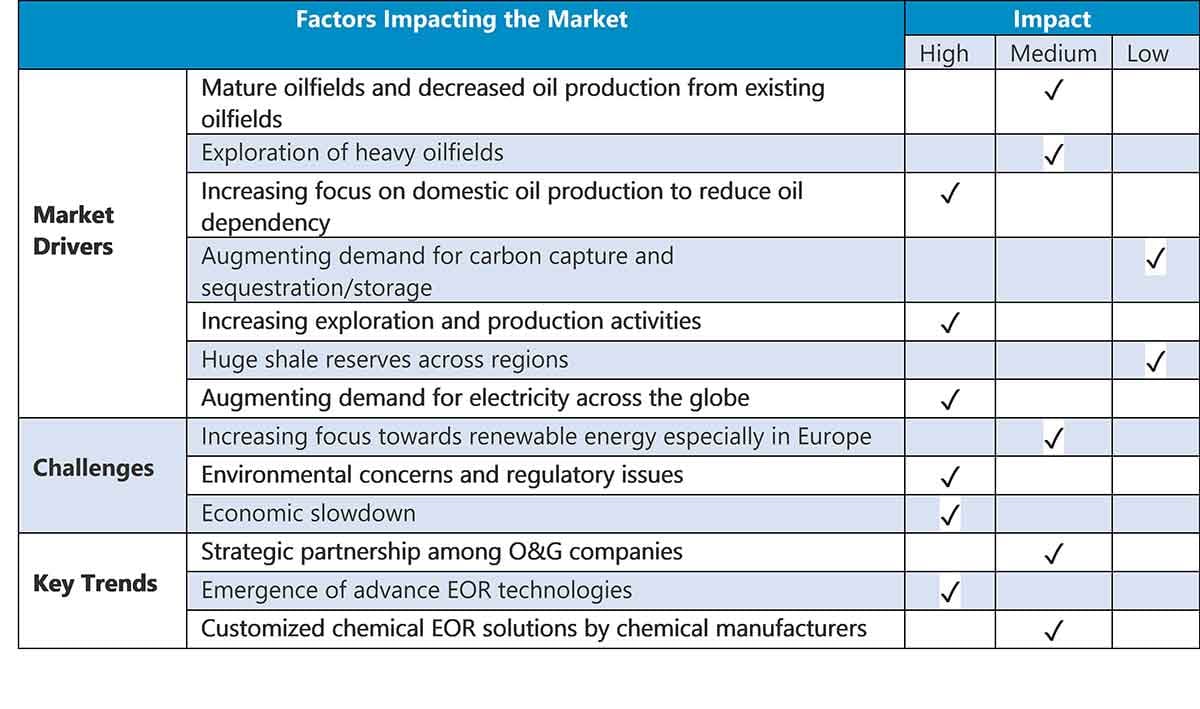 The EOR industry is set to undergo significant changes in the upcoming period. E&P activities are ramping up, and the demand for oil and gas is increasing – despite government efforts to reduce dependency. BCC Research estimates the market will reach as much as $64.2 billion by 2027.
Enhanced Oil Recovery: Technologies and Markets
BCC Research's report into the technologies and market of enhanced oil recovery provides an invaluable resource not only for stakeholders within EOR, including governmental bodies and environmental scientists, but also for students looking to evaluate this industry. With facts and figures breaking down the dynamics of the market, as well as definitions and rundowns of the various technologies used within EOR, the report provides a crucial report for those wishing to learn more about the nature of the industry.
To download your free report overview or purchase the report in full, click here.
Alternatively, becoming a member of the BCC Research library provides access to a range of reports within a specified field. To discuss the benefits this can offer your academic institution, get in touch with a helpful member of our team through the button below.