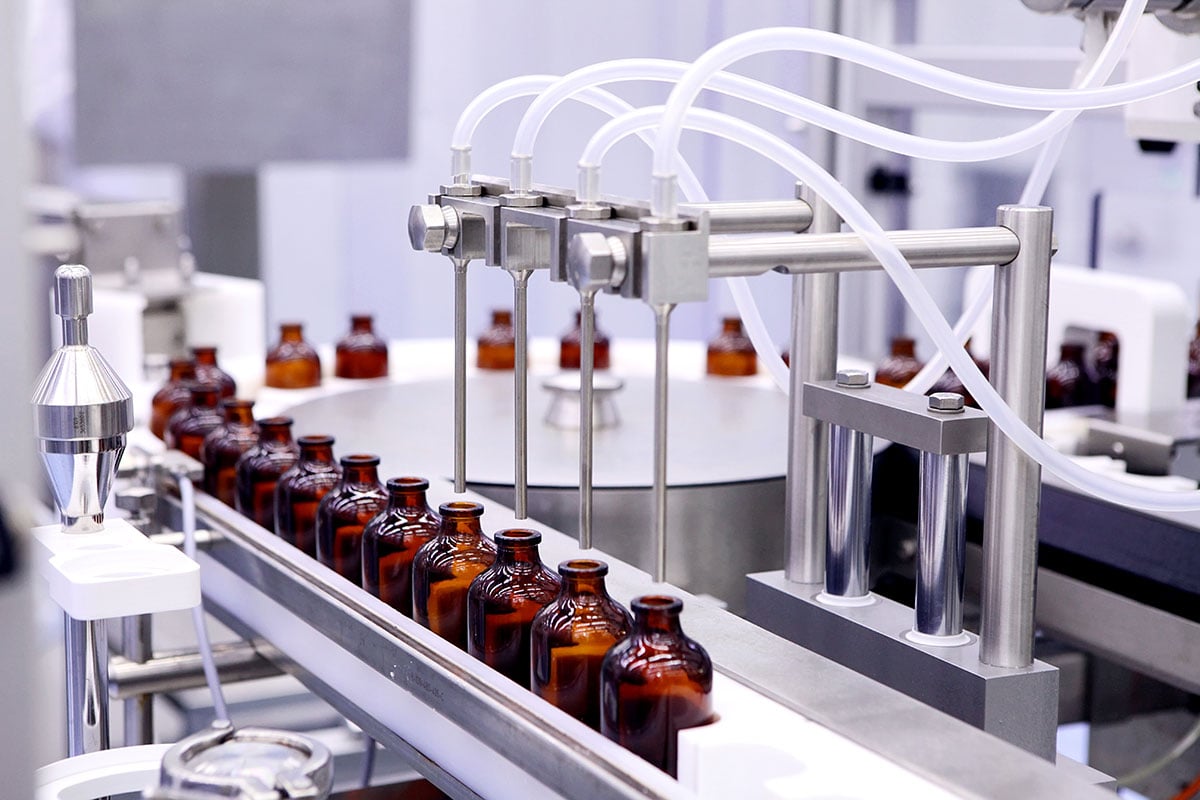 High-quality and effective pharmaceutical packaging plays a vital role in saving lives. Without it, drugs can be easily tampered with or become damaged during delivery, making the medicine ineffectual, and effectively endangering a patient's health. Because of this, it's an industry that's closely guarded and tightly regulated.
With more and more people requiring pharmaceuticals to improve their quality of life, the market for global pharmaceutical packaging market is expected to climb. BCC Research predicts the market will reach $204.9 billion by 2027, up from $149.2 billion in 2022. Growth is steady and consistent, reflecting the increasing penetration of pharmaceuticals in developing regions. Below, we're taking a closer look at the technologies and trends dominating the pharmaceutical packaging landscape.
The three main types of packaging
Given the tight regulations that permeate the industry, it's little surprise that most drugs are protected by three layers of packaging. This helps ensure that drugs maintain their optimal conditions during transport, arriving in the hands of the patient safe and sound.
Primary packaging is the most immediate container for pharmaceuticals. Think blister packs, vials, pre-filled syringes, and sachets. Primary packaging comes directly in contact with the drug and influences its shelf life. But as well as keeping the drugs in prime condition, primary packaging also segments individual doses. Primary packaging is essential for effective drug-taking and the segment enjoyed the largest share of revenue in 2021. Predictably, it's expected to maintain its leading position in the coming years.
Secondary packaging is the outside packaging that surrounds the primary packaging. This usually looks like cartons, small boxes, and injection trays, offering an additional layer of protection and providing manufacturers with a means to display important information.
Tertiary packaging contains multiple items and is used to transport drugs in bulk. Barrels, edge protectors, and large containers all come under this category.
Recent trends in the pharmaceutical packaging industry
The importance of effective pharmaceutical packaging is at an all-time high. As a result, manufacturers are constantly seeking to innovate production methods. Whether that's through improving packaging quality or making production quicker and more efficient, pharma companies are investing in a few key technologies to improve outcomes.
Blow-fill-seal technology
Blow-fill-seal is an innovative technology used to make packaging production quicker, seamless, and safer. It's an automated manufacturing process that involves the blow-forming, filling, and sealing of plastic containers, in a singular, continuous operation. The process is carried out by one machine in a controlled sterile environment.
The advantages are numerous. The technology is well-recognized for its operational advantages over traditional aseptic manufacturing processes. The machines and equipment require a relatively small space and a minimum number of operating personnel. Offering flexibility in packaging design, a high degree of sterility assurance, and low operating cost, it's little surprise that blow-fill-seal technology is acquiring intense market focus.
Anti-counterfeit packaging technologies
Manufacturers are constantly striving to prevent counterfeiting. Counterfeited drugs are deceptive, usually appearing worryingly similar to their authentic counterparts. It represents a serious problem of product security for manufacturers. It can often look like:
Duplication: copying labels, products, instructions, packaging, and user information
Substitution: placing inferior products in authentic or reused packaging
Tampering: altering packages/labels and using spiked, pilfered goods instead
Returns and warranty: brand theft
The Food and Drug Administration (FDA) has introduced legislation to help combat drug counterfeiting. The Federal Anti-Tampering Act requires drug manufacturers to use various anti-counterfeiting technologies, including:
Overt (visible) features: overt features are intended to enable end-users to verify the authenticity of a product
Tamper-evident packaging: some packages are inherently tamper-proof, such as aseptically packed multilayer cartons, a tin can that is hermetically sealed, or a vacuum pack. Tamper-evident packaging systems include film wrappers, shrink seals and bands, breakable caps, and sealed tubes
Covert (hidden) features: the purpose of a covert feature is to enable the brand owner to identify the counterfeited product
RFID: a mainstream technology that allows the identification of objects through wireless communication in a fixed frequency band. RIS software can be specifically made for anti-counterfeiting purposes
Child-resistant packaging: C-R packaging or child-resistant packaging (CRP) is packaging that reduces the risk of children touching or opening harmful items
Recycling and disposal of packaging waste
Another notable trend in pharmaceutical packaging will be a sharper focus on waste recycling. The pharmaceutical industry contributes vast amounts of CO2 into the atmosphere, with certain areas measuring higher than the automotive industry. For example, the emission intensity from the top 25 players in the pharmaceutical packaging industry works out 55% higher than in the automobile sector.
This much is clear: sourcing sustainable materials that meet the industry's strict safety standards is a huge challenge for manufacturers.
The urgency to tackle plastic pollution is intensifying, and many pharmaceutical packaging manufacturers are committing to sustainability practices. With around 270 kilotons of totally recyclable plastic ending up in the ocean every year, the issue is, rightly so, a growing priority within pharmaceutical packaging.
Learn about the global pharmaceutical packaging market
As the demand for safe pharmaceuticals increases, so does the need for innovative technologies within pharmaceutical packaging. BCC Research's recent report analyses the prevailing trends, technologies, and market dynamics that are shaping the world of pharmaceutical packaging.
Download your complimentary overview of the Global Pharmaceutical Packaging Market report and gain an insight into its contents.
Alternatively, consider becoming a member of the BCC Research library. Membership grants access to an abundance of reports within your chosen field. BCC Research publishes a significant volume of reports within the Advanced Materials category – to find out more, please get in touch below. We'd love to hear from you!