The rapidly increasing incidence of Alzheimer's disease (AD), improving diagnostic technologies, and the prospect of new therapies are driving the global AD market. BCC Research reports that the need for effective treatments has become even more urgent, especially given the failures of several prominent disease-modifying agents in late-stage development.

AD is a progressive, neurodegenerative disorder that primarily affects people older than 65 years. Characteristics of the disease include the gradual deterioration of brain cells, accompanied by cognitive and functional impairment. AD manifests as dementia (memory loss), impaired reasoning, repetitive movements, agitation, anxiety, depression, insomnia, and other symptoms.

AD—which cannot be prevented, cured, or slowed—affects more than 17 million people worldwide. Therapies for AD provide temporary and modest improvements in a patient's well-being, and none of the approved drugs can modify the course of disease progression. The immense size of the affected population, coupled with the lack of appropriate and effective treatment, offers a tremendous commercial opportunity.

DRUG REPURPOSING OFFERS HOPE FOR TREATMENT OF AD

Therapies currently approved for other diseases are being studied for their ability to fight AD. One such candidate is liraglutide, an inexpensive and commonly used diabetes drug that may offer protection from AD. A new study reports that liraglutide stopped its advancement and, in some cases, boosted mental function of patients. This small study, led by Jorgen Rungby at Aarhus University in Denmark, has prompted the start of major trials in the United Kingdom.

The 26-week, placebo-controlled trial in 38 patients provided proof of principle that liraglutide halts the progression of AD. Imaging showed that the drug maintained the brain metabolism of patients, whereas brain metabolism decreased in those who were given a placebo. Liraglutide also appears to have an effect on inflammation, which means that more neurons survive longer.

The drug, administered by insulin pen, is now being tested in 206 people at 20 UK hospitals, with participants undergoing tests to assess its effect on memory and thinking. If the results are positive, liraglutide could be fast-tracked as the first licensed dementia treatment in 12 years. The UK trials are led by Paul Edison, a consultant physician at Imperial College, London, with results expected in 2018. For more, see article in Express (4/28/16).

Riluzole, which is approved for the treatment of amyotrophic lateral sclerosis, might reverse genetic changes often observed in patients with AD and age-related cognitive decline. New preclinical findings support a clinical trial that is exploring if riluzole is beneficial for patients with AD. Scientists at Rockefeller University studied the gene expression signatures of aging rats and noted that when treating the animals with riluzole, the levels of numerous genes started to resemble patterns in younger rats.

The researchers, led by Ana Pereira, explored how riluzole might affect the neurotransmitter glutamate in the hippocampus, a brain region crucial for memory processing. "In aging and Alzheimer's, the chemical signal glutamate can accumulate between neurons, damaging the circuitry," Dr. Pereira said in a press release (May 3, 2016). "When we treated rats with riluzole, we saw a suite of changes. Perhaps most significantly, expression of molecules responsible for clearing excess glutamate returned to more youthful levels."

Riluzole has been shown to increase the activity of EAAT2, a transport protein that removes excess glutamate from outside neurons. In rats, the gene expression of the transporter becomes lower with age and has been linked to AD. The study showed that riluzole treatment returned the expression of the EAAT2 gene in the hippocampus to healthy levels.

Because riluzole is already approved for another neurological condition and thus safety and tolerability data already exist, starting clinical trials is relatively straightforward. Pereira and her team have initiated a Phase II trial testing the drug in AD at The Rockefeller University Hospital in New York. The trial is recruiting people with mild AD.

IN THE GLOBAL AD MARKET, ASIA-PACIFIC TO GROW THE FASTEST

The global market for AD therapeutics and diagnostics, valued at $4.4 billion in 2015, is forecast to surpass $6.2 billion by 2020, reflecting a five-year compound annual growth rate (CAGR) of 7.1%. The North American market is expected to exceed $2.2 billion and $2.9 billion in 2015 and 2020, respectively, demonstrating a five-year CAGR of 5.3%. In the Asia-Pacific region, the market should total $2.6 billion by 2020 (up from $1.6 billion in 2015), representing a five-year CAGR of 10.7%.

GLOBAL MARKET FOR ALZHEIMER'S DISEASE THERAPEUTICS AND DIAGNOSTICS BY REGION, 2014-2020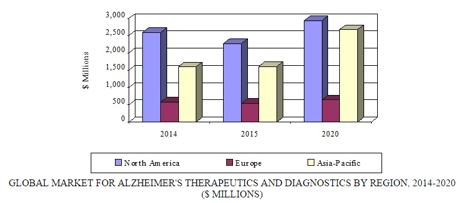 Drivers of market growth include the increasing proportion of the population with AD, growing awareness and higher diagnostic rates, and improved access to treatment and public funding. Hindrances of market growth include a poor understanding of the disease, strict regulation of AD therapies, and the widespread introduction of generic equivalents of branded drugs. Against the backdrop of recurring failures in the development of novel therapies for AD, the global markets are demanding new, more effective, disease-attenuating treatments, with attendant first-in-class approvals. This expectation is also driving the market.
Because it has been challenging to improve symptomatic treatment, companies are looking for molecules that can interfere with AD pathology before the onset of symptoms. Amyloid-beta plaques and neurofibrillary tangles are two formations that are connected to the onset and progression of AD. Novel vaccines and small molecules that target these hallmarks of AD are intended for the early prevention of the disease and for the delay of disease onset during the prodromal (presymptomatic) stage.
"Despite the rich pipeline, the market for AD treatments and diagnostics has suffered from high drug attrition rates and very long approval times," says BCC Research analyst Ufuk Ezer. "Drugs that potentiate a key chemical, acetylcholine (involved in learning, memory, and various cognitive functions), have shown modest clinical utility. Tacrine, the first approved acetylcholinesterase inhibitor, was discontinued; however, acetylcholinesterase inhibitors with better safety profiles have entered the market."
Alzheimer's Disease Therapeutics and Diagnostics: Global Markets analyzes technologies, applications, and programs in development, as well as quantifies market opportunities. The study also examines pricing considerations and government regulations. Analyses of global market drivers and trends, with projections of CAGRs through 2020, are provided.