Pathologists currently use 20th-century technology—slides and microscopes—for cancer diagnosis. Digital pathology (which can be simply defined as the management and interpretation of pathology information in a digital environment) offers tremendous potential to improve workflow, interpretive accuracy, and sharing of information. Rather than sending an actual glass slide from doctor to doctor, a digital file is sent.
Digital pathology is gaining significant momentum. It provides ready access to high-quality slide images, enables better and faster diagnosis, and offers a means to preserve these digital slides for future reference. Advantages of digital pathology systems also include the development of advanced image analysis tools that can provide more personalized treatment plans.
Yet there is no US Food and Drug Administration (FDA)-approved digital pathology system for clinical use. Back in 2008, the University of Pittsburgh Medical Center and GE Healthcare partnered to create Omnyx, with the aim to create a digital pathology system approved by the FDA for clinical use, bringing cancer diagnosis into the 21st century. Now, Omnyx could be closing in on this goal (see below).
In a new analysis, BCC Research finds that globally, the digital pathology market is expected to grow at a five-year (2015–2020) compound annual growth rate (CAGR) of 15%, reaching about $6.5 billion in 2020 from nearly $3.2 billion in 2015. Regionally, North America dominated the market with approximately 40% market share in 2014. Various government initiatives in this region for digitization of healthcare data are major drivers. However, Asia should register the highest five-year CAGR (21.8%) during the forecast period. A rapidly increasing volume of patient data from rising medical tourism in Asian countries such as India and Thailand is driving this market. Growing awareness among Asian consumers about digitized healthcare systems is also fueling demand.
Global Digital Pathology Market by Region, 2014–2020 ($ Millions)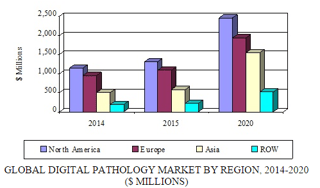 CURRENT DRIVERS AND RESTRAINTS
The need for transformation in healthcare delivery models and a growing demand for greater-value care are driving the adoption of cloud-based healthcare models. These emerging trends are expected to bring immense opportunities to the digital pathology market. Improvements in operational efficiency, reductions in laboratory expenses, novel treatment options, and better patient care are key factors driving growth of the digital pathology market. Other factors include newer trends in drug development, the rising prevalence of cancer, growth of companion diagnostics, and easier access to physician consultation.
However, a few key concerns may hinder market growth. These include FDA regulations in some regions, technological problems, the prohibitive cost of digital pathology systems, and the continued conservative outlook of pathologists.
"The digital pathology market shows great potential, but there are still major challenges to be dealt with in the path of its adoption by pathologists and laboratories in both the United States and Europe," says BCC Research analyst Bhavna Joshi. "In the United States, the lack of FDA clearance for use of most digital pathology systems for primary diagnosis is one factor that is slowing the adoption rate. In Europe, true interoperability and standardization of digital pathology technology have been difficult to achieve due to the varied image formats and complexity of workflows."
A MAJOR STEP FORWARD IN PURSUIT OF US FDA-APPROVED DIGITAL PATHOLOGY SYSTEMS
Omnyx filed for FDA approval of its digital pathology system in 2014, at which time it was classified as a Class III device (the highest-risk assignment). But clarification of the FDA classification process is now encouraging to the application and approval process for such systems. In January, the Digital Pathology Association (DPA) urged digital pathology manufacturers to submit applications to the FDA for "whole slide imaging (WSI) devices"—also known as digital pathology systems. This is because the FDA is considering changing the classification standards for such devices from Class III to Class II (which has fewer regulatory hurdles). As the DPA explained:
"The FDA had previously stated [that] it considered WSI for primary diagnosis to be a Class III medical device. However, FDA had never formally classified these devices. Under certain circumstances manufacturers can opt to submit a de novo application for a moderate- or low-risk device which has not yet been classified and for which there is no predicate device. If the FDA authorizes the marketing of a device based on a de novo application, the device will at that point become classified, generally as a Class II device. The DPA is now comfortable suggesting that a manufacturer submit a de novo application based on discussions with the FDA, in which the FDA indicated [that] the WSI for primary diagnosis is a candidate for de novo applications as a Class II device. Once a de novo application receives marketing authorization, other companies will then be able to submit 510(k)s for WSI."
The DPA is a nonprofit group of scientists, pathologists, technologists, and representatives from industry that aims to facilitate education and awareness of digital pathology applications in healthcare and the life sciences. Omnyx already has products that are approved for clinical use in Europe, Canada, and the Middle East. The DPA's announcement, which suggests that the US FDA will play ball, provides an infusion of renewed optimism to developers of digital pathology systems.
Digital Pathology: Technologies and Global Markets examines the field by segments and geography, analyzing trends and opportunities in major regions including North America, Europe, Asia, and the rest of the world. Data from 2014, estimates for 2015, and projections of CAGRs through 2020 are provided.