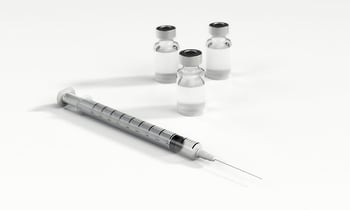 There is a growing need for the treatment or prevention of tropical diseases. Neglected tropical diseases are a significant cause of death and morbidity among affected communities worldwide. According to BCC Research, the total global addressable market for these diseases (see Table) was $1.4 billion in 2015. This market is projected to grow at a compound annual growth rate (CAGR) of 14.1% to surpass $2.6 billion by 2021. BCC Research's study, Global Markets for Neglected Tropical Disease Treatments, found that some indications (such as the Ebola and Zika viruses) are resulting in double-digit sales growth, whereas others face declining investment.
GLOBAL ADDRESSABLE MARKET FOR NEGLECTED TROPICAL DISEASES BY INDICATION THROUGH 2021 ($ MILLIONS)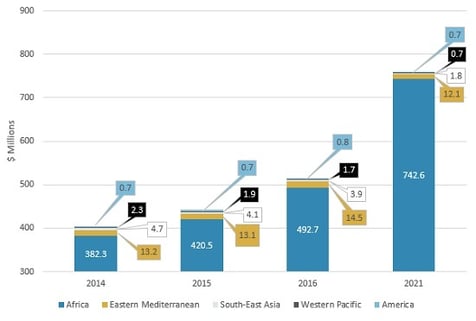 Among indications, malaria had the largest patient base in 2015, with a total market value of $440.3 million; the value of this segment is estimated to be $757.9 million by 2021. This is the market that will be captured by chemical compounds. The largest market by 2021, however, is expected to be for dengue vaccines, at a value in excess of $1.3 billion. According to the World Health Organization, dengue is one of the world's fastest-growing diseases, endemic in 100 countries, with as many as 390 million infections annually. Early detection and treatment save lives when infections are severe, particularly for young children.
An outbreak of dengue virus has killed approximately 300 people so far this year in Sri Lanka. Monsoon rains and floods have left pools of stagnant water, which are ideal breeding sites for mosquitoes that carry the virus. The International Federation of Red Cross and Red Crescent Societies is scaling up emergency assistance to Sri Lanka with the Sri Lanka Red Cross to help contain the outbreak. "Dengue is endemic here, but one reason for the dramatic rise in cases is that the virus currently spreading has evolved, and people lack the immunity to fight off the new strain," Novil Wijesekara, head of health at the Sri Lanka Red Cross, said in a statement. (Reuters, 7/24/17)
By 2021, Zika is projected to be the second-largest market among neglected tropical diseases. The total addressable market for a Zika vaccine was approximately $36.3 million in 2015, but it is expected to quickly expand to roughly $132.0 million by 2021. This increase depends on whether the vaccine is introduced as part of the immunization program in all countries threatened by the virus. Countries in Africa, South-East Asia, and the Western Pacific region with vector prevalence comprise the largest potential markets for the vaccine. Although the safety of the vaccine in pregnant women may not be established by then, women of childbearing age will form the major market in the near future.
Last year's devastating Zika outbreak in the Americas was caused by mosquitos that carried the virus from Brazil. As of July 19, the Centers for Disease Control and Prevention (CDC) reported 5,392 cases of Zika in the United States since 2015, including 224 infections acquired locally. The CDC also reported 36,986 Zika cases in US territories such as Puerto Rico. There is no vaccine, and there are only limited treatment options. Therefore, health officials are focusing on mosquito-control measures to prevent new Zika infections.
Ben Beard, deputy director of the CDC's Division of Vector-Borne Diseases, explained that Zika infections hinge on two variables: infected hosts and capable carriers. For Zika to spread, a mosquito that is able to carry the virus has to bite a person who is already carrying it. The virus then needs enough time to reproduce inside the mosquito. Finally, the insect has to bite an uninfected person. Health officials have also found that the virus can be spread sexually.
This means that people are key to spreading the disease across borders and oceans—not just mosquitoes. "The virus was introduced by infected travelers returning to the United States from an area with active Zika transmission," Beard said. "Because this was the first global outbreak of Zika virus, virtually everyone in the United States (and globally) had not been infected and was therefore susceptible to infection."
As the climate changes and humanity becomes more mobile across the planet, health officials are bracing for viruses like Zika to take root in new environments and for new infections to emerge in its wake. "We are seeing an accelerated threat from mosquito-borne diseases overall," said Beard. "Over the past few decades, we have seen a resurgence of dengue and the introduction of West Nile, chikungunya, and now Zika virus into the Western Hemisphere." (ClimateWire, 7/24/17)
Diseases such as dengue, malaria, and Chagas, among other conditions, receive little attention in North America because of their [presence in] marginalized communities or geographically remote locations. The discovery of Zika in the United States and the Caribbean has raised awareness that diseases can be spread via travel and cargo by relocating insects and harmful infections. Also, parasites are becoming resistant to mosquito-control measures and/or existing human medicines. All of these factors make the need for new treatments more critical.
Malaria deaths declined from 2010 to 2015, but still claim more than 425,000 victims annually in addition to lost work and school time. Dengue treatments are expected to post a 34% CAGR through 2021, but the CAGR for malaria treatments is forecast to be only 8%. The number of disease variants means that not all malaria or dengue treatments will be effective, i.e., not all patients will respond to treatment because of evolving or drug-resistant virus mutations.
"These diseases [involve] a range of care…from prevention, to treatment of symptoms, to possible vaccinations. The demand is only increasing because travel and spread of infection make this a worldwide issue—not a regional one that affects remote African or South American areas," says Robert Hunter, senior healthcare editor at BCC Research.