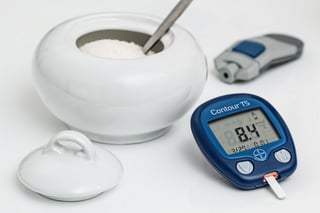 The continuous glucose monitoring market, introduced nearly 20 years ago, is presently experiencing strong growth as diabetics, physicians, hospitals and clinics witness the benefits these devices can lend to the management of glucose levels. The market now includes blood glucose monitors, diabetes test strips, insulin durable and patch pumps, glucose sensors, and transmitters and receivers. The global market for continuous glucose monitoring equipment is expected to top $20.6 billion by 2022, according to a new study by BCC Research, at a five-year compound annual growth rate (CAGR) of 10.1%.
Research Highlights
Growth in the continuous glucose monitoring market is driven in part by the global increase in obesity and the accompanying rise in Type 2 diabetes. Expansion will be notable in Russia, China, and India, where blood glucose testing is currently significantly underutilized.
Insulin patch pumps are expected to undergo particularly robust growth. Found primarily in the United States, Europe, and Japan due to their costs, the market is forecast to surge from $1.1 billion in 2017 to $4.8 billion by 2022 at a CAGR of 33.5%.
Transmitters and receivers will also exhibit robust growth, reaching $825.8 million in 2022 at a CAGR of 25.8% from 2017 to 2022.
Growth in glucose sensors would probably be greater if users replaced the units as recommended by the manufacturers. Instead, users tend to replace sensors only when they are ready to fall off.
Growth will also be due to the increasing amount of clinical evidence showing the efficacy of continuous glucose monitoring in decreasing the number of hypoglycemic episodes and to improvements in reimbursement for continuous glucose monitoring.
Global Market for Continuous Glucose Monitoring Devices and Diabetes-Related Products, by Type, 2016–2022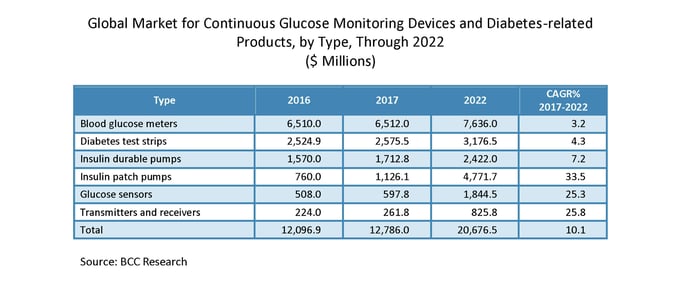 "The market for continuous glucose monitoring products (defined as transmitters, receivers, and glucose sensors) used with these systems is growing at a strong rate as patients and medical personnel come to realize that the use of continuous glucose monitoring provides significant assistance in the management of blood glucose levels, and as insurance plans move to reimburse for use of these devices," said BCC Research analyst and report author Valerie Kellogg. "The market is strong and growing by double digits."
Noninvasive Blood Glucose Monitoring: The Dream Becomes a Reality
Several companies are working toward a noninvasive method of monitoring a person's blood glucose levels. The fear of pain, the unattractiveness of sticking your own finger, potentially dirty hands and the social stigma of conducting finger sticks in public all reduce testing compliance and glycemic control. There are a number of hurdles to overcome before such products are ready for the market, however, including accuracy issues, calibration and potential lag time between a glycemic event and detection by the noninvasive monitor. Furthermore, when such a product is developed, the manufacturer will have to overcome skeptics.
But…Abbott Kicks Off the New Year With a Big Win
Abbott's FreeStyle Libre is the first continuous glucose monitor on the market that does not require patients to prick their finger to draw blood. One month after it was launched, Abbott's FreeStyle Libre continuous glucose monitor received Medicare coverage, giving the company an edge over its rival Dexcom. The Dexcom G5 continuous glucose monitoring system requires calibration (i.e., by using a patient's blood sample), whereas Abbott's FreeStyle Libre does not. Dexcom expects to introduce its own system that does not require finger-stick testing by the end of the year. Because the cost is the same, Medicare patients will choose between Abbott's FreeStyle Libre and Dexcom's G5 based on features and ease of use. [CNBC.com, Jan 4, 2018]
For more research and market forecasts, download the report overview for Continuous Glucose Monitoring (CGM): Technologies and Global Markets [HLC102C].