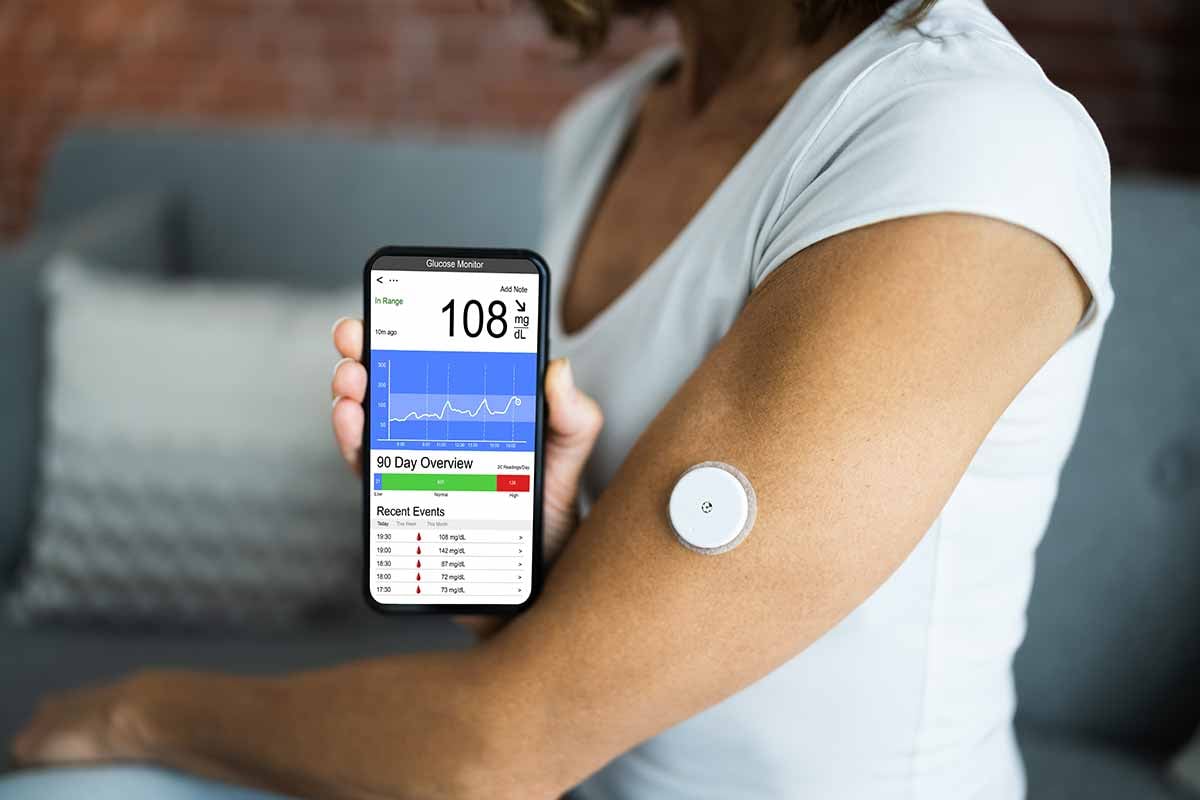 Continuous glucose monitors (CGMs) track blood sugar levels automatically, 24/7. Unlike traditional monitors, CGMs are minimally invasive, involving tiny sensors under the skin that test for interstitial blood glucose levels every few minutes. This data is usually transmitted straight to a patient's phone, fitting in with the incumbent era of smart devices.
For diabetes sufferers, CGMs have been one of the most transformative developments in recent years. The devices grant patients greater control over their health. Having constant access to blood sugar levels means dangerous fluctuations can be dealt with as they arise, particularly overnight when they'd usually go undetected. NHS England now offers the devices to all type 1 diabetes patients; likewise, they're also provided under some health insurance plans, making them more accessible for those who need them.
Given the success of CGMs, the market is geared toward continued expansion. Valued at $18.7 billion in 2021, BCC Research has predicted the market to grow at a CAGR of 9.5%, reaching as much as $32.7 billion by 2027.
5 key areas of focus for CGM businesses
More and more people are suffering from diabetes globally, creating increased opportunities for CGM providers to offer effective treatments. CGM devices, though innovative and convenient, are far from perfect. If businesses want to expand their offerings and meet the needs of those who need these devices, they should focus on these 5 key areas.
Concentrate on customer-focussed product enhancement
There are opportunities for CGM companies to improve product accuracy. Reducing the lag times between blood glucose and interstitial glucose readings should be a key area of focus for businesses. Developing a mean absolute relative difference (MARD) below 10% indicates a high-accuracy CGM system. Developing lower MARD devices will help enhance the user experience for the patient, and help convert potentially hesitant diabetics to CGM products.
Innovating devices to increase comfort will help attract a greater age-range of consumers. While CGMs are used mostly by the middle-aged, they are less popular among younger and older users due to discomfort in using the product. Implementing features like small and discrete sensors and friendly interfaces will diversify businesses user bases.
Use innovative technology to improve devices
The rising digital health initiatives are pushing companies to pursue new R&D activities. Many companies are focusing on developing hybrid closed-loop systems to automate insulin delivery based on CGM readings. However, these systems still need manual intervention for bolus calculations. The research directions are heading towards developing closed-loop systems which mimic the natural pancreas entirely with minimal manual interventions.
Companies also need to improve the accuracy of CGM systems compared to SMBG equipment, reduce MARD, reduce calibration requirements and lower lag times between interstitial and blood glucose readings.
Few companies, such as Abbott, are focusing on clubbing multiple sensors in wearable devices to identify biomarkers such as ketones and blood glucose to monitor the wellness of the users.
Diversify to stay ahead of competition
It's a competitive industry, with new players constantly emerging. Innovation is rife and rapid, with product features, target reach, and market channels all facing targeted development. The value of brand loyalty is clearer than ever, and companies are now working to retain and attract new customers.
Focusing on multiple distribution channels would give businesses a strong chance of reaching wider consumer bases. With many CGMs only being available through hospitals, providing lower-cost devices through pharmacies would help keep businesses ahead in the CGM competitive landscape.
Finally, given the diversity of the landscape, mergers and acquisitions represent an attractive prospect for companies hoping to expand their portfolios. Larger companies can merge with smaller ones that specialize in certain areas. A recent example is Medtronic acquiring Companion Medical in 2020, allowing them to venture into smart insulin pen technology.
Collaborate and diversify
Creating a win-win situation within a given market is an ideal outcome, and collaborations and agreements within the CGM market make that possible. Many pharmaceutical companies collaborate with CGM developers to research and develop automated insulin drug delivery systems in integration with CGM technology. For example, Novo Nordisk and Sanofi partnered with Biocorp to integrate their insulin delivery systems with Biocorp's Mallya smart pen technology. Similarly, Eli Lilly partnered with multiple companies including Roche, Dexcom, myDiabby Healthcare, and Glooko to integrate Lilly's Tempo Pen and connected Tempo Smart Button with various software platforms for diabetes management.
Delve into the Continuous Glucose Monitoring market
BCC Research's report Continuous Glucose Monitoring: Technologies and Global Markets analyses the competitive and technological landscape for these innovative diabetic treatments. By providing a detailed overview of the global market outlook, those within the industry become better equipped to navigate this competitive space.
Download your complimentary overview of our report on CGM to gain insight into this evolving market here.
Alternatively, memberships to the BCC Research library grant access to a range of reports within your field. To find out more about the benefits of membership, get in touch below – we'd love to hear from you!