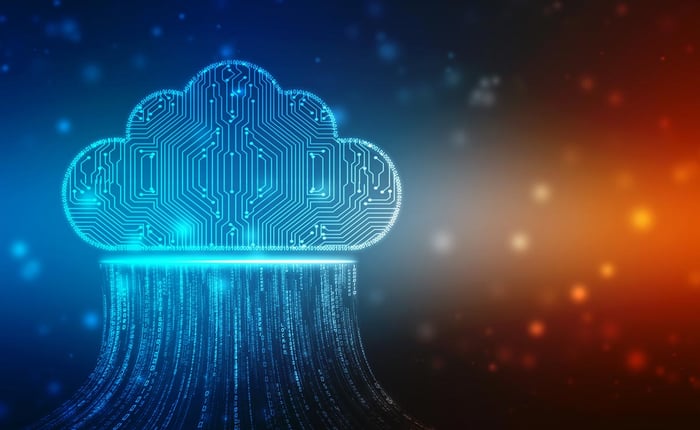 Information is power. Information is also a precious asset, particularly in modern times. We now live in an ere where knowledge-based economies are the norm, and how we disseminate information is crucial. Indeed, we've certainly come a long way in terms of how we communicate and trade information. Even so, the introduction of cloud technology solutions has been a genuine game changer for everyone.
In this post, we delve into the cloud technology space to take a closer look at:
The global cloud-based contact center market (IFT239A)
The global video conferencing market (IFT234A)
VoIP Services Market (IFT237A)
Global Data Warehouse as a Service Market (IFT232A)
Cloud Technology Research Review 2021
Cloud technology – or cloud computing – has revolutionized the way we store and distribute data. It has given users the ability to bypass the limitations of physical devices to share information and has opened a whole new world of online possibilities.
Cloud technology gives people the opportunity to access and store data online – in the cloud – rather than on a physical hard drive. Cloud-based services, such as Google Drive and iCloud, exist to keep data solely online. This allows users to save space on their personal devices and provides other advantages, including the ability to share data and to collaborate with others.
Further reading: download a complimentary Cloud Technology Research Review report overview today.
The Global Cloud-Based Contact Center Market
A cloud-based contact center is typically a comprehensive set of cloud-hosted services, tools and applications for contact centers, usually deployed in enterprises that require several communication channels, agent management, sophisticated call routing and analytics.
Following the COVID-19 pandemic, cloud-based contact centers proved themselves capable of providing high levels of business continuity. As such, they have become a preferred option of enterprises, and are used to manage customer service operations with the help of a remote workforce. Utilizing a cloud-based contact center, businesses can achieve higher levels of productivity, as they can now focuses solely on employee performance, rather than the added focus of hardware and system maintenance. It is because of benefits like this that cloud-based solutions are expected to drive the market forward.
The global cloud-based contact centers market should reach $43.3 billion by 2026, at a compound annual growth rate (CAGR) of 25.3% for the forecast period 2021-2026.
BCC Research believes the market for cloud-based contact centers represents a long-term trend that will transform the way contact centers are deployed, while also reducing costs to organizations across various end-user industries. Considering the potential, it is not surprising that the deployment of cloud-based contact centers is surrounded by a considerable amount of hype.
Continue reading: download a complimentary Global Cloud-Based Contact Center Market report overview today.
The Global Video Conferencing Market
Video conferencing has become ubiquitous with modern day living, working and learning. While primarily used to connect friends and family, the increased demand for video conferencing from the corporate sector has helped expand it into an accessible and inexpensive tool for enterprises of all kinds.
Video conferencing initially took off in the early 2000s, among businesses who needed to save travel costs and speed up product development, while improving cooperation among disparate teams. However, since the onslaught of the pandemic, video conferencing has become a permanent tool for enterprises. As more firms begin to adapt to remote working arrangements for employees, video conferencing has grown into a huge market.
The growing popularity of video conferencing will continue to alter how individuals communicate with one another, as well as dispel some of the stigma associated with using video conferencing instead of face-to-face meetings. Presently, HD video camera technology and wi-fi in laptops and smartphones have pushed the video conferencing solution from corporate meeting rooms to the devices of employees from businesses of all sizes. Many developers are now experiencing a huge gain in revenue, now that video conferencing has a much larger user population and are actively building new features in hopes of retaining this new demography as a long-term customer base.
The global video conferencing market should reach $27.3 billion by 2026, at a compound annual growth rate (CAGR) of 16.9% for the forecast period 2021-2026.
Certainly, the pandemic has highlighted the significant role that digital transformation and strategy play in an organization's entire business execution. Companies are learning that it is critical to enable employees to communicate effectively from afar. The implementation of technology that supports collaboration has set teams up to work successfully from anywhere in the world, challenging the notion of the nine-to-five weekday and perceived power imbalances.
Continue reading: download a complimentary Video Conferencing: Global Markets to 2026 report overview today.
The Global VoIP Services Market
Voice over Internet Protocol (VoIP) is the digital form of voice communications done using internet networks. Generally, VoIP uses internet protocols (IPs) to connect Private Branch Exchanges (PBXs). It is capable of interchanging rich voice, video and data exchange services and uses packet-switched networks to communicate. VoIP is seen as the replacement of old Public Switched Telephone Network (PSTN) telephony.
VoIP services have gained huge popularity since the emergence of COVID-19 and the adoption of remote working that require the use of remote working protocols. The demand for VoIP services that enable seamless communication with domestic and overseas customers, as well as company employees, has increased among both small-size and larger enterprises. The demand for cloud-based phone services has also increased in the last few years globally and the adoption of IP as a new communications technology has taken voice communication to new levels, contributing to the growth of the global VoIP Services market.
The global VoIP services market should reach $102.5 billion by 2026, at a compound annual growth rate (CAGR) of 3% for the forecast period 2021-2026.
In recent years, VoIP technology has become an anchor for all businesses, and vital for everyone for both business and personal use. As remote working becomes a common scene across workplaces throughout a wide variety of industries, it is anticipated that VoIP will continue to grow rapidly, with demand increasing globally.
Continue reading: download a complimentary VoIP Services Market report overview today.
The Global Data Warehouse as a Service Market
Data Warehouse as a Service (DWaaS) is a combination of hardware and software that can be purchased and used by businesses for resource management. This service enables organizations to focus on business strategies as a priority, leaving resource management to DWaaS – in other words, third party vendors. DWaaS eliminates the requirement for an on-premises data warehouse by lowering organization administration and set up costs.
The growing adoption of cloud solutions across various verticals increases the amount of data being generated across businesses daily. As such, DWaaS DwAAs is expected to grow due to the rapid development of various key players in the market, as well as the development of rapid data volumes and increasing regulatory compliance.
The global VoIP services market should reach $102.5 billion by 2026 from $85.2 billion in 2021 at a compound annual growth rate (CAGR) of 3.8% for the forecast period of 2021 to 2026.
Continue reading: download a complimentary Global Data Warehouse as a Service Market report overview today.
Join BCC Research Today
To gain full access to all the reports quoted in the article, and thousands more in our library, become a BCC member. With enormous savings and unlimited access to an extensive collection of information technology reports, alongside unrivalled customer service and expert analyst insight, there has never been a better time to join us.