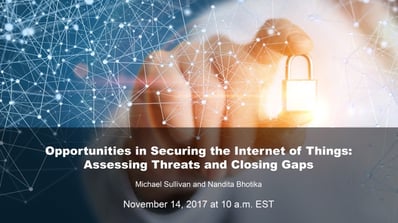 In the recent webinar "Opportunities in Securing the Internet of Things: Assessing Threats and Closing Gaps," Analyst Nandita Bhotika and Senior Editor Michael Sullivan explored the market surrounding Internet of Things (IoT) security solutions and shared which segments are expected achieve the highest growth rates.
"The greatest activity and opportunity lies in high value markets such as healthcare, finance, industrial and smart city applications where data security is critical to safety and operational efficiency," said Bhotika.
Key Takeaways from the Webinar:
Data is the most important asset for IoT projects and needs to be secured end to end from its birth, across the entire data lifecycle and every time it is accessed by another entity.
Security for IoT cannot be equated to IT security and each system as each has its own needs and challenges from security.
Silicon-based embedded security solutions are preferred over software-based solutions.
IoT adoption will be driven by high value segments such as healthcare, financial and smart cities where security and privacy of data is critical.
Everyone needs to be cognizant of government policies and regulations with respect to cybersecurity, data privacy and use of consumer data.
According to Bhotika, some of the greatest challenges facing IoT developers come from the reality that most connected devices were not developed with IoT in mind and lack many of the security design features that crypto authentication, key management and other security technologies demand.
From her discussions with IoT developers, Nandita said that most security failures of in-house developed security solutions stem from inadequate experience with IoT security. Furthermore, cost is also a major issue, as IoT security solutions are often cost prohibitive for smaller companies and widespread misconceptions exist regarding overall value.
"Until this mindset changes, IoT security implementation will continue to face delays especially in low value segments such as the consumer and retail," Bhotika said.
These challenges, however, are also creating huge opportunities for IoT security developers and contributing to massive growth in the IoT solutions market, which is expected to reach $11.4 billion by 2021 at a robust compound annual rate (CAGR) of nearly 26%.
Key growth in this market can be attributed to the following market forces:
Government mandated data privacy and security policies such as the GDPR in the E.U. regions and HIPAA for healthcare in the U.S.
Technology development through public and private research and partnerships has promoted innovation and launch of new solutions that better meet IoT needs
Increased awareness, ongoing dialogue and collaboration between market players such as IoT security working groups, device manufacturers and end users has built a more unified voice in favor of security by design
The growing voice of consumers for better security for their connected home and personal devices is becoming stronger, and as such, forcing many connected appliance manufacturers to rethink the security features for their devices
In summary, the push for regulations for data privacy and security is also seen as a driving factor for regional differences in IoT security adoption as companies in U.S. and European markets are compelled to comply with data privacy regulations, making them leaders in security technology adoption and innovation.
Investment in new startups and innovative technologies will continue to drive the leadership of the U.S., Japanese, U.K. and German IoT security markets with China and India being marked as economies with promising market opportunities over the next 5 years.
"The field of IoT security is very important for the IoT market as a whole, and has seen a lot of interest in the past few years," Bhotika said. "This is primarily because security provides the basis for trust in the IoT economy, and we expect that IoT security solutions will play a pivotal role in the future success of IoT."
A copy of the complete recording, including a Q&A session with Senior Editor Michael Sullivan, will soon be available for free to members in the
BCC Research Member library
. Non-members can purchase a copy of the full-length recording for $99
here
.