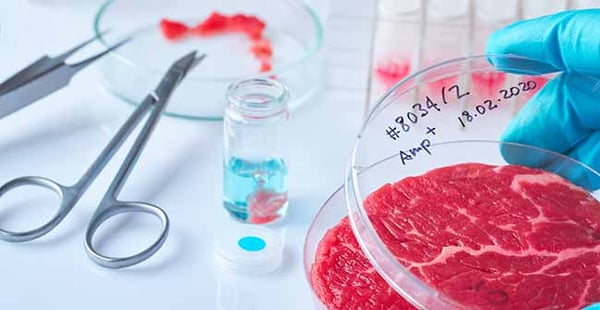 What is Cell-Based Meat?
Cell-based meat is plant-based meat's more eccentric cousin. Not yet on the market, there's a lot of excitement surrounding it within the agtech industry. Currently, when thinking of alternative protein sources, mainly for reasons that lean towards sustainability and reducing carbon footprint, people think of The Impossible Burger. And it's nothing to brush off—plant-based meat is revolutionizing the food industry, as it's making strides to produce cleaner, more abundant health food options. Cell-based meats are simply taking things one step further.
So first off, what is cell-based protein? While the name (thankfully not its official name) lacks the appeal that one would want when creating a food product, it provides us with a clear idea of the product. Ultimately, it's meat grown in labs from cells. And while there are different names for it, like clean or synthetic meat, cell-based protein has the ability to eliminate a lot of the issues that traditional meat production faces.
Conventionally, meat is raised and produced in environments that leave a lot to be desired. One of the major benefits of cell-based protein is that the environment is completely controlled which eliminates the risks associated with farming. Suddenly, the concern of developing E. coli, salmonella, swine flu and similar sicknesses become non-existent. And because these risks aren't present to begin with, there isn't a need for other causes of concern such as growth hormones and antibiotics.
Not only that, the issues with overcrowding and poor living conditions are suddenly not a factor. The environment is clean, sterile and while it may be hard to associate the image of a lab with a home-cooked meal, the benefits on our health and planet will propel this change of both food production and consumption.
While cell-based meats will require far less energy, land and space needed for production, it's the cutdown of water consumption that is truly staggering. It's currently well-known that it takes around 3,000 liters of water for each hamburger made. Plant-based proteins are already doing well in terms of reducing water needed, and cell-based meats plan to take that a step further.
A solid example is Eat Just, Inc, a company that, while known for their plant-based egg alternative, already has a cell-based option ready to roll. They are, however, facing two small issues. The first is the current cost, which at $50 per chicken nugget is not exactly scalable. The second are the barriers set by government regulations which are tricky to navigate.
So, despite all the benefits, cell-based proteins are still facing the uphill costs of getting off the ground. However, with backers like Bill Gates and Richard Branson, the cost of production will continue to decrease. Regulations will be met and soon production will commence. There's a lot to keep an eye on as the food industry is set to shift.
For additional intel into alternative meat sources and food manufacturing, check out the following reports and white papers:
Plant-Based Protein: Global Markets
The Future of Plant Based Protein
Global Cultured Meat
Future of Food Manufacturing